Robert David Steele's Secret Intelligence source
I really have connections all over the plays. I got that Sucker Defango by using my network of people to get him under suspect by pushing him into interviewing robert david steele using my infiltrator girl. She got them connected over a nice message and I already talked to Robert before hand to help build up his confidence to we could share screwing with his channel.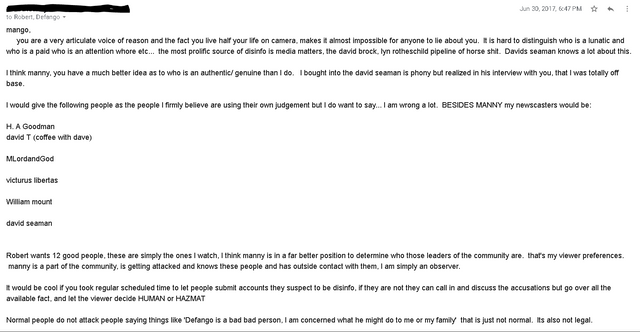 See all we had to do before the File situation was get Defango to interview RDS to make people question him. Then we force him over to Jason Goodman to get the Seth Rich Files going. Defango wasn't smart about this so he had no idea we had this network setup ready to screw him over he if tried to cross us.
I have been shopping RDS to many Channels on Youtube. I also feed intelligence information to various people and channels but always request to remain anonymous. I don't want people looking into my past and seeing all the fraud and stalking charges I have gotten. I gotta get other people to do my dirty work so I can say in the clear.
Here are some other Channels I have my claws into deeply.
Lift the Veil
david T (coffee with dave)
MLordandGod
JonXarmy
STGReport
victurus libertas
William mount
David seaman
Unirocktv
Roosevelt Media
Quinn Michaels
American Intelligence Media
Grizwald Grim
If you cross me I will stop at nothing to destroy your online life and my massive team has no problem following any of my orders.