The last original idea that came from a politician was the 8 hour day.
I am only half-joking.
When you cut away the pizazz, hoopla and baby kissing they all drone on and on about variations of the same thing. The economy is king, free trade, sacrifice (that's always a biggie and usually followed by) mutual obligation, fairness, equity and an assortment of motherhood statements that feel good but say bugger all.
When the votes are counted and government safely snared, the motherhood statements are ditched, spending cuts announced and a new economic program with all the pox marks and flatulent stench of the last government economic program is ushered in. Various talking heads emerge to proclaim this brand new deal is not the pile of stinking manure that it so obviously is. And normal transmission is resumed.
Why are we locked into this ongoing cycle of despair and disappointment while the Multi-Nationals gleefully sup from the wounds inflicted on our society?
Maybe there isn't a better system. Maybe this is as good as it gets or just maybe the game is rigged from the very start.
If I were a betting man I'd place all of my hard earned cash on option three.
Consider the case of the rise of former Australia Prime Minister Bob Hawke and his apparent entanglement with various elements of the CIA that were working within Australia and beyond. To be clear, all embassies have spies working for them. It goes with the territory and someone of Hawke's stature, intellect and rat cunning would have been well aware of that but it didn't seem to bother him.
Hawke – the self-styled people's Prime Minister and former leader of the ACTU (Australian Council of Trade Unions) had some very interesting friends from what could be called the other side of politics. This isn't supposition or wild speculation, it is detailed in a series of starkly worded cables between the US foreign ministry in Canberra and various departments within the United States government. These cables not only demonstrate that Hawke was an asset to the United States during the Whitlam years but clearly indicate that Hawke was being groomed for the future as is evidenced by this cable dated May 31, 1974, addressed to the Secretary of State
https://www.wikileaks.org/plusd/cables/1974CANBER03304_b.html
In particular, the writer, presumably Ambassador Green suggests that Mr Hawke could benefit from
BEING EXPOSED TO SOME SOPHISTICATED NON-LABOR THINKING ON THE ROLE OF MULTI-NATIONALS IN AUSTRALIAN ECONOMIC DEVELOPMENT.

Earlier the cable states
HE HAS EVERY PROSPECT OF BEING A MAJOR FIGURE ON POLITICAL SCENE FOR NEXT 20 YEARS OR SO, AND IT WILL BE WORTH OUR WHILE TO MAKE A REAL EFFORT TO DEVELOP A WORTHWHILE PROGRAM FOR HIM.
This worthwhile program seemed to involve exposure to the wit and wisdom of
DAVID ROCKEFELLER (CHASE MANHATTAN), WILLIS ARMSTRONG , (RECENTLY OF EB AND ALSO FORMER PRESIDENT OF U.S. ASSOCIATES, INTERNATIONAL CHAMBER OF COMMERCE), PHIL TREZISE (BROOKINGS), A SENIOR FIGURE AT THE COMMITTEE FOR ECONOMIC DEVELOPMENT IN NEW YORK, ALEXANDER TROWBRIDGE (PRESIDENT, CONFERENCE BOARD, NEW YORK), AND ALSO A VISIT TO CURRENT HEAD OF U.S. ASSOCIATES OF ICC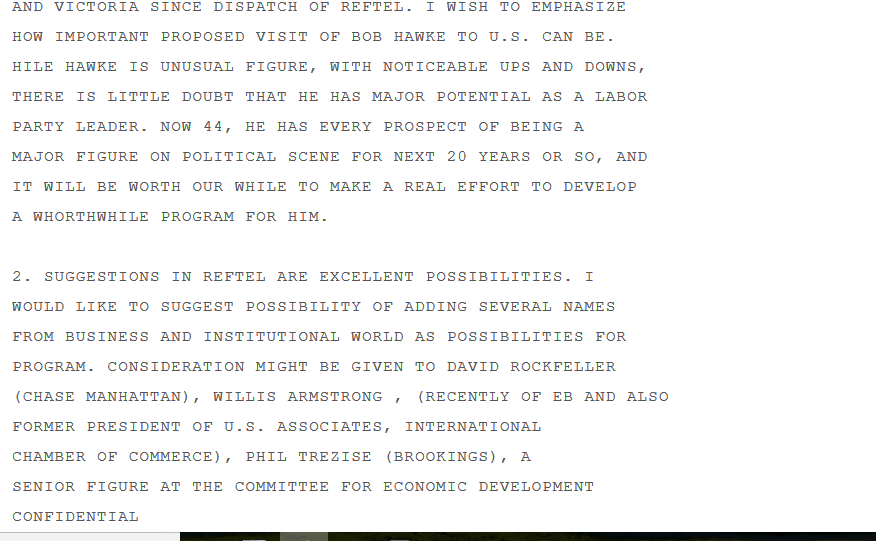 The "program" seems to have had the sole purpose of "convincing" Mr Hawke to the benefits of multinationals and the interests of the already well embedded corporate state of the United States.
In many ways, Hawke was a CIA wet dream – populist with the common touch, Hawke could be relied upon to sell ice to Eskimos and when Hawke finally came to power he set about doing just that. embarking on a modernisation program that involved privatising public assets, deregulating the banking system and cutting trade protection barriers. The Hawke government proved to be the template for later versions of left-leaning populist governments implementing measures that advanced the big end of town. Both Bill Clinton and Tony Blair followed very similar pathways.
But let's get back to the re-education of Bob Hawke.
The Americans weren't content with indoctrinating to their own group of corporate pirates. They wanted to ensure that he got the full treatment when he went to the United Kingdom.
This cable makes it clear that Hawke would make a great asset for Harold Lever – presumably the same Harold Lever who was the author of the Ditchley Plan – a plan to unite central banks under one central umbrella of the International Monetary Fund.
https://issuu.com/kynize/docs/the_truth_about_the_committee_of_300/127
The cable makes it clear that Hawke is seen as a potential asset
PLEASE TELL HAROLD THAT I THINK THIS GUY IS VERY GOOD VALUE AS WELL AS MOST PROFITABLE FUTURE CONTACT FOR HIM.

That's alarming.
There's no evidence at this time to say that Bob Hawke was corrupt or guilty of any wrongdoing, there is, however, substantial evidence that Hawke had been selected and groomed as an asset because of his potential worth. The people he was being introduced to would certainly have advocated for policies that would benefit their interests. These people had no interest in Australia other than to profit from it.
Hawke's actions make it quite clear that he knew who he was dealing with. One telex describes how Hawke was willing to help the Americans in any way possible. He seemed eager to ingratiate himself to them even pressing his phone number into one diplomat's hand.
He seemed to be the embodiment of a CIA wet dream – egotistical, popular, ambitious and malleable. There are numerous cables where Hawke is detailed confiding the inner workings of the Australian Labor Party particularly during the tumultuous times of 1975.
Hawke's entanglement with the tentacles of the American Deep State were completed when the American embassy made arrangements for Hawke to meet with American union boss George Meany, whose links with the CIA have been well demonstrated in numerous books and publications.
https://msuweb.montclair.edu/~furrg/furraft82.pdf
With this entanglement complete, every effort was made to get Hawke to America to expose him to "some sophisticated non-labour thinking." Ever, the opportunist, Hawke cried poor.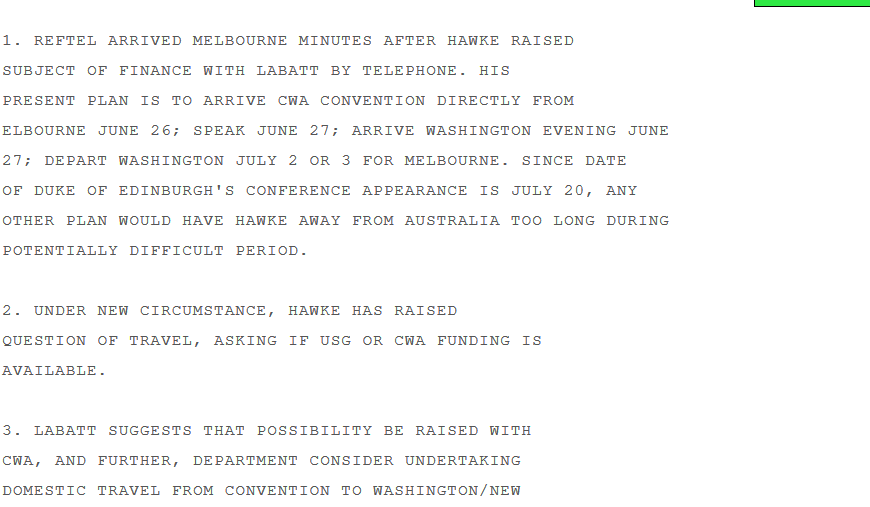 REFTEL ARRIVED MELBOURNE MINUTES AFTER HAWKE RAISED SUBJECT OF FINANCE WITH LABATT BY TELEPHONE. HIS PRESENT PLAN IS TO ARRIVE CWA CONVENTION DIRECTLY FROM MELBOURNE
Hawke was a shrewd, savvy operator who would have been in no doubt as to who he was dealing with and yet he willingly held his hand out and asked for travel money.
It was evident, even then that Hawke had designs upon becoming Australian Prime Minister. However, he didn't think twice about the implications of being paid by the Americans. Regardless of what your thoughts are about Hawke, America, the ALP or the CIA, this shameless request speaks volumes about the real power structure within Australia.
Shortly after, a cable confirming payment arrangements was sent

CANBERRA WILL ISSUE CHECK IN AMOUNT OF $523 (U.S.) TO COVER SEVEN DAYS PER DIEM AND AIRFARE KANSAS CITY, WASHINGTON, NEW YORK, KANSAS CIT. CHECK WILL BE HANDED HAWKE PRIOR DEPARTURE BY LABATT IN MELBOURNE.
When peeled back, we can see both sides of American politics (multinationals and corrupted unions ) working to bring Hawke into the fold. There appears to have been significant time and effort invested in Mr Hawke's "education."
Judging by the multinational positive policies that Hawke championed during his reign, that investment may have paid handsome dividends.