The Woman With Alabaster Oil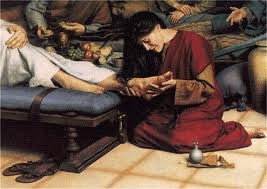 Bible Text: John. 12:1-8
#Introduction:
The difference between Mary, the woman with Alabaster oil
(who took a pound of a very expensive ointment, anointed the feet of Jesus, and wiped His feet with her hair) and Judas Iscariot (who wanted the same ointment sold for three hundred Denarii so that he could take from it), is the New Heart.
Jesus commended the action of the woman while Judas condemned it, why?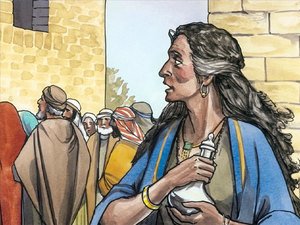 Read verse 6 again "this he said, not that he care for the poor but because he was a thief, and as he had the money box he used to take what was put into it" (RSV). We can see that before this time, Judas was a thief. He had been used to stealing money from the bag because he was the treasurer and now again, with his old heart; he wanted to do publicly what he used to do at the back. Judas Iscariot needed a new heart but refused to have it until he hanged himself (Matt. 27:1-5)
Have you discovered that you need a new heart? Determine to have a new heart now; pray the prayer in Psalm 51:10
Anyone with a new heart will always love Jesus, love to be at His feet, and does what will make Him (Jesus) happy always (Psalm 69:9).
It is evident that the New Heart is always accompanied with giving - the woman with alabasteroil gave:
i. Her best resource - very costly and pure ointment. (RVS Bible makes the emphasis that denarius (one denarii ) was a day's wage for.a labourer, which means 300 Denarii is equivalent to 300 days' wages) all for Jesus. What do you want to give Jesus?
ii. Her body/energy- it is not an easy task for someone to use his/her head (hair) to wipe another one's feet like Mary did to Jesus. She used her body/energy for the work.
iii. Her time- God is the owner of time; so, let's always be patient whenever we are in the presence of God.
We need determination to overcome persecutions and distractions- there will always be persecutors and destructors on our ways as we are trying to please God
2Timothy . 3:11. It is a side distraction for Judas to have said "why was this ointment not sold for 300 Denarii" John 12:5.
The secret is that, the woman had determined to use this very expensive ointment for Jesus alone and NOT FOR SALE. What is your own determination about Jesus