Leadership, over the years has been an activity initiated and divinely ordained by God himself. Not minding the fact that he's the supreme controller of the universe, God gives special recognition to earthly authorities and demands that reverence be accorded them, iasmuch as he demands same.
God's criteria for choosing leaders can be traced back to the days of our first parents, Adam and Eve. After the creation story of the first man, God handed over the entirety of all other creations on earth into his /hands.
The first chapter of Genesis gives much definition to what divine leadership should look like, in the biblical point of view. God's system of leadership is perfect, and is one virtue man should emulate by extension.
Prior to man's fall from Grace through sin, in the garden of Eden, Adam was a man after God's heart.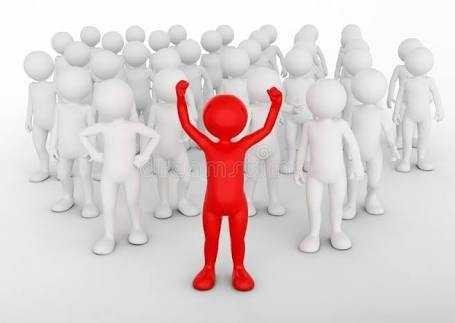 Image source
As a first product of divine creation, Adam had the semblance of a semi-god on earth. little wonder why Genesis chapter 1 verse 28 records it that "God blessed them, and God said unto them, Be fruitful, and multiply, and replenish the earth, and subdue it: and have dominion over the fish of the sea, and over the fowl of the air, and over every living thing that moveth upon the earth".
In light of the foregoing, it can be deduced that God doesn't just pick up leaders and drip them in positions of authority. As a Potter, he molds and refines leaders to his satisfaction. The Bible outs it that God created man in his own image and likeness. His intent for doing this can't be far fetched, because God expects every other world leader to take after his pattern.
Drifting our minds away from God's stance on leadership, we would collectively agree our contemporary world needs leaders to ensure peace, coordination and orderliness in any syetem. No nation can make steady progress without a robust political, religious and economic strength, no nation, state or organization can boast of good governance, without having someone at the helm of affairs of such system.
But then, there exists questions that ought to be asked. Questions hovering around the competence and character of such a leader. Before making a move to chose leaders, we should ask ourselves and also make efforts to find out if truly, he/she is a man/woman after God's heart.
Acts 13:21 takes our mind back to the days of the Israelites. At a point in time, Israel wandered for years without one to call a leader. We shouldn't forget so quickly that the nation of Israel was one tribe after God's heart, but something important was missing in their political system - a King after God's heart.
A careful study of this verse would reveal that the Israelites yearned and complained to God that they wanted a King, "and God gave unto them Saul the son of Cis, a man of the tribe of Benjamin, by the space of forty years." The same king they so desired turned out to be the one killing them and taking their lands, a clear picture of one who isn't after God's heart.
The reverse of their woes became the case when in verse 22, God installed another man to rule Israel. Now, there was something special about this man that ought to be noticed. No man saw it coming, but due to God's omniscient nature, he anointed David as King of Israel, and pronounced him as a man after his heart.
These illustrations should serve as a great lesson to us today. The idea of choosing leaders without necessarily accessing the strength and weaknesses associated with his personality, character and competence should be aborted.
Leadership comes from God, and only his divine direction should come first before our personal choices.