Monthly Newsletter
Hello brothers and sisters! 😃
Sharing the good news!
I love the gospel! I have been telling many of the wonderful news of what Jesus accomplished on the cross! The truth of how Jesus has made us new creations amazes me! Unfortunately many (including myself) have been taught "another gospel" of "gnostic asceticism" (religious striving) or "do-it-yourself-sin management" (prideful legalism). I have been declaring nothing but Jesus Christ and Him crucified! :)
Religion is man trying to get to God. But the gospel shows how God came to man. Jesus' flesh, which was the curtain, was ripped in two so that we could draw near to God. (Hebrews 10:19-22) There is no separation between God and man! :) Jesus grafted us in to The Vine and restored our identity as ones who are united with Him (1 Corinthians 6:17; John 17:20-23; Acts 17:28; 2nd Peter 1:4)
On the cross, Jesus disarmed and triumphed over sin! (Colossians 2:15) We have been (past tense) co-crucified with Christ and we are now co-risen with Christ! (Romans 6:2-4) Yay Jesus! 👏🙌
The old, sinful self doesn't exist anymore! (Romans 6:6-7) 😮!😃 The life we now live is Jesus' life! God actually lives in us! (Galatians 2:20) 😃 By believing these facts, we get to experience the victory He has already accomplished.
I have been thoroughly enjoying proclaiming the good news at AA and NA meetings. This good news is that because of Jesus, no one has to be an alcoholic or a drug addict if they don't want to! Victory is possible! Jesus has set us free from sin! Anyone who wants to can walk in their true identity as a child of God—as the righteousness of God in Christ Jesus. 😀
I am seeing many former addicts focus increasingly on Jesus and less on "recovery." I proclaim the truth that when we seek Jesus first, recovery will happen. And relapse won't. I think God can use 12-step programs like AA/NA. But I love telling of the "1-step program" of simply believing the gospel that declares how Jesus has made us new creations! Effortless freedom comes from realizing the truth of who we really are. The more we realize our true identity, the more we live like it! Instead of working towards earning an identity (trying to re-accomplish the finished work of the cross), Jesus gives us a new identity that we can receive as a free gift!
I tell addicts all the time that if one is fascinated with God, the temptation of sin fades away in light of the surpassing worth of enjoying relationship with Christ Jesus our Lord! (Philippians 3:8) When one actually taste's and sees that God is good (Psalm 34:8)—when someone actually experiences His love is better than anything else (Song of Songs 1:2; Psalm 63:3)—then sin actually loses its appeal! Drugs are boring compared to God!
Lives transformed
At Endeavor House Ministries God is breaking the chains of addiction to drugs and alcohol. Jesus is bringing about radical transformation in the lives of many at Endeavor House. There are about 20 different men who are living as completely new creations because of what God is doing at Endeavor House. Dozens others have started to live in their true identity.
One example of the many stories God has begun to write in these guys lives is about a man named Trevor. In February, after years of alcoholism, God suddenly removed his desire to drink and lifted his depression! He still has no desire to drink at all and is always smiling! He's probably the happiest resident I know! 😀
God is going to use many of them (and has already used some) in mighty ways to bring His kingdom here! It is an honor to get to be in relationship with these soon-to-be great men of God. I look forward to seeing how God will use them in the years to come!
Below is a picture of me with two friends of mine who graduated from the Endeavor House a while ago and are now telling others of the victory that Jesus has given them!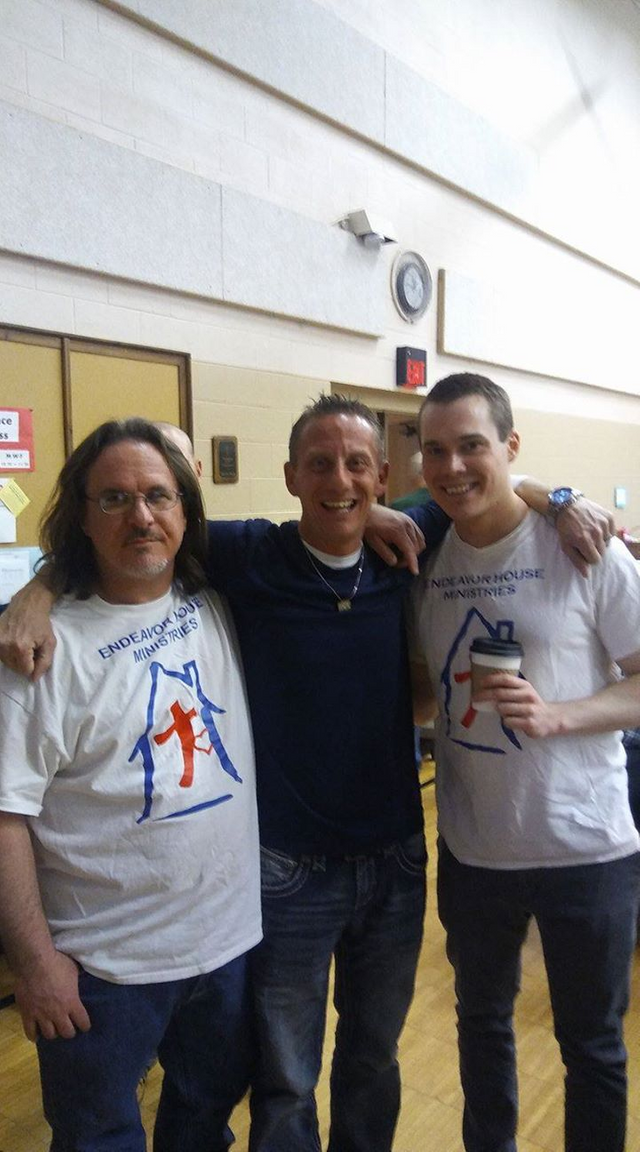 The miracle maker!
Taylor is a child of God who just hasn't yet realized that Jesus has made him a new creation. So he's been living as a homeless heroin addict for a while. But he continues to return to the Lord and I believe that he will soon cling to God and never again leave Him (Song of Songs 3:4; Hosea 2:7).
Several weeks ago Taylor said that he couldn't get high anymore. He said the drugs stopped working. This is exactly one of the things we prayed for him! Praise God! A couple weeks later he said he was ready to move into a transitional living house and was ready to stay sober for forever.
I am believing that God is going to complete the good work that He began in Taylor very soon. Pray with me that God would encounter him with His love so that Taylor would not be tempted by an inferior pleasure anymore.
Summer internship
This summer we have a group interns at the House of Prayer East Lansing. One of these interns who I am mentoring is Charlie. Below is a picture of the interns and some of the leaders at the HOPE. Charlie is the first young man on the top left. Please pray that God would give me wisdom as I mentor.
Prayer requests:
That Holy Spirit would teach me more about what Jesus accomplished on the cross.
That Father would help me believe that I am healed and have a sound mind.
That Jesus would increase my financial partnership team.
---
Thank you so much to all who have prayed for me! I really appreciate all of you so much! 😊 And thank you to everyone who has joined my financial partnership team! I am so encouraged when I see others investing in me. The message I receive when someone joins my financial partnership team is that they believe in me and in the work that God is doing through me. So thank you for encouraging me in this way! :)
You play a huge role in everything that I do! Those testimonies couldn't have happened without you! So together, we are bringing God's kingdom here! 😃 Do you want in on the action? If you want to be a part of continuing the work that God has me doing you can give online or in the mail:
Electronically:
https://www.paypal.com/cgi-bin/webscr?cmd=_s-xclick&hosted_button_id=2RED68AZQNG6J
Mail:
Make checks out to Spirit of Christ Church and send them to:
Benjamin Mercer
3830 South Waverly Road
Lansing, MI, 48911
(Please include "for Benjamin Mercer" in the memo)
Thank you for your prayers and financial partnership! :)