How to win in life
The way that leads to life
While there are many ways to go in this road we travel, following Jesus is the way that leads to life. The world advertises countless different options to pursue. But all those ways that "seem" right actually lead to death (Proverbs 14:12). Jesus showed us the way that leads to life. He said: "Enter by the narrow gate; for wide is the gate and broad is the way that leads to destruction, and there are many who go in by it. Because narrow is the gate and difficult is the way which leads to life, and there are few who find it" (Matthew 7:13-14).
The good shepherd
Jesus' leadership is perfect. His banner (leadership) over us is love (Song of Songs 2:4). All God does is motivated by love for us. The more confidence we have in His love, the more we can trust in Him and follow wherever He is leading. Even if the path looks rough and even goes through a dark valley--because we know the leader, we don't necessarily have to know where He is leading. We can simply trust in knowing that He knows what He is doing and has our best interest in mind. We can be confident in His love for us and trust the leader to lead us wherever because He is love. His very nature is love. Everything He does is motivated by love.
The answer
We find life when we lay ours down (Matthew 16:25). True freedom is found in following Jesus' leadership. Circumstances always change and chasing after pleasure or peace will always disappoint. It is a chasing after the wind. Happiness is elusive. "Hope deferred makes the heart sick" (Proverbs 13:12). Hoping for a certain circumstance or feeling is bound to fail. But "hope [in God] does not disappoint, because the love of God has been poured out in our hearts by the Holy Spirit who was given to us" (Romans 5:5). Hope in God simply means being confident in His love for us and knowing that because He is a good leader, we can trust Him and know He can use all things for good to those who love Him.
Counter-intuitive
We'll never get what we seek by chasing after it. But Jesus tells us that when we seek God first, then everything else will be added to us (Matthew 6:33). You hit two birds with one stone. When we delight ourselves in the Lord, He will give us the desires of our heart (Psalm 37:4). We can't really get the desires of our heart without delighting ourselves in God. Because He is really what we want deep down inside. We were created for Him. We really just want more of Him. We really just want to enjoy the fruit of the Spirit, which we experience as we abide in Him. Love, joy, and peace come from God. Not from anywhere else. Not by trying to get it ourselves. Following Jesus' leadership will really give us all that we seek. But if we try to go after it on our own, we won't get it AND we'll miss out on God!
Prayer:
God, thank you that "no one who hopes in you will ever be put to shame!" (Psalm 25:3) I praise you for being who you are! I exalt you for being so loving, good and trustworthy! Thank you that you never change! You are the same yesterday, today, and forever! You are faithful! You are always good! Thank you! "In you, LORD my God, I put my trust" (Psalm 25:3). I commit to following you wherever you lead! Help me do this! Remind me of who you are! "Show me your ways, Lord, teach me your paths" (Psalm 25:4). I love you God!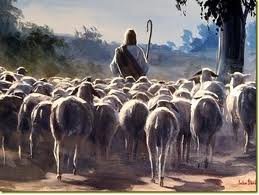 Image Source