A Lesson in Hebrews: Substance over Style Part 2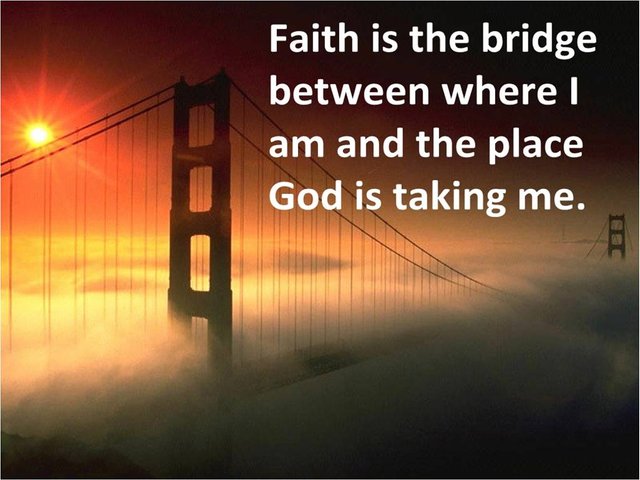 We have talked about Hebrews being a legal argument for the defense of something and someone. Within the definition for faith we find the word "substance". The word for substance means: a setting or placing under; that which has foundation, is firm. The idea is that we can have confidence in what we are standing on because it has substance and is real.
The Seminal group Simon and Garfunkel had their biggest hit with a song called "Bridge Over Troubled Water". While many people are familiar with this song, many don't know its inspiration. It comes from a gospel song called "Mary Don't You Weep" by the Swan Silvertones. Paul Simon was stirred by the line "I'll be your bridge over deep waters if you trust in my name".
What is a bridge?
"A bridge is a structure built to span a physical obstacle, such as a body of water, valley, or road, without closing the way underneath. It is constructed for the purpose of providing passage over the obstacle, usually something that can be detrimental to cross otherwise. There are many different designs that each serve a particular purpose and apply to different situations." - Wikipedia
In life we will have to contend with many different types of obstacles. Some will literally be physical. In Exodus chapter 14, the Israelites encountered the Red Sea. God sovereignly and majestically parted the waters. They crossed over on dry ground. Others will be emotional, psychological or even spiritual. Sometimes God will move the obstacle (Mark 11:23). Most times, God will command us to simply go through and over the obstacles.
"Now this is what the LORD says—He who created you, O Jacob, and He who formed you, O Israel: "Do not fear, for I have redeemed you; I have called you by your name; you are Mine! When you go through deep waters, I will be with you. When you go through rivers of difficulty, you will not drown. When you walk through the fire of oppression, you will not be burned up; the flames will not consume you." Isa. 43:1-2
• By having us go over and through we learn that He is greater than any challenge we will face. 1 John 4:4
• It builds our testimony and strengthens our faith for greater challenges that lie ahead. James 1:3
Faith becomes a bridge that moves us a little bit higher in Him. It becomes the bridge by which He moves us forward in our destiny. The faith that we are called to have has substance to it. It is not blind nor imagery. It is essential to how we are called to live. (Hab. 2:4; Heb. 11:6)