A Reason To Celebrate
Hello and good morning to you all. I believe your weekend must have been an awesome one,especially as it was also Easter. Easter is a period we recognised and celebrate the death and resurrection of our Lord Jesus Christ. Did I say celebrate? Well,yes I did. Christ came to this world for a reason and that reason is you and I.It's not enough that he came,but what matters and counts is that He fulfilled His Purpose for and that calls for celebration.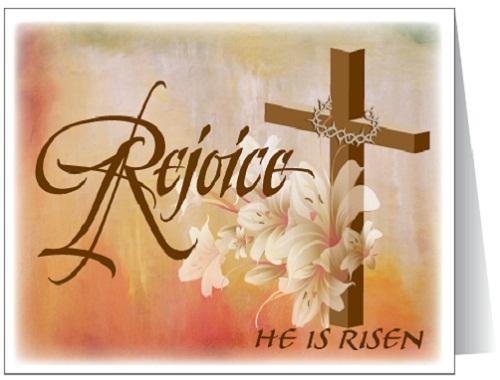 Image Source
Easter is a more important celebration or event in the Christian community than the Christmas is because it is a fulfillment of Christ coming,this is the real essence. Most persons usually don't understand what the Easter is all about and what our attitude towards its should be like.
John 10:10. Jesus didn't come just for the sake of coming or an holiday nor a sojourn through,rather He came for a purpose, a purpose that concerned men. He came to give man eternal life.
Man is the only creature God can commune with in that order He had to give man eternal life. God desires to reveal himself in you and through you and this can only be possible if Man has eternal life,this is the God life. God sent Jesus to fulfill this. Originally,from the beginning Man had the life from God which was breathed on him at Creation, but Jesus came to give Man the Life of God! This life is what will make Man like God.
On this day was all debt paid and settled. On this day marks the eternal defeat of Satan and his cohort. On this day we became one with God. On this day was the issue of Sin dealt with! On this day was Man made Victorious, Prosperous and Triumphant.
On this day,all Men were made free, no debt,no condemnation!
1Cor 15:12-17....The death of Jesus cancelled all debt and erased all guilt of Sins. His resurrection brought about the birth of a new man altogether. The Scriptures tells us that we have been translated from darkness into His marvelous light, oh Hallelujah!
This is powerful, this is why we should celebrate!
Is a 53:1-11
What you don't know as a Christian will limit your experience as a Child of God. Knowledge is power but I tell you ,it is not enough, applied Knowledge is much more powerful. It is not enough to know,what matters is what you do with the knowledge.
I am so glad to have been able to share this with you and I believe you have been blessed and inspired. If you are not born again ,now is the time to do so. Jesus death was for you, if you would only believe on him,you will be saved. Partake of this gift of eternal life today and live your life transformed for ever. God bless you!
Keep Steeming