So you might be asking yourself this tough question: Why haven't you heard about Christ's return? When he comes back, all eyes are supposed to see him, right? Well, this prophecy was fulfilled but the hard truth of the matter is... most people need to remove their head from the sand in order to do so! DO you honestly think the world powers WANT YOU TO KNOW?
Let history serve as a lesson for what happened to him 2,000 years ago- the religious leaders of the time SILENCED and TORTURED HIM TO DEATH.
The Armageddon Broadcast Network Released "The Christ Cover Up" last year, and boy did it pack a punch of truth! I want you all to check this out.
Please post your comments in the replies section below.
Have a blessed day!
Bishop Corey DeFrancesco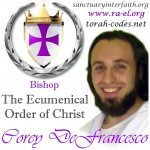 ---
Visit our online Congregations at:
https://www.facebook.com/groups/ICoLR/
https://vk.com/congregation_of_lord_rayel
Also check out:
http://ra-el.org/
https://armageddonbroadcastnetwork.tv/
https://sanctuaryinterfaith.org/
Donate at:
https://sanctuaryinterfaith.org/donations/ or through paypal at: SanctuaryInterfaithIsrael@gmail.com