Happy Plaguesgiving / Flea-son's Greetings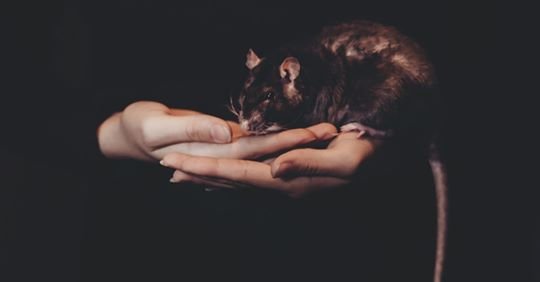 China Has Confirmed Their 4th Case of Bubonic Plague This Month.
Only 5 days after I published an article commenting on Inner Mongolia's three recent cases of Bubonic Plague and the risk of the situation worsening, China has reported yet another case, this time in a completely different part of the province. And how ironic, the news reports from South China Morning Post (Agence France-Press) and China Daily (Xin) came out on 28 November; Thanksgiving Day.
Details at this point are scarce. The latest victim is a "herder (presumably of sheep)" from Siziwang County in Inner Mongolia, and is reportedly in "stable condition." What is noteworthy is that Xin Wen's China Daily article devoted almost twice the word-count to the anti-rodent measures Beijing and Siziwang are taking as a precaution, than they did to any details of where, when and how the herder contracted the disease.
There is need for perspective here. The Plague's "return" is not exactly new. In truth, it never went away. According to the American Center for Disease Control, there have been between 1 - 17 cases per year in the US since 1970. However, what bothers me (aside from the Chinese government's proven unpreparedness, their history of covering up epidemics, and the fact that circumstances are ripe for a pandemic, as I noted a few days ago is not mathematics. It's geography. Right now, this disease's spread is reminiscent of ZZ Top.
"I'm baaaaaad... I'm nationwide!"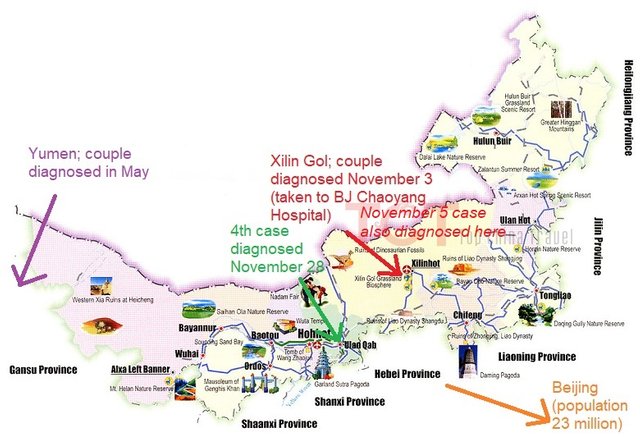 The first cases this year, back in May, were reported in the City of Yumen, in Gansu Province (East of Inner Mongolia).
Then, earlier this month (reports differ about the date but a now-deleted WeChat post claims it was as early as 3 November (Gritten), a couple from Xilin Gol was diagnosed with what is called "pneumonic Plague," the name given to the disease when it gets into the lungs. This couple was transported to Beijing's Chaoyang Hospital for treatment, and an announcement of their infection was not made until 13 November.
On 5 November, a 55-year-old hunter, also in Xilin Gol (though authorities repeatedly insist there is no connection to the November 3 diagnosis, contracted the plague, reportedly by eating an infected rabbit. He was not diagnosed until 16 November (Yan).
This brings us to the latest case, a herder in Ulanqba's Siziwang County, reported on 28 November (Agence France-Press). As Travelchinaguide shows in this map, this location is roughly halfway between Hohot (the Provincial Capital of Inner Mongolia) and Zhangjiakou, the site of the upcoming 2022 Winter Olympics. If that sentence leaves you furrowing your brow saying "I thought the 2022 Olympics were going to be in Beijing," you're almost right. Zhangjiakou is close enough to the Capital, a sprawling, congested metroplex of 23 million people and God-only-knows-how-many rats, that it is an hour's bus ride from downtown to ZJK.
So far, that's 6 reported cases in 2019, with 4 of them in Inner Mongolia in November. Transmission occurred in November two different parts of Xilin Gol, as well as in Ulanqab, with another dual transmission west of that back in May. The rate of transmission is increasing, and the infected area is wide, with transmissions occurring ever-closer to Beijing.
There's little to report other than what I said 5 days ago at this point, but this is a situation to watch.
Works Cited
Agence France-Presse. "China Reports Fourth Plague Case, as Herder Diagnosed With Bubonic Form of Deadly Disease." South China Morning Post. 28 Nov, 2019. Web, 29 Nov, 2019. https://www.scmp.com/news/china/society/article/3039757/china-reports-fourth-plague-case-herder-diagnosed-bubonic-strain
"China Highway Map." China Travel Guide. Updated 4 Apr, 2019. Web. 29 Nov, 2019. https://www.travelchinaguide.com/map/highway.htm
Gritten, William. "Beijing Residents Fearful After Outbreak of Plague." The Week. 14 Nov, 2019. Web. 29 Nov, 2019. https://www.theweek.co.uk/104326/beijing-residents-fearful-after-outbreak-of-plague
"Plague - Maps and Statistics." Center for Disease Control and Prevention. Web. 29 Nov, 2019. (https://www.cdc.gov/plague/maps/index.html)
Xin Wen. "New Bubonic Plague Case Reported in Inner Mongolia." China Daily. 28 Nov, 2019. Web, 29 Nov, 2019. https://www.chinadaily.com.cn/a/201911/28/WS5ddf9eafa310cf3e3557ab83.html
Yan, Alice. "Chinese Man, 55, Contracts Bubonic Plague After Eating Wild Rabbit in Inner Mongolia." South China Morning Post. 17 Nov, 2019. Web. 23 Nov, 2019. https://www.scmp.com/news/china/society/article/3038130/chinese-man-55-contracts-bubonic-plague-after-eating-wild-rabbit