Chess Puzzle L-001 WIN 2 SBD
Hello pioneering Steemians!
Today, using a fun Chess Puzzle, @leeuw is going to try to garnish some upvote rewards - which can then be recycled for more future prizes.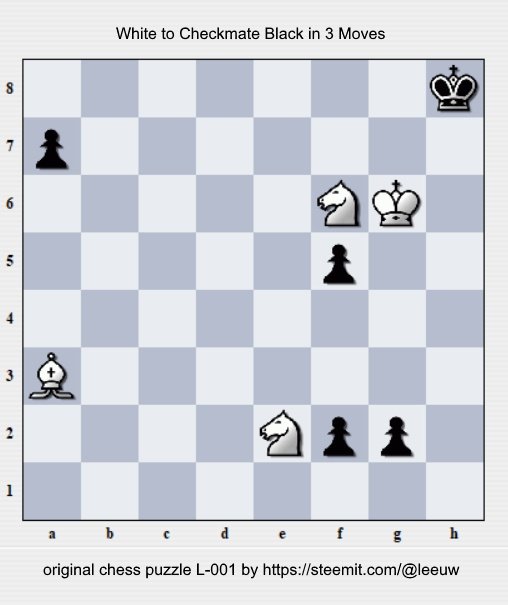 Steemians from all corners of all (chess/puzzle) Universes are invited to try!
White to move checkmates Black in 3 moves.
Black has two brave and fierce Pawns (peasants) in play ready to promote to Queen once they step onto Rank 1, although somewhat guarded by a single White Knight (horse).
The Black King however is in deep trouble with his back against the wall in the corner. Can White pull this off?
UPDATE: only one try for each player from now. Remember it takes White 3 moves to checkmate. In this puzzle there exists no immediate checkmate. We ask only for the FIRST move of the 3 White moves towards checkmate. I have verified the 100% validity of my puzzle composition via my chess software. In fact any other first move will have White guaranteed LOSE the game!
To participate, enter a comment below with ONLY THE ONE winning first move by White (formatted like for example 'a3-c1') that secures a checkmate in 3 moves. ONLY the FIRST White move we need. No computer assistance is allowed of course, hence i invite you to add with your comment a few words describing the mental process you went through in finding your move, ultimately @leeuw's ruling may be subjective, allowed to be random and is final.
The correct move with the most believable, funny, unique or sensible way that made you discover (or guess hahaha) the winning move without the computer aid, has the best chance for a prize of 2 SBD, subject to @leeuw's aforementioned ruling. Your upvote will be appreciated by @leeuw and by future prize winners too.
This chess puzzle expires sometime on Tue 11 Dec. Wait for the announcement of the winner on that day.
Good luck, have fun, let's step onto the chess board!