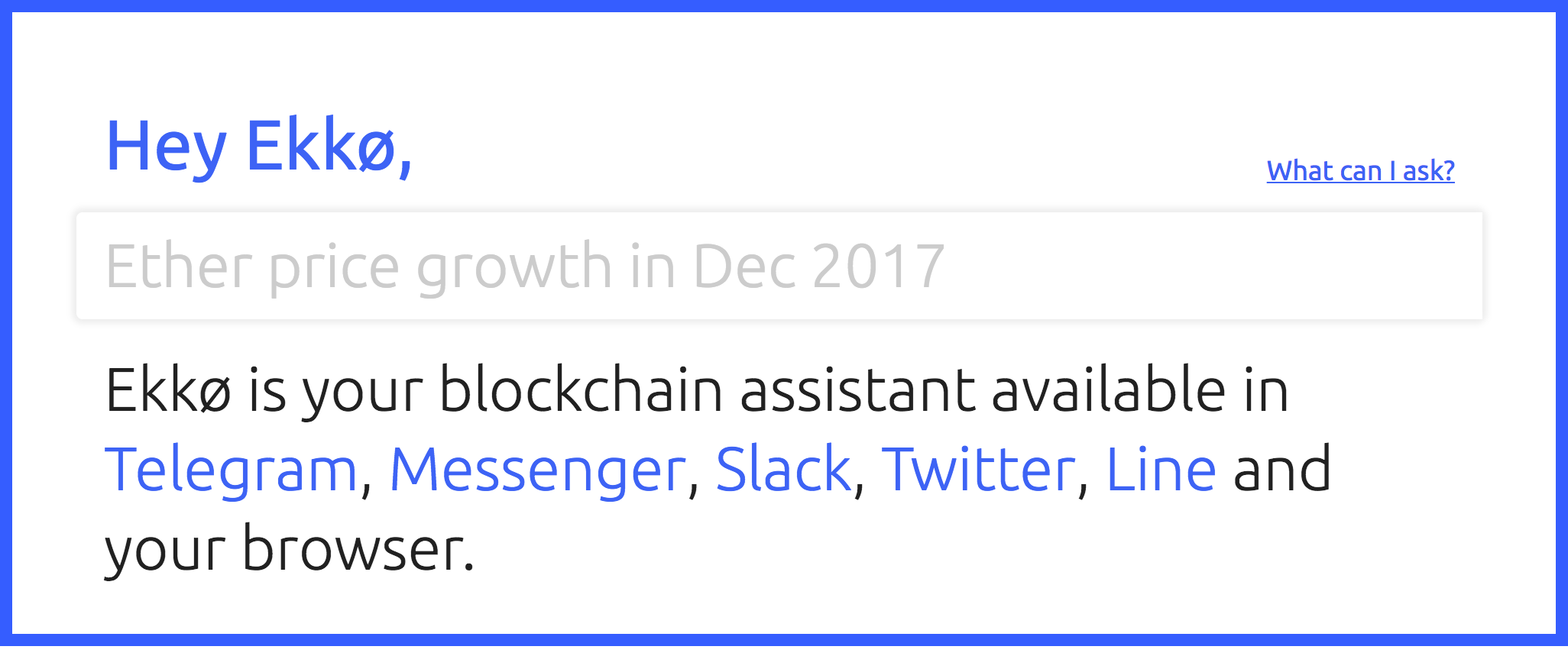 Greetings everyone! My name is Konstantin Keller. Initially, I was building Ekko for myself and close friends, but then I decided to make it publicly available. Hope you will find him helpful.
Ekkø is your blockchain assistant that can provide answers and complete basic tasks - https://ekko.ai
Ekko uses machine learning to understand natural language so you can ask questions like "What is the best exchange rate for Ethereum right now?" and he will understand you. Or, if you don't like to waste the time you can simplify question to minimalistic format like "btc to usd coinbase".
Available in:
Browser: https://ekko.ai/
Telegram: https://t.me/ekkbot
Slack: https://slack.com/oauth/authorize?client_id=301725173473.301731110481&scope=bot
Facebook Messenger: https://m.me/ekko.ai
Twitter: https://twitter.com/ekkoai
Line: https://line.me/R/ti/p/%40ekko
What can Ekko do?
Get crypto and fiat conversion
"NEO to EOS", "100 Bitcoins in US dollars" or "How many Waves will I get for 1,000 Euro?"
Specify the exchange or compare across multiple
"$8,000 in Litecoins GDAX" or "Ethereum best exchange rates"
Get a historical price for an exact day or period
"NEO price 2 days ago", "Bitcoin price on Jun 12, 2012" or "Ether price growth in Dec 2017"
Specify the exchange
"OMG price last month on Bittrex" or "Bitcoin price since 2016 on Coinbase"
Find and analyze data about any coin or token
"Ethereum" or "Ripple"
Request a specific property
"SONM white paper", "Monero algorithm" or "Tezos jurisdiction"
Check balance of Ethereum or Bitcoin address
"Balance ETH 0xFBb...98"
Specify the exchange or currency
"Balance BTC 16rCmC...Uk by Coinbase",
Get information about a person
"Who's Brian Armstrong" or "Who is Olaf Carlson-Wee?"
Get information about anything
"What is proof of stake?" or "What's the definition of SHA?"
Here's full list of skills: https://help.ekko.ai/
Follow Updates
Twitter: https://twitter.com/ekkoai
Telegram: https://t.me/ekkoai
If you would like to provide a feedback or request a new feature, post it here or contact me directly in telegram: @koskeller