Eth/Btc
Ethereum is on the verge of a big breakout
On the daily chart we are at the penultimate resistance before the breakout of the big triangle
However, a small hurdle would still have to be overcome at 0.076, after which the way would be clear to attack the old high at 0.082 btc.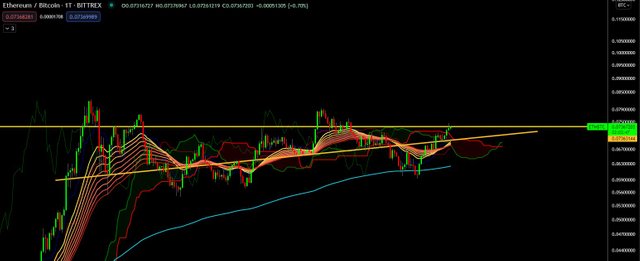 Disclaimer
This post contains affiliate links that help me educate myself.
If you make a purchase through one of these links, I will receive a commission. Certain decisions are not influenced by this.
Cryptocurrencies: buy/sell/trade
► FTX: https://ftx.com/#a=cultusforex
► Bittrex: https://tinyurl.com/y3628ckl
► Bitfinex: https://tinyurl.com/yc4blgny
► Bitpanda: https://tinyurl.com/y3a8s2xl
► Anycoindirect: https://tinyurl.com/yxm34stz
► Cryptopay: https://tinyurl.com/y5ov8nzr
► Coinbase: https://tinyurl.com/yef6rwa4
► Earn Solana: https://tinyurl.com/ygd497o9
► Earn BCH with Social Media: https://tinyurl.com/ydsb8j2p