This project got started because I am missing a charting functionality within Steem Engine.
---
MARLIANS is the native token of the Marlians tribe. This tribe wants you to be your best self. Be naijan! Help others to be naijan. Make the whole world naijan. It is a general purpose tribe.
Unstake cooldown: 90 days.
---
Check yourself before you wreck yourself
---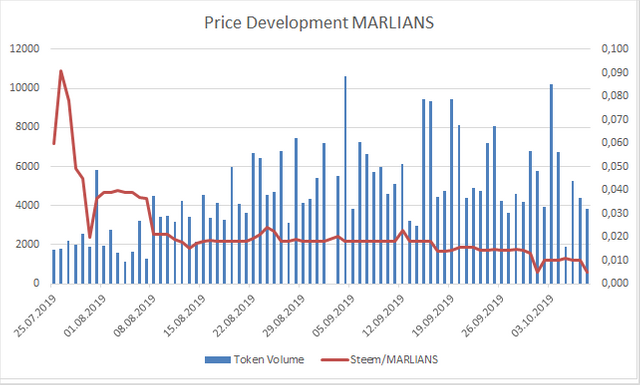 Left Y-Axis: Token Volume; Right Y-Axis: Steem/MARLIANS
Time frame: 25.07.2019 until 08.10.2019
Price data is represented by daily lows in order to be conservative. Some tokens display a huge spread or sometimes don't trade at all. The daily low represents a bid where a transaction could happen.
Data from 15.07. through 24.07.19 omitted in chart because of distorted behavior during token launch
---
Earlier posts in the series - ordered from newest to oldest:
SE Charts: DEC - Dark Energy Crystals
---
Helpful links for charting SE tokens
---
Disclaimer 1: Author owns MARLIANS at the time of writing.
Disclaimer 2: These charts do not constitute investment advice. Especially not for @trumpman.