Comparing the price performance of three game related token.
Starting point is 09.08.2019. The earliest time to get consistent prices data from all coins.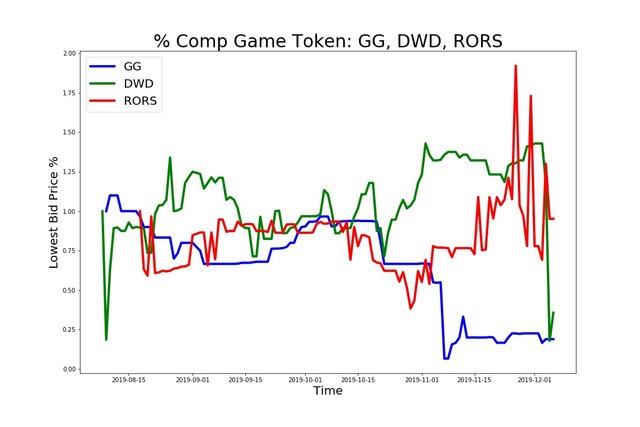 UNTAMED are excluded from the comparison because they launched only recently.
| Token | Price Performance [%] (1) | Median Token Volume (2) | Median Steem Volume (2) |
| --- | --- | --- | --- |
| GG | -81 | 2781 | 68 |
| DWD | -64,3 | 3220 | 118 |
| RORS | -4,8 | 16290 | 86 |
(1) Price performance covers the period from 09.08 to 06.12.2019.
(2) Median Volume for token and Steem covers the complete trading history.
Pairwise comparison of daily percentage changes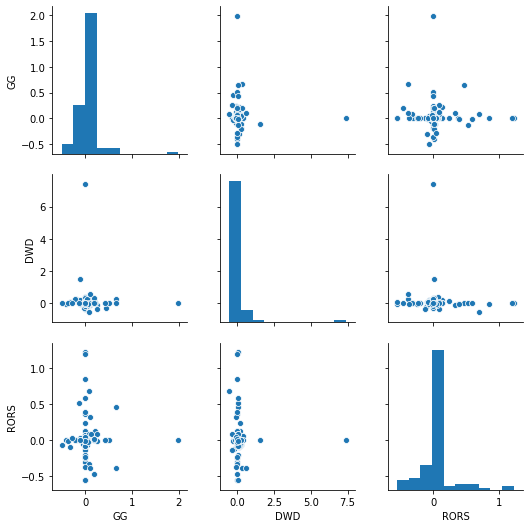 Correlation coefficients of the token
| | GG | DWD | RORS |
| --- | --- | --- | --- |
| GG | 1 | -0.03 | -0.02 |
| DWD | -0.03 | 1 | -0.05 |
| RORS | -0.02 | -0.05 | 1 |
---
Price data is represented by daily lows in order to be conservative. Some tokens display a huge spread or sometimes don't trade at all. The daily low represents a bid where a transaction could happen.
---
Check yourself before you wreck yourself
---
GG is the "Good Game Token". It is the native token of the @steem-ace tribe. Gaming content of any kind is welcome. You can find them at https://www.steemace.io.
Besides GG tokens there are also miners available - GGM. Every staked GGM has the chance to win 1 of 17 tickets per hour. There is a maximum of 20k miner tokens around.
Check out the White Paper
Unstaking cooldown: 28 days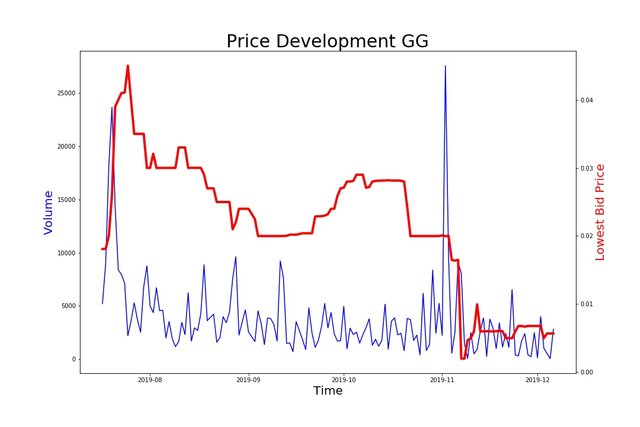 Left Y-Axis: Token Volume; Right Y-Axis: Steem/GG
Time frame: 14.07.2019 until 06.12.2019
Data from 12.07. through 13.07.2019 in chart omitted because of extreme volume during launch.
---
DWD - Drugwars Dollars - is the token of https://drugwars.io.
The game has gone through many iterations and retained a dedicated fanbase.
Check out https://steemweb.pl/statistics/drug-wars by @rafalski for up to date numbers about Steem based games.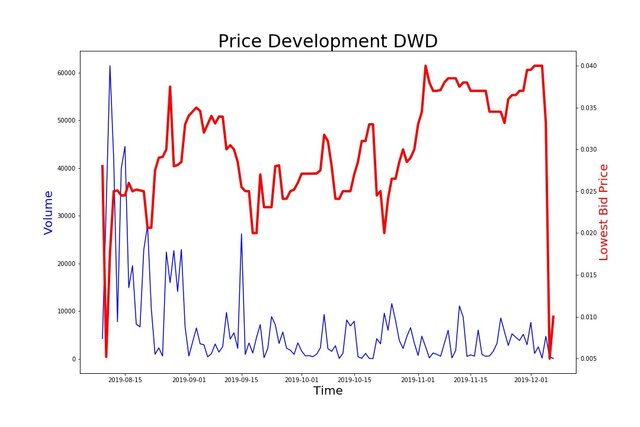 Left Y-Axis: Token Volume; Right Y-Axis: Steem/DWD
Time frame: 09.08.2019 until 06.12.2019
---
RORS tokens are the game currency to the economic strategy simulation game http://roadofrich.com.
Check out the announcement post about the game itself. Also take a look at the post about token economy of the game.
The spike in price around the 20th of November corresponds with an announcement of another game that will be brought to Steem using the same token: Road of Rich UNIVERSE Begins. Cosmic Online Remake Confirmation. Added New Blockchain Game! .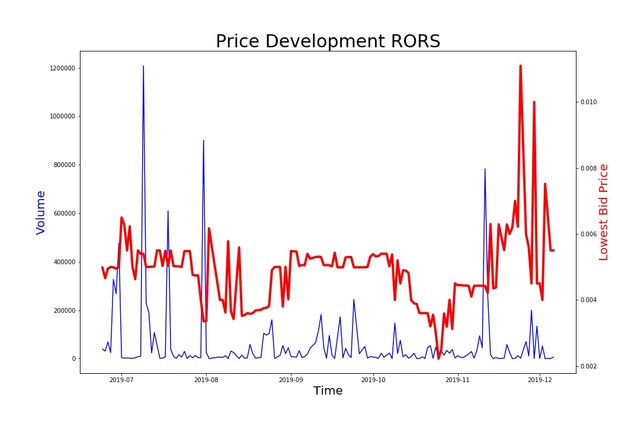 Left Y-Axis: Token Volume; Right Y-Axis: Steem/
Time frame: 21.06.2019 until 06.12.2019
---
UNTAMED are the new playing cards for Splinterlands. Tradeable on SE like the ALPHA and BETA packs. Check out the details here: Splinterlands: Untamed - Info & Release Date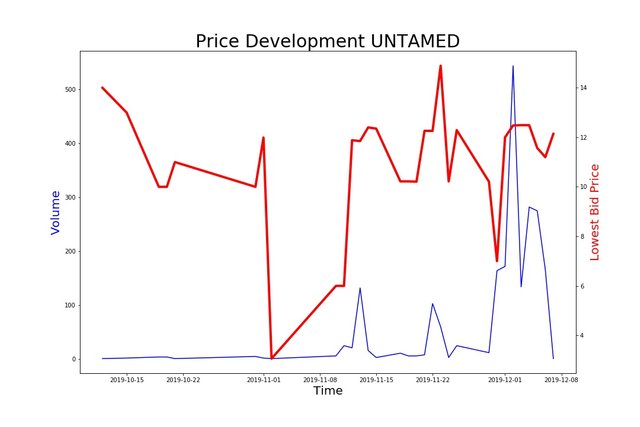 Left Y-Axis: Token Volume; Right Y-Axis: Steem/UNTAMED
Time frame: 12.10.2019 until 06.12.2019
---
Earlier selected posts in the series - ordered from newest to oldest:
SE Charts: Splinterlands: SPT, DEC, ALPHA, BETA
---
Complete list of charts per month in chronological order:
SE Charts in Chronological Order [Nov 19]
SE Charts in Chronological Order [Oct19]
---
If you want to make some charts on your own:
Charting Ressources for SE Tokens
---
Disclaimer 1: Author may own discussed token at the time of writing.
Disclaimer 2: These charts do not constitute investment advice. Because why in the world would you take investment advice from a random account on the internet? What is wrong with you? Don't do that!