This project got started because I am missing a charting functionality within Steem Engine.
---
DRAMA is probably the first SE comment coin. It was created by @whatsup as a coping mechanism to deal with the occasional outbursts of madness on Steem. Occasional might be the wrong word...
Instead of having your emotions flare up because of some comment or post, you can type the secret mantra, dRama will appear and you can carry on like the well adjusted Steemian you are.
---
Check yourself before you wreck yourself
---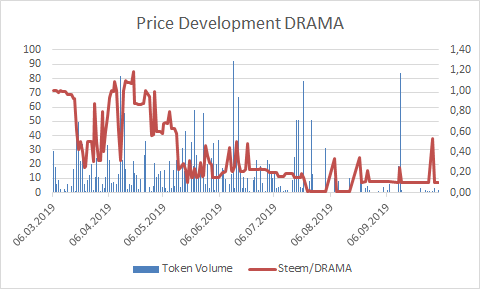 Left Y-Axis: Token Volume, Right Y-Axis: Steem/DRAMA
Time frame: 06.03.2019 until 04.10.2019
Price data is taken from daily lows.
---
Interesting to note, HF21/HF22 on the 27th and 29th of August didn't register on the dRama scale. Of course distribution of DRAMA on the chain doesn't instantly create transactions on steem-engine.com. A little pick-up in volume or price could have been expected in the run-up to or the aftermath of the forks. Have we normalized Hard Forks already?
---
Earlier posts in the series - ordered from newest to oldest:
SE Charts: DEC - Dark Energy Crystals
---
Feel free to make suggestions about SE tokens you want to see charted.
---
If you want to make charts on your own, go ahead and do it. It only takes a few, easy steps. Basic Excel skills is all you need. Mainly formatting data and charting.
harpagon made two posts on how to pull .json data from the API.
These are the steps:
This is the call I used for the above data:
https://api.steem-engine.com/history/marketHistory?symbol=DRAMA
Convert the raw .json data into .csv:
https://json-csv.com/
Convert the time stamp from Unix Time into human time in Excel with this formula:
=(((B2/60)/60)/24)+DATUM(1970;1;1)
B2 is a placeholder for the cell to be converted
Depending on your country settings you might have to convert the decimal format from '.' to ',' (from point to comma). It may be necessary to specify the format of date and numbers columns.
Excel charting magic happens here
Happy Rage Quit Sunday! Go fork yourself!
Disclaimer: I own some DRAMA