Complaining is easy. Doing something about it is harder.
One thing I like to to see is a charting option within Steem Engine.
As a second chart I decided on is DEC - Dark Energy Crystals, the in-game currency token for Splinterlands: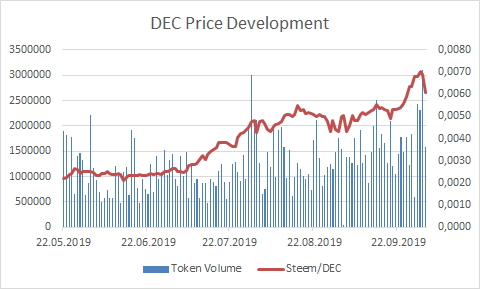 Left Y-Axis: Token Volume
Right Y-Axis: Steem/DEC
Horizontal Axis: Time
Time frame: 22.05.2019 until 02.10.2019
I cleaned the first days of trading out of my data set because they were unusual and don't add insight.
For pricing information I chose the daily low in order to be conservative. This is not important for a fairly liquid token like DEC but it will be a more realistic choice for more sparsely traded ones.
---
Past posts in the series - ordered from newest to oldest:
---
If you want to make charts on your own, go ahead and do it. It takes some steps but it is easy. A few basic Excel skills is all you need. Mainly formatting data and charting.
@harpagon made two posts on how to get .json data from the API.
These are the steps:
This is the call I used for the above data:
https://api.steem-engine.com/history/marketHistory?symbol=DEC
Convert the raw .json data into .csv:
https://json-csv.com/
Convert the time stamp from Unix Time into human time in Excel with this formula:
=(((B2/60)/60)/24)+DATUM(1970;1;1)
B2 stands for the cell to be converted
Depending on your country settings you might have to convert the decimal format from '.' to ',' (from point to comma)
Excel charting magic happens here
Have fun charting!