This project got started because I am missing a charting functionality within Steem Engine.
---
Today we are looking at two related tokens: CATS and KITTENS
Each day 1 CATS spawns 1 KITTENS. KITTENS can be exchanged for CATS by sending them to @catsmakekittens.
The current conversion rate is 1 CATS for 24 KITTENS . @CatScientist will be adjusting the exchange rate depending on the price of CATS. On Catipendence Day CATS launched at a price of 10 Steem and the conversion was 1 CATS for 10 KITTENS .
The basic idea is to have 1 KITTENS be worth 1 STEEM in the long run.
A side benefit is upvotes based on the amount CATS living with you.
---
Do not confuse CATS and KITTENS with another feline based token: CAT.
---
Check yourself before you wreck yourself
---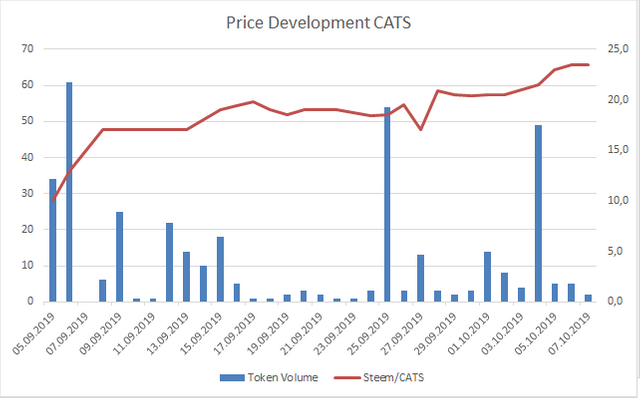 Left Y-Axis: Token Volume; Right Y-Axis: Steem/CATS
Time frame: 05.09.2019 until 07.10.2019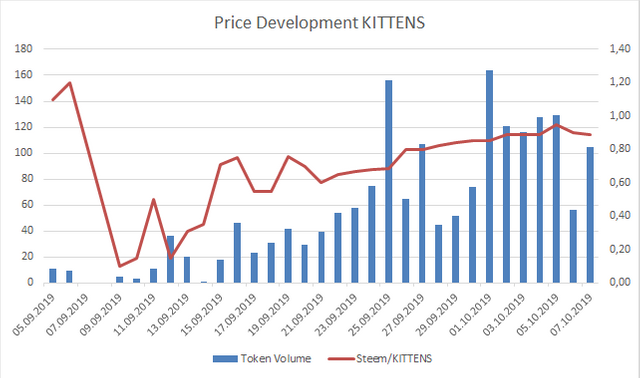 Left Y-Axis: Token Volume; Right Y-Axis: Steem/KITTENS
Time frame: 05.09.2019 until 07.10.2019
Price data is represented by daily lows in order to be conservative. Some tokens display a huge spread or sometimes don't trade at all. The daily low represents a bid where a transaction could happen.
CATS and KITTENS are barely a month old. For now the theory of a KITTENS price close to 1 Steem is holding up.
---
Earlier posts in the series - ordered from newest to oldest:
SE Charts: DEC - Dark Energy Crystals
---
Requests for SE tokens you want to see charted.
LEO
UFM
PHOTO
SPACO
LIFESTYLE
---
Helpful links for charting SE tokens
---
Disclaimer 1: Author indirectly owns CATS and KITTENS via the ONECENT and ADDAX trading games at the time of writing
Disclaimer 2: These charts do not constitute investment advice. Especially not for @trumpman.