This project got started because I am missing a charting functionality within Steem Engine.
---
The Cat Appreciation Network, @catnet, is the home base of cuddly and furry creatures like @steemkitten, @cuddlekitten and @steemeow. These creatures lurk around Steem blocks and cuddle unsuspecting Steemians with upvotes.
Here lies the significance of the CAT token. It works as CATnip and attracts the felines. CAT has an implicit staking feature: the more CAT you own for a long time, the stronger the smell of your catnip becomes to the catbots.
The cats might also leave behind some CAT if they feel like it. But they are cats. Nobody knows what they think.
---
PSA: CAT is not to be confused with CATS
---
Check yourself before you wreck yourself
---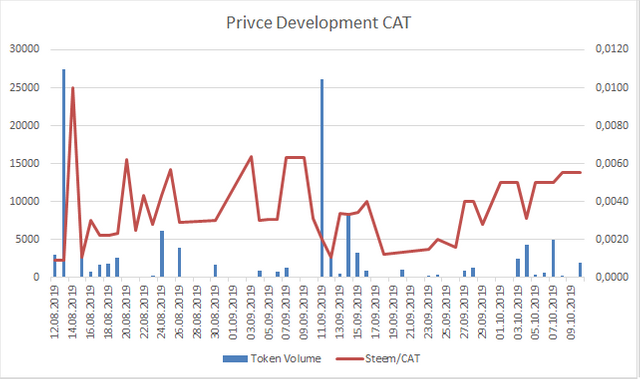 Left Y-Axis: Token Volume; Right Y-Axis: Steem/CAT
Time frame: 12.08.2019 until 10.10.2019
Price data is represented by daily lows in order to be conservative. Some tokens display a huge spread or sometimes don't trade at all. The daily low represents a bid where a transaction could happen.
Note: there is currently a sell wall in place at 0,01 Steem. That means trading will be happening in a restricted ranged for quite some time. On the other hand it provides the chance to back up the truck and load up as much CATnip as you need.
Data from 10.08. through 11.08.19 omitted in chart because of unrepresentative trading volumes during launch.
---
Earlier posts in the series - ordered from newest to oldest:
SE Charts: DEC - Dark Energy Crystals
---
If you want to make some charts on your own:
Charting Ressources for SE Tokens
---
@bxlphabet reminded me of a great post by @holger80:
What is the amount of staked tokens to became a Minnow, Dolphin, Orca or Whale for a Scot Tribe - 2019-09-11?
---
Disclaimer 1: Author owns CAT at the time of writing.
Disclaimer 2: These charts do not constitute investment advice. Especially not for @trumpman.