This project got started because I am missing a charting functionality within Steem Engine.
---
Steem Monsters! Every Steemian has heard about it. Many have read a recent post by @aggroed about the market capitalization of the playing cards almost hitting $4M. That is quite impressive.
Since it's aggroed there has to be something on Steem Engine as well. We have already covered DEC, the in-game currency tokens for Splinterlands. But there is more: Alpha and Beta packs of Steem Monsters cards.
ALPHA tokens represent Steem Monsters Alpha Edition booster packs

BETA tokens represent Splinterland Beta Edition booster packs
Let's find out how these fared.
---
Check yourself before you wreck yourself
---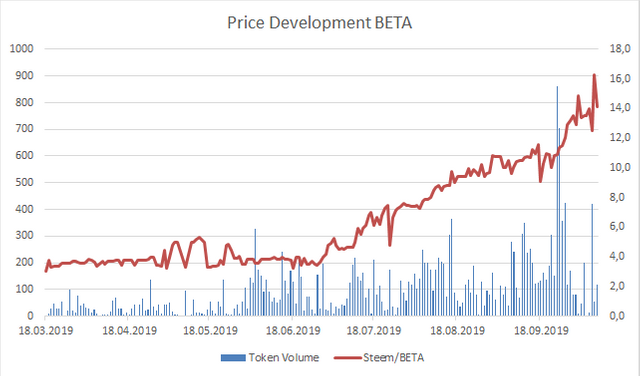 Left Y-Axis: Token Volume; Right Y-Axis: Steem/BETA
Time frame: 18.03.2019 until 09.10.2019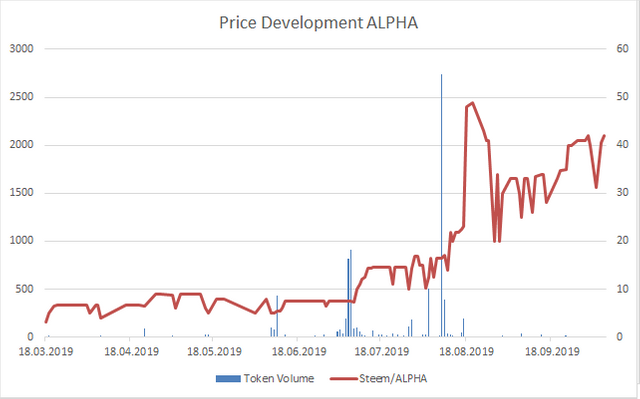 Left Y-Axis: Token Volume; Right Y-Axis: Steem/ALPHA
Time frame: 18.03.2019 until 07.10.2019
Volume scales are distorted by huge spikes in transactions of ALPHA packs. The median volume is 6 which provides a more reasonable baseline.
Price data is represented by daily lows in order to be conservative. Some tokens display a huge spread or sometimes don't trade at all. The daily low represents a bid where a transaction could happen.
---
Earlier posts in the series - ordered from newest to oldest:
SE Charts: DEC - Dark Energy Crystals
---
Helpful links for charting SE tokens
---
Disclaimer 1: Author owns neither ALPHA nor BETA at the time of writing.
Disclaimer 2: These charts do not constitute investment advice. Especially not for @trumpman.