✴️ WIN FIVE (5) STEEM! STACKIN CONTEST: PREDICT THE PRICE OF MONERO! 💰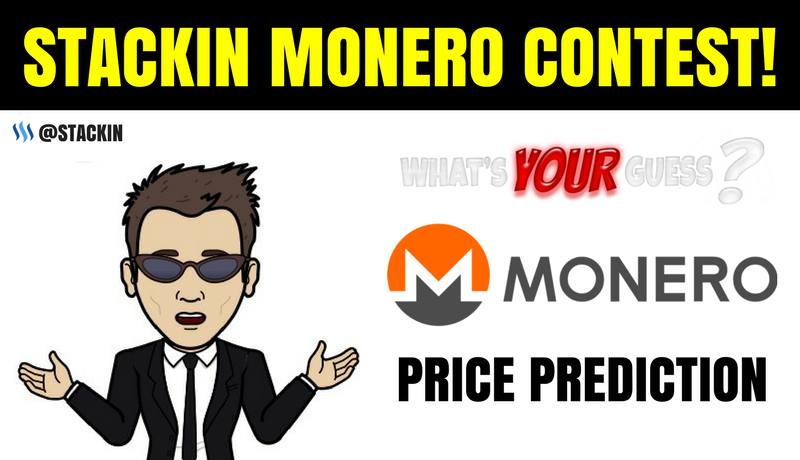 "Don't ever listen to the Hype, the people who tend to do so are usually the bag holders" ~ Charles Fuchs.
What Up STACKERS! 
You guys heard it right, it's one of those "STACKIN Contests" again. I've been busy the last few days with business and haven't posted much but I'm back... did you miss me? 😬
The "STACKIN Contest" for today will be MONERO!! 
So what is MONERO? The symbol for Monero is XMR and It's currently one of the top 20 cryptocurrency that was created in 2014 that focuses on privacy and decentralization. In other words, it's a secure, private, untraceable cryptocurrency based on the CryptoNote protocol. 👨🏼‍💻
It's my #1 overall Privacy Cryptocurrency to own. Instead of going into all the geeky details, if you want to "hide" (privacy) some of your transactions... all you have to do is buy some Monero. 🤣
Let's get on with the "STACKIN" Monero Contest!

Are The "STACKIN" Contest Rules: 
Follow  @STACKIN on Steemit. 😎
Must *Comment and *Resteem this post. 
Guess the correct "Price of Monero" will be exactly at 12:00 PM PST.
The Last Guess Stops at 10:00 A.M. PST. March 26TH!
One (1) WINNER without going over will win, No Edited Posts!
The Winner will Win FIVE (5) STEEM!  

The current price of MONERO is $207.30 USD. 📈
* All you have to do is "Comment" your prediction below and "Resteem" just once to qualify. You have til' 10:00 A.M. PST March 26TH to lock in your "Monero Prediction". 
* Please do not edit your guess or prediction before the deadline, you will automatically lose and get flagged. We want everyone to have a fair chance of winning!
"So Charles, what's your current status about the markets right now?"  
We are currently in accumulation mode with tons of FUD going on. In my eyes this is a good thing, I call this a healthy correction. 😆
For all those people who are having "Strong Hands" and not selling in the down market will benefit greatly in the next few months. In other words, keep accumulation your coins ASAP! 
I'm glad to be back and always, Keep On STACKIN! 💞

For those who's interested in following my "Content" and "Daily" Posts... you can just follow me @stackin to get my updates.
---



---