✴️ STEEMIT GIVEAWAY: 500 STEEM POWER Delegation For A Month... Details Inside 🤑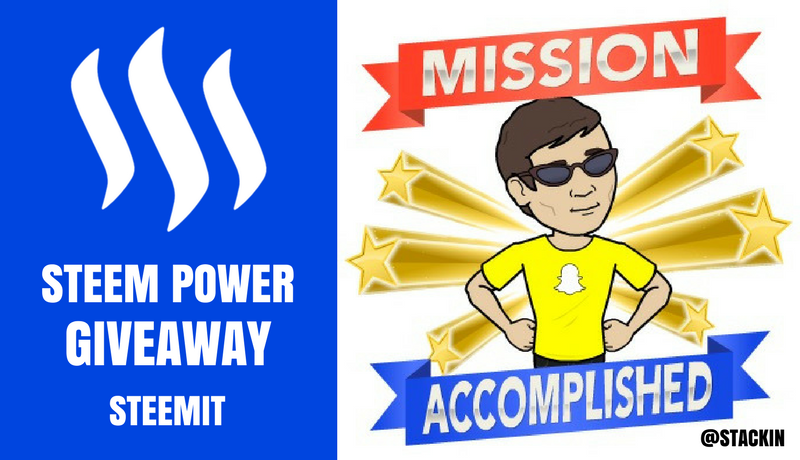 Greatness is not what you have, it's what you give. ~ Charles Fuchs
What's up fellow Minnows, Dolphins and Whales 🐠🐬🐋, I wanted to do something special today and do a 500 Steem Power Delegation Giveaway for One Month to a fellow Steemian. 🙋🏼‍♂️💁🏼‍♂️
I've been doing quite well on Steemit this month so it's my obligation to give back to the community 😀
Why would you do this Charles? Well, I've seen tons of awesome bloggers who have been on Steemit for several months posting great content but they lack the "voting power" to vote on their comments/posts.
So Today, I've decided to offer one Steemian 500 delegation for the whole month of September.
I'll make this giveaway as simple as possible, all you have to do is upvote, comment and resteem this post so that we can get this out to the masses so that it's fair for everyone.
✅ Upvote (if you want)  ✅ Comment   ✅ Resteem
How will I choose the winner? Very Simple, I will take a look at your blog to see if you are actively engaging, commenting, posting and especially bringing value to the community.
So there it is... I will choose the winner on Saturday and delegate 500 Steem Power to a lucky Steemian for the month of September. 
Everyone will be eligible so comment away (you can even recommend some of your Steemian friends) 👨‍👩‍👧‍👦
If I get tons of engagement on this post, I might be able to do this once a week... depending how many people respond to this giveaway 😎
The winner will be announced on Saturday. Have an awesome Thursday Steemians and good luck to everyone! 💞


Follow Me: @Stackin
Join Our Steemit Superstars Group HERE
Say Hello On: Facebook | Instagram | Twitter | Snapchat