✴️ STACKIN "SUPER BOWL" CONTEST! WIN 5 STEEM! JUST GUESS THE WINNER AND THE SCORE OF SUPER BOWL LII !! (2 HOURS ONLY)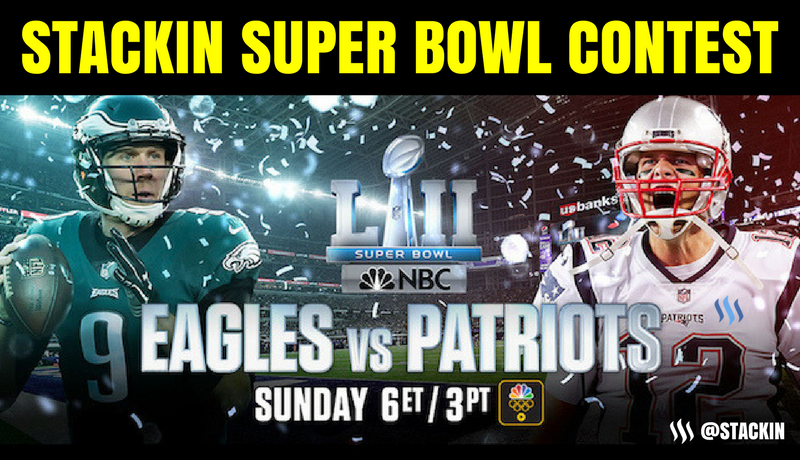 Winners never quit and quitters never win ~ Vince Lombardi.
Whats Up STACKERS!
You guys know what day it is.... It's Super Bowl LII! 🏉  The Patriots and Eagles are about to face off to see who will take the title home. So let's make this quick, you have about 2 hours to make a guess and choose the winner and pick the exact scores of the game to WIN 5 STEEM!

Here Are The "STACKIN" Contest Rules!
All you have to do is Comment, Resteem and Upvote (if you want) 
Guess the Winner and the Score of "Super Bowl LII" exactly and Win.
The Last Guess Stops at 3:00 PM PST. TIME FEB 4TH!
Winners will win 5 STEEM EACH!!
Have Fun Guys!

My "SUPER BOWL" prediction will be 24 - 17  PATRIOTS!... you just can't mwss with Tom Brady, the dude is the Greatest of all Time! 😎  
Alright, Let's have some fun and I'm looking forward to your answers! 
The Winners will be announced tonight after the game, Last guess is at 3:00 PM PST TIME SUNDAY! That's about 2 hours from this post and absolutely "No Cheating and editing after 3:00 PM PST", I will drop a huge flag on ya LOL 🚩🤣
Good Luck Everyone and Keep On STACKIN! 💕

---



---