✴️ STACKIN CONTEST: GUESS THE PRICE OF EOS! YOU AND A FRIEND WILL "WIN" 5 STEEM EACH! (VALUE $60+)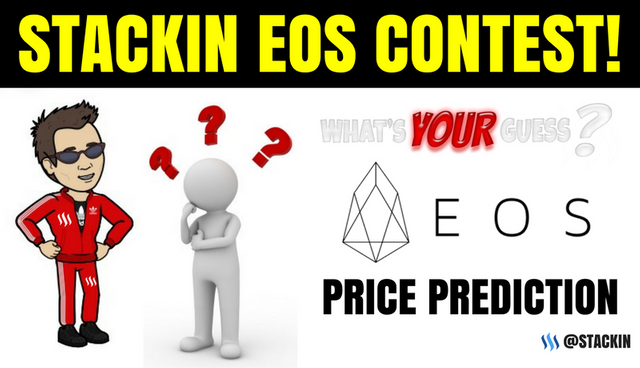 "There is no one that can change your life, you must look in the mirror and make a decision if you really want it bad enough" ~ Charles Fuchs.
What's Up STACKERS!
It's On Once Again! Another weekly "STACKIN" Contest, it's been over a week since the last time I gave away two (2) lucky winners 5 Steem Each (Value $50). 🤑
Todays Price Prediction Contest will be "EOS" and yes, I'm currently am investor that I believe they are going to be one of the biggest Companies in the coming years dominating the "Crypto" Space. 
Currently "EOS" is ranked #9 on Coinmarketcap.com with a Market Cap of $$9,322,473,908... I should of bought more when it was .50 just a few months ago 🤣 📊

Here Are The "STACKIN" Contest Rules: Win 5 STEEM For Guessing EOS Price!
All you have to do is Comment, Resteem and Upvote (if you want) 
Guess the correct "Price of EOS" @4:00 PM PST Time on Jan 29. The Last Guess stops at 12:00 PM PST. Jan 29!
Tag One Friend (Example @Stackin) with your guess and that person will win also!
One (1) WINNER (and a friend) without going over will win, No Edited Posts!
Both of you will get 5 STEEM EACH!! 🎉

My "EOS" price prediction will be $12.98 at 4:00 PM PST Time on Jan 29! Alright, Let's have some fun and I'm looking forward to your answers!
Good Luck Everyone and Keep On STACKIN! 💞

For those who are interested in following my "Daily Activities" that I do in very "short form". Follow me here: @charles-fuchs. 
---



---