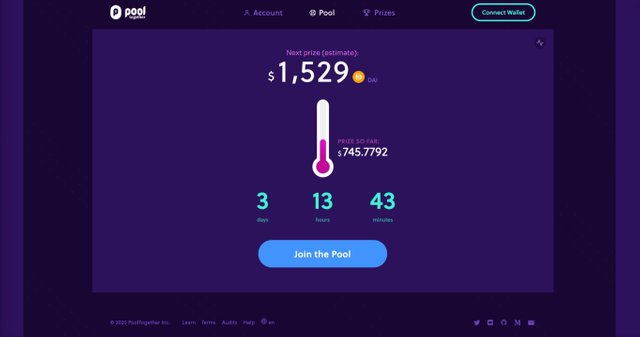 Did you ever wanted to have a chance to win a "lottery" but didn't play because it cost money? Well, I have something cool for ya.
It's called Pool Together... what is it?
PoolTogether is an Ethereum based application type of a game that you can win by just participating.
All you have to do is join a pool by buying a "savings ticket", each savings ticket gives you a chance to win a prize!
It's pretty simple how Pool Together works... when you join a "pool"... you have the opportunity to win a prize (DIA Stable Coin) and the cool thing is that if you don't win, you get all your money back!
So how are they getting "money" from the payouts? Simple, they are earning interest from all the pooled money and the winner gets all the interest.
If you want to learn more about Pool Together, you can visit their website here to get more information about the game.
Keep on STACKIN! 😎
~ Charles Fuchs
For those who's interested in following my "Content" and "Daily" Posts... you can just follow me @stackin to get my updates.
You Can Follow Me Here:
➡️ UpTrennd: https://uptrennd.stackin.co
➡️ Facebook: https://facebook.stackin.co
➡️ Twitter: https://twitter.stackin.co
➡️ Instagram: https://instagram.stackin.co
➡️ Steem: https://steem.stackin.co

PI NETWORK: Pi is a new digital currency you can mine on your mobile phone for free without draining the battery or using data. Use The Referral Code: ( stackin ) to be on my personal team.

Crypto.com: Get The World's First ELITE Cryptocurrency MCO Debit Card and we both get $50! NOTE: You must stake 50 MCO to get the $50 + 2% cashback on all purchases. Must use Ref code: ( mqanqykcym )

CLAIM YOUR FREE HEX TOKENS - The first high interest blockchain Certificate of Deposit (time deposit) that is designed to go higher, faster and retain its value.
---