✴️ MILESTONE: 70+ REPUTATION ON STEEMIT! THANK YOU! 💞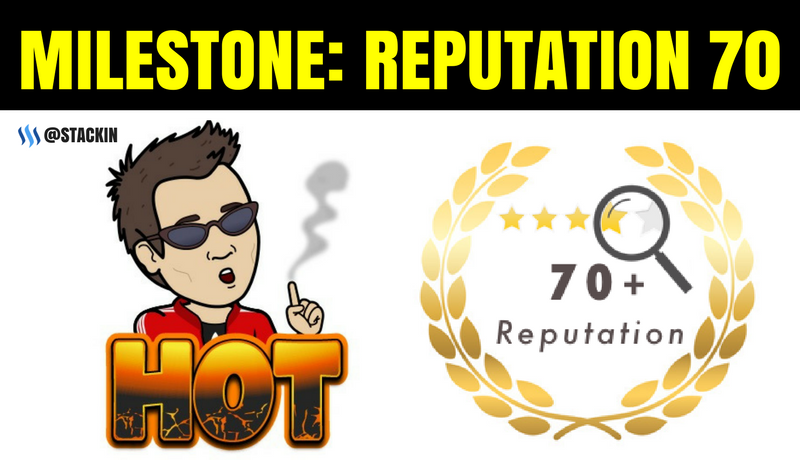 In Life, Reputation is more important than money ~ Charles Fuchs.
Whats Up STACKERS!
I Just wanted to say "Thank You" to each and every one of you who have been supporting my "Steemit Journey" for the last 8 months (time sure does fly by when your having fun)! Without your support, this would of meant nothing at all. 🙋🏼‍♂️
Today I hit a Reputation of 70+ (there are currently only a few hundreds people out of 750,000+ Steemians with a higher rank) and I'm telling your right now, reputation is one of the hardest things to build and establish on Steemit. 🎉
When you're building your image and brand online, you probably heard that "Reputation Is Everything" on Social Media. Is that quote true? Most likely it is. 💁🏼‍♂️
Having a good "Reputation" is one of the most important stats that people look over when people start building their presence on Social Media. 👨🏼‍💻
I've seen so popular people in the last few years destroy their reputations by making bad decisions with lies, deceit, and greed. 
Just take my word for it If you mess up your reputation, it's one of the hardest things to repair because everything that you do online is somewhat recorded (especially on the blockchain ) and people tend not to forget your actions. 😳
So do you want a good Reputation Steemit? It's easy to do, just be authentic and true to yourself. There is no "Secret" at all for having a good reputation, it's just like in real life. 
What makes people like you? What makes people don't like you? Do you participate in drama? Are you an asshole?Are you selfish ? Do you bitch all the time? You see, I don't have the time to do any of that and just focus on what kind of "value" I can bring to people instead.
Many people say that you need the best content on Steemit to succeed. That is far from the truth! All you have to do is be very consistent and just do your best. Just don't be a whining asshole. 🤣
I'm so grateful and thankful for all the peeps who supported me thus far. Most of you have made Steemit an awesome and fun place to be on.
Once again THANK YOU and "Keep on STACKIN" 💞

For those who are interested in following my "Content" and "Daily Activities". Just Follow me @stackin so that you can get a notification.
---



---