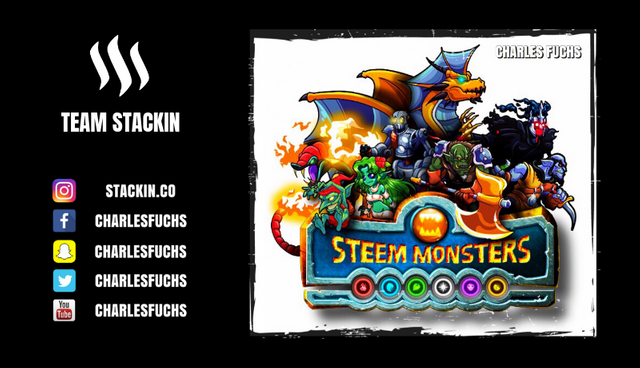 "It's always been about the community" ~ Charles Fuchs.
WHAT'S UP STACKERS!
If you haven't heard about the Steem Monster Kickstarter Campaign as of yet, you must be living under a rock... Just Kidding (Kinda). 🤣
I'm always on the lookout for interesting projects that's being built on the Steem Blockchain and guess what? Steem Monsters is one of them.🃏
Let's all band together and start getting the word out about Steem Monsters. This is really about the Steem Community uniting together to bring a great product to the "Crypto" masses. 
Steem Monsters will be a huge success but with your help, we can become the most adoptable game on the blockchain. (Yes, It's better than the shitty Crypto Kitties Game 🤣).
What can we do to support Steem Monsters?
It's very easy! One way is that they are doing a massive kickstarter campaign in which you can support them. In return, you will get some awesome rare monster cards. 
I've decided to pledge at least $50 so far for one of their "Special" package deals that will be released on October 1st.

If you want to learn more about the Steem Monster Kickstarter Campaign, you can check out all the awesome things they are planning to create here. 👨🏼‍💻
If money is an issue, it's no big deal!
You can help by telling all your friends on Social Media about Steem Monsters. You can even use the quote below and post it on Facebook, Twitter or where ever! 
"Check out Steem Monsters! A Digital, Role Playing, Trading Card Game!" on @Kickstarter http://kck.st/2oHFuXU
I'm looking forward to battle you all in the near future so be prepared! I will be "STACKIN" my Steem Monster decks in the following weeks! 😉
Have an awesome Saturday and Keep on STACKIN! 💞

P.S. For those who's interested in following my "Content" and "Daily" Posts... you can just follow me @stackin to get my updates.
---








---