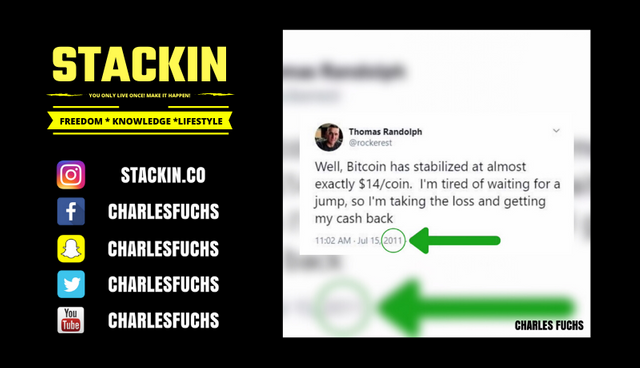 The number 1 thing that a Bitcoin and Cryptocurrency investor will face in the future if he/she sells will be regret. 🙇
Thomas was a guy that sold Bitcoin in 2011 at $14 (due to fear of loss ) and let his emotions get int he way to make one of the worse decision in his life. 🤦
I'm not saying to buy Bitcoin right now but it would be a great idea to do so. It's basically based on supply and demand... with only 21 Million Bitcoin to ever exist, you tell me if it will have some value?
Don't become that shoulda, coulda, woulda "guy" in the next few years and not have some Bitcoin.
Yeah, there are interesting other cryptos out there that will get better gains than Bitcoin but BTC is considered the daddy! 😅
I'm going to make it very simple for everyone.... get some, put it away, don't look at it, and in 10 years... pop that champaign! 🍾 🎉 🎊 🥳️
Keep on STACKIN! 😎
~ Charles Fuchs
For those who's interested in following my "Content" and "Daily" Posts... you can just follow me @stackin to get my updates.
You Can Follow Me Here:
➡️ UpTrennd: https://uptrennd.stackin.co
➡️ Facebook: https://facebook.stackin.co
➡️ Twitter: https://twitter.stackin.co
➡️ Instagram: https://instagram.stackin.co
➡️ Steem: https://steem.stackin.co

PI NETWORK: Pi is a new digital currency you can mine on your mobile phone for free without draining the battery or using data. Use The Referral Code: ( stackin ) to be on my personal team.

Crypto.com: Get The World's First ELITE Cryptocurrency MCO Debit Card and we both get $50! NOTE: You must stake 50 MCO to get the $50 + 2% cashback on all purchases. Must use Ref code: ( mqanqykcym )

CLAIM YOUR FREE HEX TOKENS - The first high interest blockchain Certificate of Deposit (time deposit) that is designed to go higher, faster and retain its value.
---