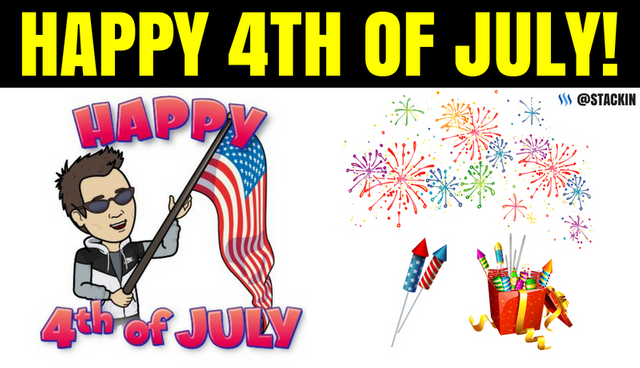 "True freedom comes from doing the things that you want to do in life" ~ Charles Fuchs.
HEY STACKERS!
Happy Independence Day (July 4th) to my all my incredible friends; especially all the "digital" ones that I never met in real life. 🤣
Let's be grateful for all the freedom that we enjoy everyday... You Steemians are just the BEST people on the blockchain! 🎉
I'm going to keep this post short as I just started to celebrate with my family and a few friends in Las Vegas... you know what that means: 🍹🍸🍻 😂
I'll try not to have to much fun with the cocktails but you know how I do it, they don't call me the "Party Machine" for nothing. 😎
Shoot, I might even do another post later from my iPhone and @Steepshot! If there are some typos, just be prepared to give me some slack lol. 🤪 🍾 🥂
In the meantime, The Crypto Markets have been looking pretty good in the past few days. Hope many you took some profits so that you can buy cheaper later. 😉
I'll be back on that "Grind" Tomorrow and Keep on STACKIN! 💞

P.S. For those who's interested in following my "Content" and "Daily" Posts... you can just follow me @stackin to get my updates.
*Stay Tuned for my weekly "STACKIN Steem Contests" where I've givin' out $1,000's of Steem, SBD, and Merchandise to fellow Steemians!
---



---