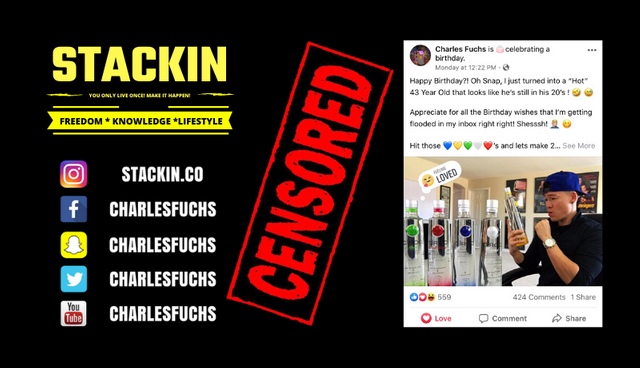 This is probably the main reason why I left a lot of the Social Media Platforms like Facebook, Instagram, Snapchat etc... etc... in 2017.
One word: Censorship!!
I've first realized this a few years ago when lots of my "Crypto" posts on Facebook were being deleted or "shadow" banned in the algorithms. 🤦
Throughout the years, I've accumulated well over 100,000+ Followers on these "Famous" Platforms but when you have "stuff" to say, your posts will get deleted for no reason at all. 🤷‍♂️
We recently seen this happen to "Crypto" YouTubers last week when their videos were getting deleted.... Craziness!
My last post on Facebook a few days ago about my Birthday was taken off my "Timeline" for no unknown reason at all once again.
Is it because I get too much engagement?? WTF! 😅
Well, the good thing with platforms like Steemit, Appics, UpTrennd and many others that don't allow people to get banned for no reason.
However, we are in the early stages. Social Media platforms like Facebook is where all the people are at and we must still have to use them until the tides change to a decentralized format.
With that being said, Social Media Platforms similar to Steemit will be mass adopted soon enough. We may be in the early of the game but decentralized platforms are the future.
Keep on STACKIN! 😎
~ Charles Fuchs
For those who's interested in following my "Content" and "Daily" Posts... you can just follow me @stackin to get my updates.
You Can Follow Me Here:
➡️ UpTrennd: https://uptrennd.stackin.co
➡️ Facebook: https://facebook.stackin.co
➡️ Twitter: https://twitter.stackin.co
➡️ Instagram: https://instagram.stackin.co
➡️ Steem: https://steem.stackin.co