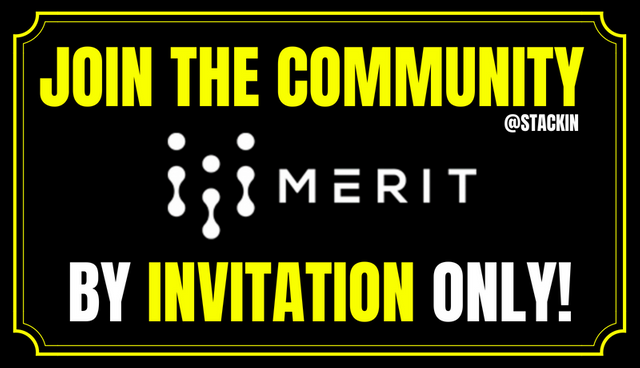 "Share your journey with everyone, it might help them change their lives." ~ Charles Fuchs.
WHAT'S UP STACKERS...
For the last few weeks, I've been sending out lots of information on some "Crypto Projects" that looks very interesting to me (and yes, they are free to join). 
.... and guess what guys? I have another "Crypto Project" for you called Merit. 👨🏼‍💻
So what the hell is Merit? It* aims to be the world's friendliest digital currency, making it effortless to pay friends, buy goods, and manage your wealth.
Here is a quick video that explains "Merit" in 45 Seconds: 
I know it's the weekend and everyone is busy with their free time so I'm going to make this very short and simple for everyone to get involved. 
This is a community drivin' invite system which means that the only way to get involved is from an invitation. 📬  Good thing I already have an account! 🤣
If you have followers, love mining coins (Merit makes it easy), or just love new projects where you can earn some free crypto... Merit is for you. 💁🏼‍♂️

Here are the Steps To Get An Invitation :

There are only certain amounts of invites a user can get at a time so I only will be accepting quality people from Steemit, in other words... no fake spammer cartoon profiles lol
Have an Awesome Saturday STACKERS! 💞

P.S. For those who's interested in following my "Content" and "Daily" Posts... you can just follow me @stackin to get my updates.
*Stay Tuned for my weekly "STACKIN Steem Contests" where I've givin' out $1,000's of Steem, SBD, and Merchandise to fellow Steemians!
---



---