✴️ DID YOU VOTE FOR STEEM ON NETCOINS YET? WE NEED YOUR HELP NOW! ✅ ✅ ✅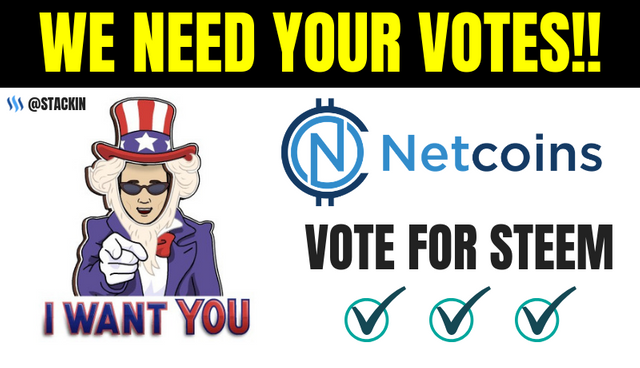 WHAT'S UP STACKERS!
I'm going to make this simple as possible, we (the community) need you to take action and vote for STEEM on Netcoins! 
Tons of Whales, Orcas, Dolphins, Minnows and Red Fish have been voting all day to get Steem listed. You may have already seen some of these messages today but if you didn't take action yet, let's get it done! 💯
It just takes one minute to do and you can vote every 24 hours. Currently Steem is in 3rd place (should be #1 by now); right behind PAC Coin and Verge which are both SHIT COINS! 💩 🤣
How easy was that! Pretty damn easy huh? It takes 1 minute to get your vote in and everyone that submits a nomination will also have a chance to win a crypto bundle worth $200 USD from Netcoins! 💰
I appreciate all of you for doing this! Steem has one of the best "Crypto' Communities in existence and with your help, we can make it even better! 
Keep on STACKIN! 💞
~ Charles Fuchs
P.S. For those who's interested in following my "Content" and "Daily" Posts... you can just follow me @stackin to get my updates.