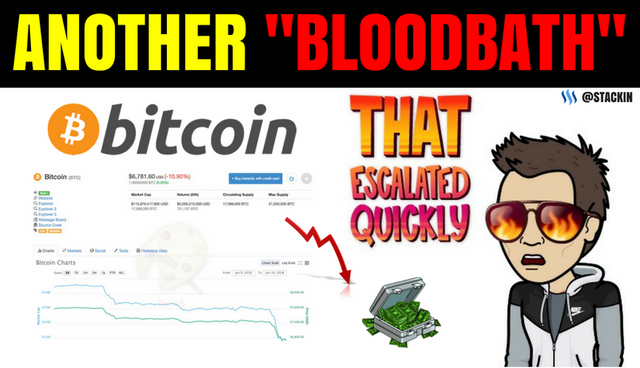 "It's takes guts to be in Crypto" ~ Charles Fuchs.
WHAT'S UP STACKERS!
The picture and quote above is a perfect example of being a Cryptocurrency investor... we see huge gains one day and then can lose it all in couple of hours. 🤣
Many have to be aware that we are in a very "Speculative Market" and most of these companies evaluations are currently insane with no working product at all. 
Are you willing to gamble with your hard earn money? If so, that is perfectly fine unless it's money that you cannot afford to lose. 
If the market tanks another 50% from here on out, I'm comfortable with that... It was a risk that most of us were willing to take because the upside potential can be tremendous but one must always be prepared to lose it all. 
So Charles, why are you so negative? 💁🏼‍♂️
I'm actually not. I rather be rationally logic and smart with my investments than being emotional like most people are. When dealing with Crypto, leave those emotions at the door.  
So where do we go from here? Are we just gambling with our money right now? I'm very optimistic on the future of Crypto and Blockchain, however we are "early adapters" and it seems to me that prices of crypto were way blown out of proportion compared to it's use cases.
Let me ask you this? What cryptocurrencies currently have any use case? Let me answer that, hardly NONE! Yup, you heard it right... you can't even use most of these coins at all. 🤯
This leads me to STEEM, we currently have the most transactions of any blockchain and there is a functional use case for it for the last 2 years.
I'm wondering why most cryptos can't even get this simple thing done in the last couple of years, maybe Steem is way ahead of it's time? 🤔
I'm a huge believer in Steem and the future of it. The funny thing is that I like it when Steem is down, I can accumulate and earn more Steem by blogging! 
When the next bull run happens again, we all can be sittin' pretty with hundreds of even thousands of free Steem that we all earned in the next few months.

P.S. For those who's interested in following my "Content" and "Daily" Posts... you can just follow me @stackin to get my updates.
---



---