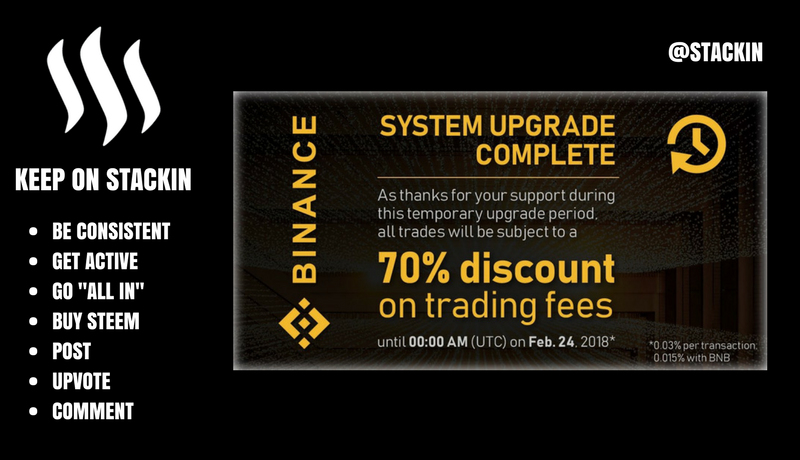 People with knowledge tend to outperform people without it ~ Charles Fuchs.
What's Up STACKERS!
As you guys may have known, I've switched over from Bittrex over to Binance last week when they introduced Steem on their platform. I consider them one of the best exchanges online where you can find different Cryptocurrencies that most exchanges don't have like EOS. 📈
However, the last 24 hours... Binance wasn't available due to to a DDoS Attack which happens from time to time. Many thought they were "hacked" from rumors which wasn't the case. 
All I can say is that the Founder and CEO Changpeng Zhao is just a plain Boss. So for the downtime that happen, Binance is giving everyone a 70% discount on all trading fees for the next two weeks! This is how you run a business, they sure knows how to treat there customers right! 💯
The only problem that Binance has is that they do not have SBD but that is ok. You can trade SBD into Steem in the steemit Internal markets and sell your Steem in Binance, only if you wanted to but I do recommend to powerup 🤑
You can open a Binance account for free right here without any verification and it only just takes a few minutes to do. 😎
P.S. Stay Tuned in the next 24 hours! I will be doing another 10X Contest Giveaway and I plan to give out 30 SBD this Weekend!! Just Follow me @Stackin to keep updated.
Just a Quick Update "Keep On STACKIN" 💞

---



---