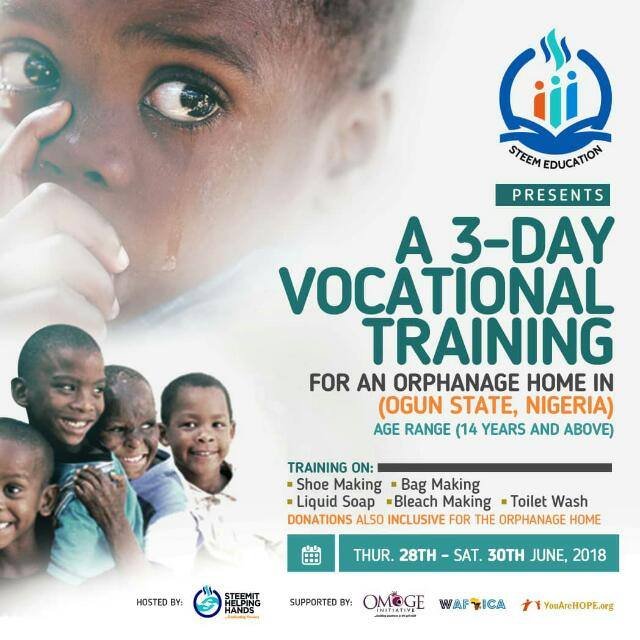 @steemhelpinghand still on the mission to save lives, eradicate poverty and effect change into lives, communities and societies at large, we present to you our STEEM EDUCATION project.
What is STEEM EDUCATION all about?
Steem education is an educative and empowerment programme organised by steemit-helping-hands to educate,empower and support children, teenagers and youths in schools, communities and within the shores of Nigeria..
In the of planning this project it has decided to start off at an orphanage home in ogun state Nigeria.
Why would anyone want to offer empowerment to orphans??
I am certain no one is asking that question, but however .
Orphanage homes have become a place where most of us go to throw pity parties, we visit orphanages to celebrate with them and offer them gifts because we know they are orphans, they have no parents, which is sad enough, looking out for themselves is definitely another hard nut to crack, so we feel the need to educate/teach them at things that can help them survive when they leave the orphanage homes through vocational training and also find means to make them smile.
This is quite amazing, for us to remember and look out for orphans and decide to celebrate with them and look out for them.
What is SHH doing?
Steemit helping hands has decided to visit and organise a 3 day vocational training to the orphanage home in the outskirt of ogun state Nigeria (which pleaded anonymous due to organisation's policy) to teach and educate their teenagers and youths on how to survive and make a leaving for themselves in the nearest future.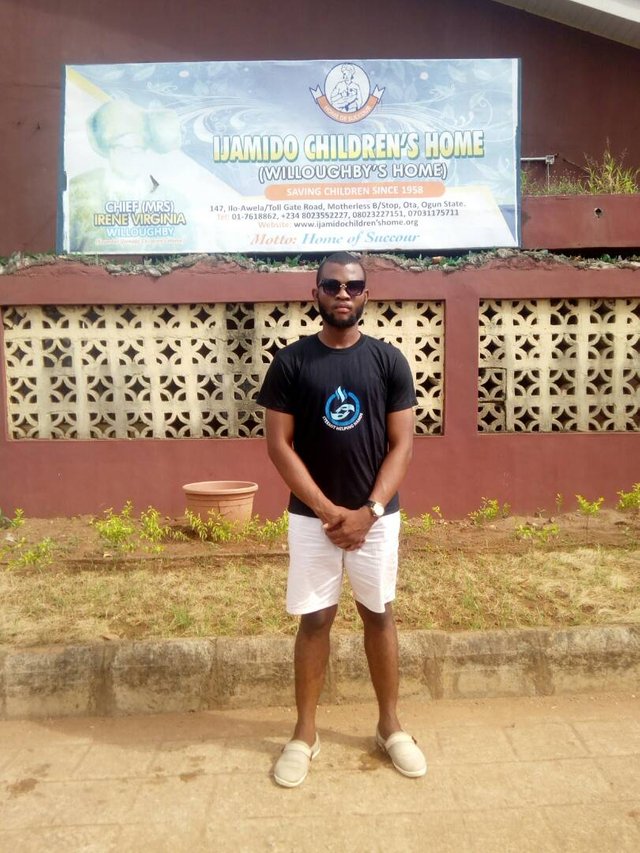 The vocational trainings is for the teenagers and youths with age range 14yrs and above on how to produce/make certain products to earn a living, during our survey we found out there are more youths and adult orphans living in same home, steemit-helping-hands will be impacting into them a career path , which will be of means of sustainability for, when the going gets though through vacational trainings, we are going ahead to impact them with crafts and skills they can hold on to for a life time.
What crafts and skills do we plan to offer and how?
We are educating them on:
Bags making
shoes making
Liquid soap making
Bleach making
Toilet wash making
And also :
Entrepreneurship seminar
cryptocurrency seminar (using that medium to create awareness about steemit)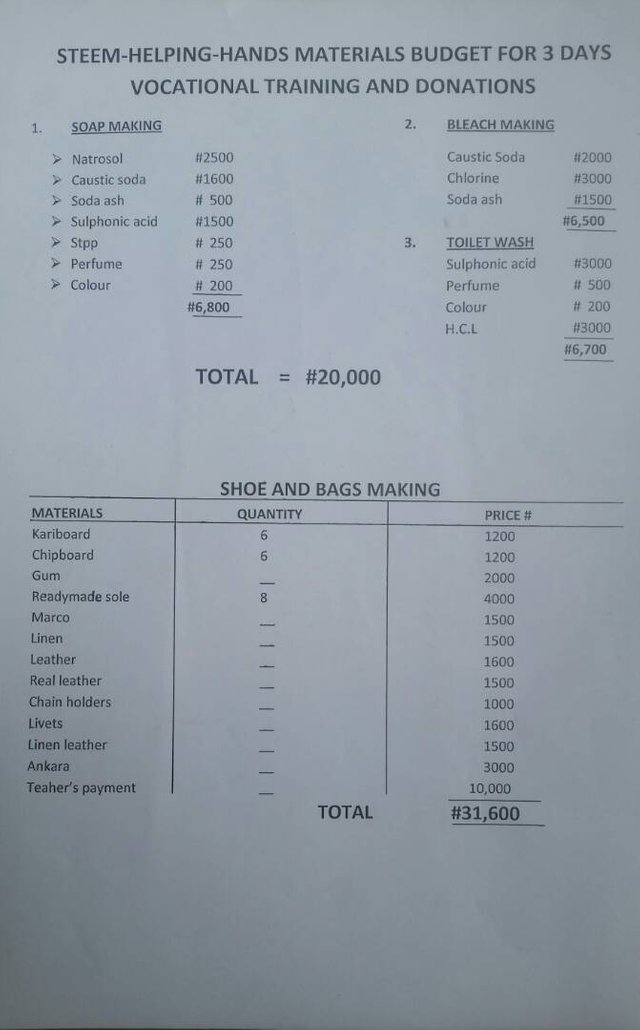 Procedures for organisation of the programme
We will organise and pay facilitators from OMOGE INITIATIVE, an organisation that help girls achieve their potentials, they will teach the children bags and shoes making..
The chemicals will be handled strictly by the teacher but the children/youths will write and observe the steps and procedures from a distance to take preventive measures..
All materials used by the facilitators and the children for practicals will be provided by @steemhelpinghand and all products will be donated back to the orphanage home afterwards.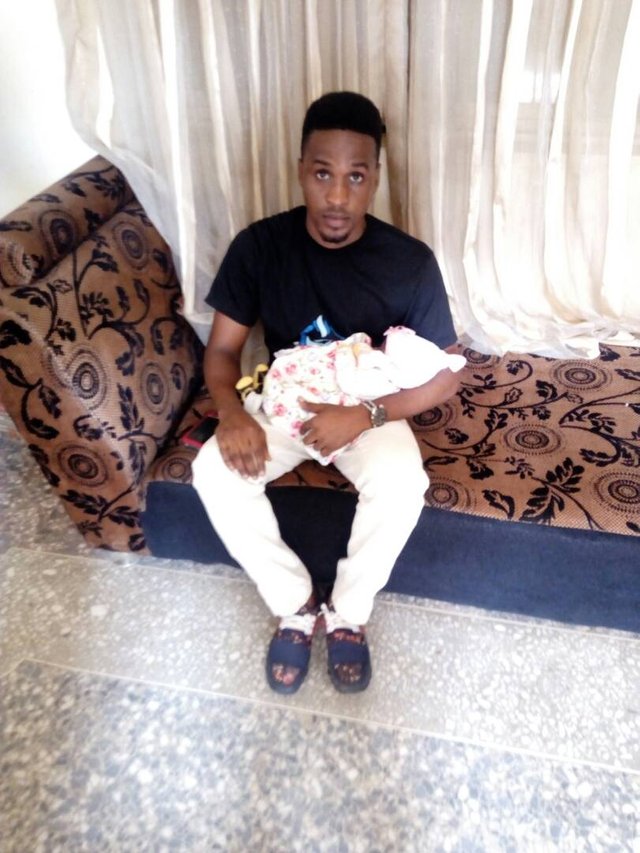 Support for a two months old abandoned baby girl
@steemhelpinghands visited the orphanage home to get more information but we weren't allowed to take pictures of the children or its environment, the only time pictures and videos can be allowed will be on the vocational day and we weren't permitted to put the name of the orphanage online in writings..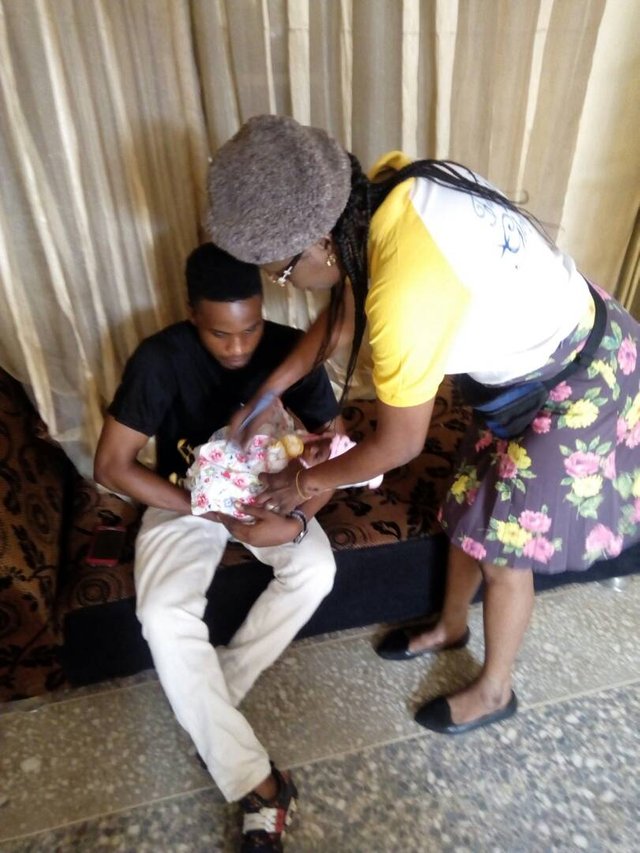 The orphanage pleaded on behalf of a two months old baby (name withheld) for help, her mother abandoned her at the hospital after delivery and she is suffering terribly from malnutrition and we weren't permitted to make her face visible as the policy stated ..
She is urgently needs our supports both materials and health wise, she serves as a point of contact to other abandoned babies around the world, they really need our supports.. donations will also be given to the other babies at the orphanage home
@Steemhelpinghands is therefore soliciting for support from the community to achieve this aim of helping these children and keeping the baby alive, we have made plans for total budget and massive supports are needed