STEEMIT-HELPING-HANDS SURVEY AROUND THE SLUM AREA OF AGBOYI KETU LAGOS TO ORGANISE A FREE MEDICAL DAY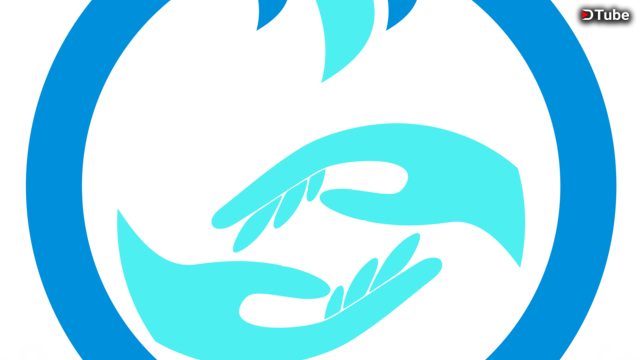 ---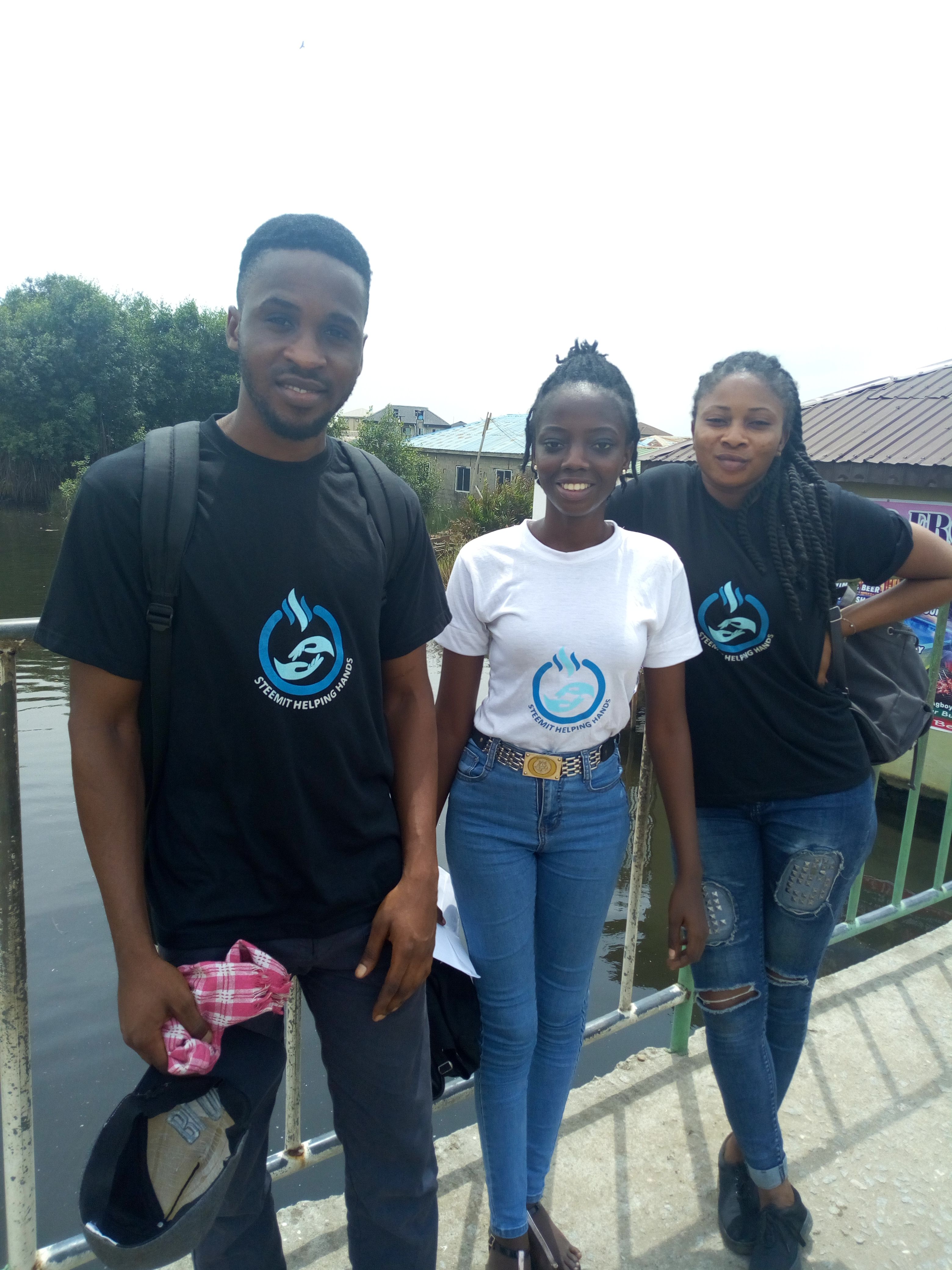 Steemit-helping-hands embarked on a survey around the slum area of agboyi ketu.
Teaming up with legal medical experts and consultants we intend to organise A FREE MEDICAL DAY where every drugs ,test , consultation and mosquito nets would be given for free.
FREE DRUGS/TEST/NETS
The free services provided by Steemit-helping-hands are:
malaria test
Hiv test
blood sugar test
blood pressure test
consultation
mosquito nets
administered Drugs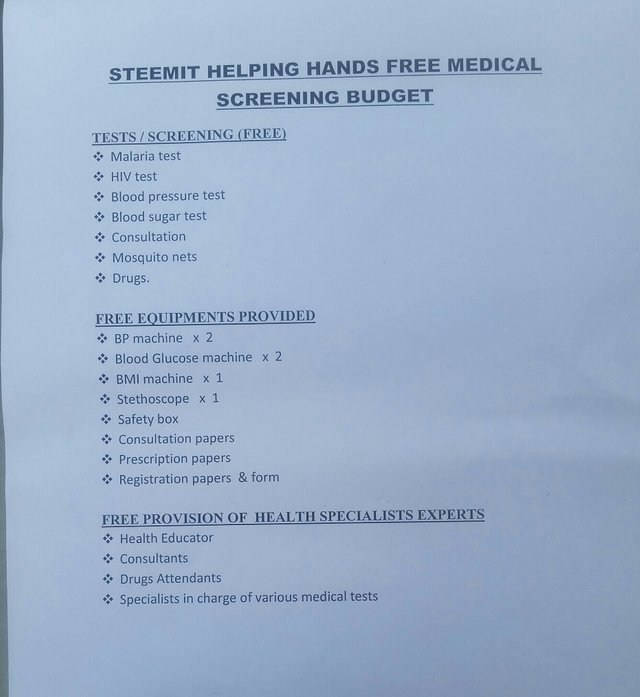 @steemhelpinghand will also provide medical experts and their equipments which will all be rendered for free at the same location
FREE MEDICAL EQUIPMENTS PROVIDED
The medical equipments necessary for conducting various medical tests would be provided by Steemit-helping-hands and used on the community for free, these equipments are:
BP machine
Blood glucose machine (x2)
B. M. I machine
stethoscope (x2)
safety box
consultation papers
prescription papers
Registration papers and form
FREE PROVISION OF MEDICAL SPECIALISTS AND EXPERTS
Steemit-helping-hands would provide and collaborate with a team of legal medical professionals who would carry out the various medical services needed, they are:
Health Educators
Consultants
Drugs attendants
Specialists in charge of various test
@steemhelpinghand met with the leaders of agboyi ketu Community to seek permission in carrying out the free medical programme within its community.
The three communities has different leaders called OBA or BAALE, each leaders has their different palace and communities to rule.
Agboyi 1 palace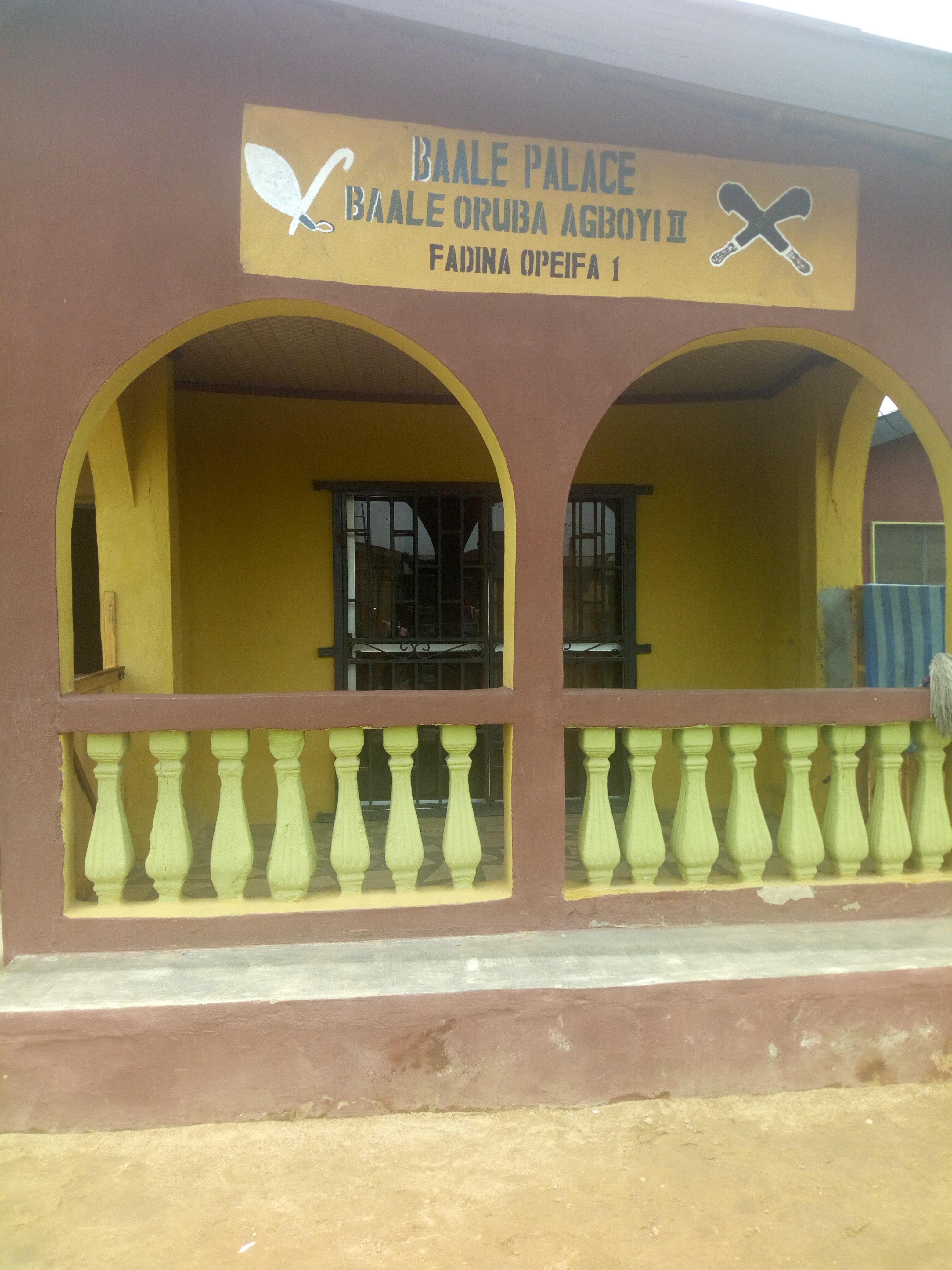 We presented each leader of the communities with our organisation's permission Letter which were granted approval and signed to commence the programme at our convenient time..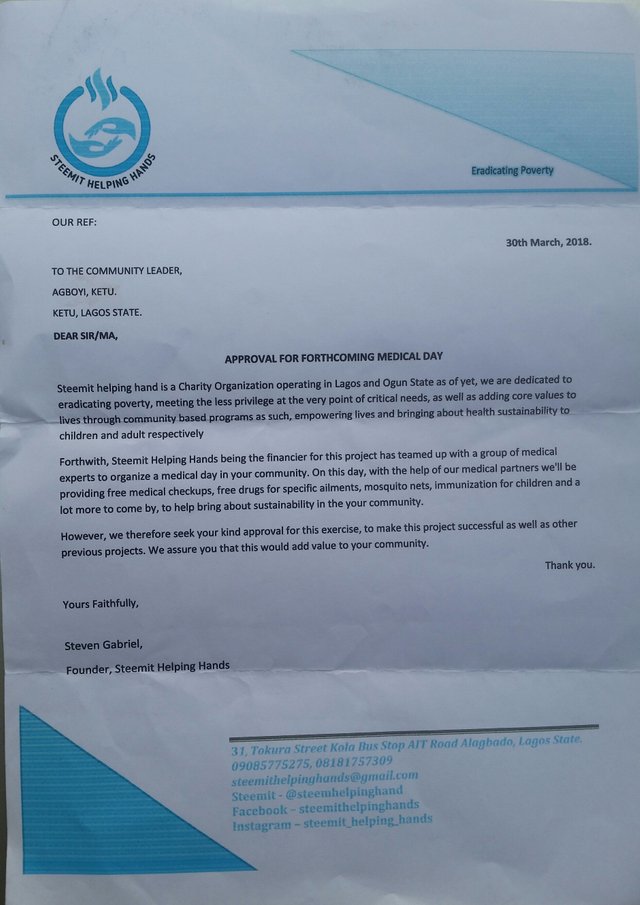 We agreed to merge the three communities at a particular location to make it successful in just a day due to distance and expenses, the community head leaders showed their approval with their signature on each letter presented.
We Agboyi 1 community leader signature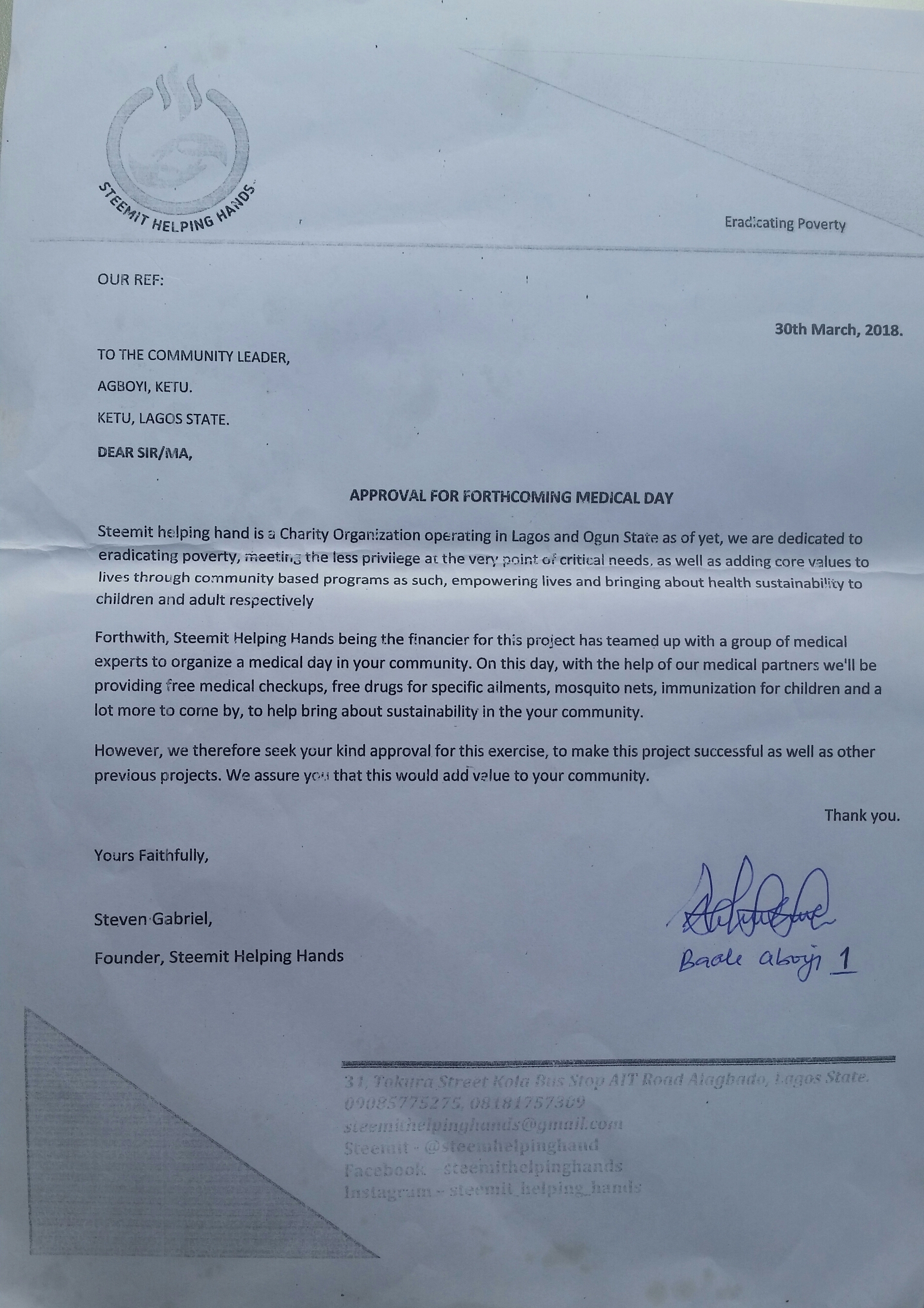 Steemit-helping-hands use this medium to solicit and appeal to the steemit community for support in order to carry out the free medical programme, it has been our vision to put smiles on people's face and one of our dreams to organise a free medical day to the poor and less privileged.
With recommendation from our experts we have listed several things needed ranging from the drugs to the instruments needed at the location.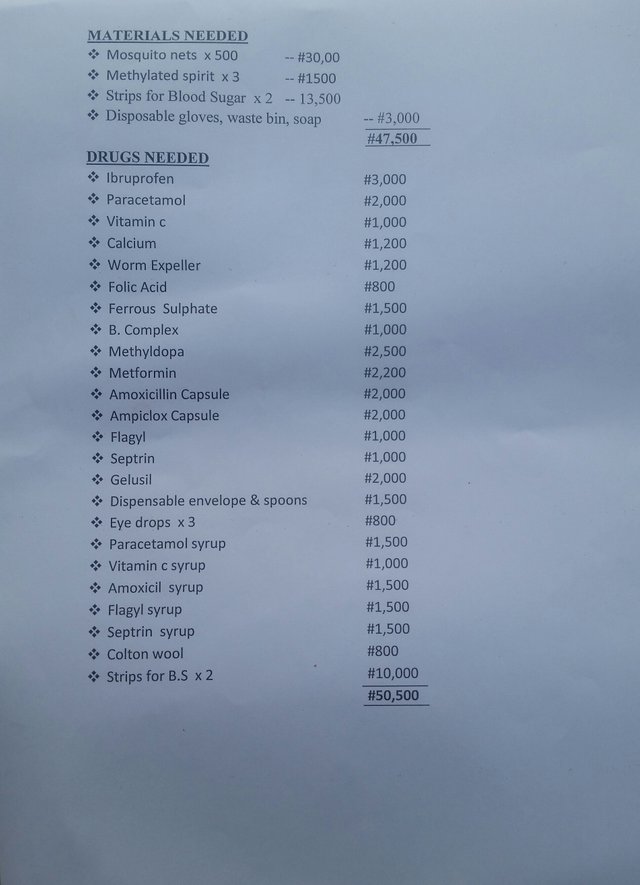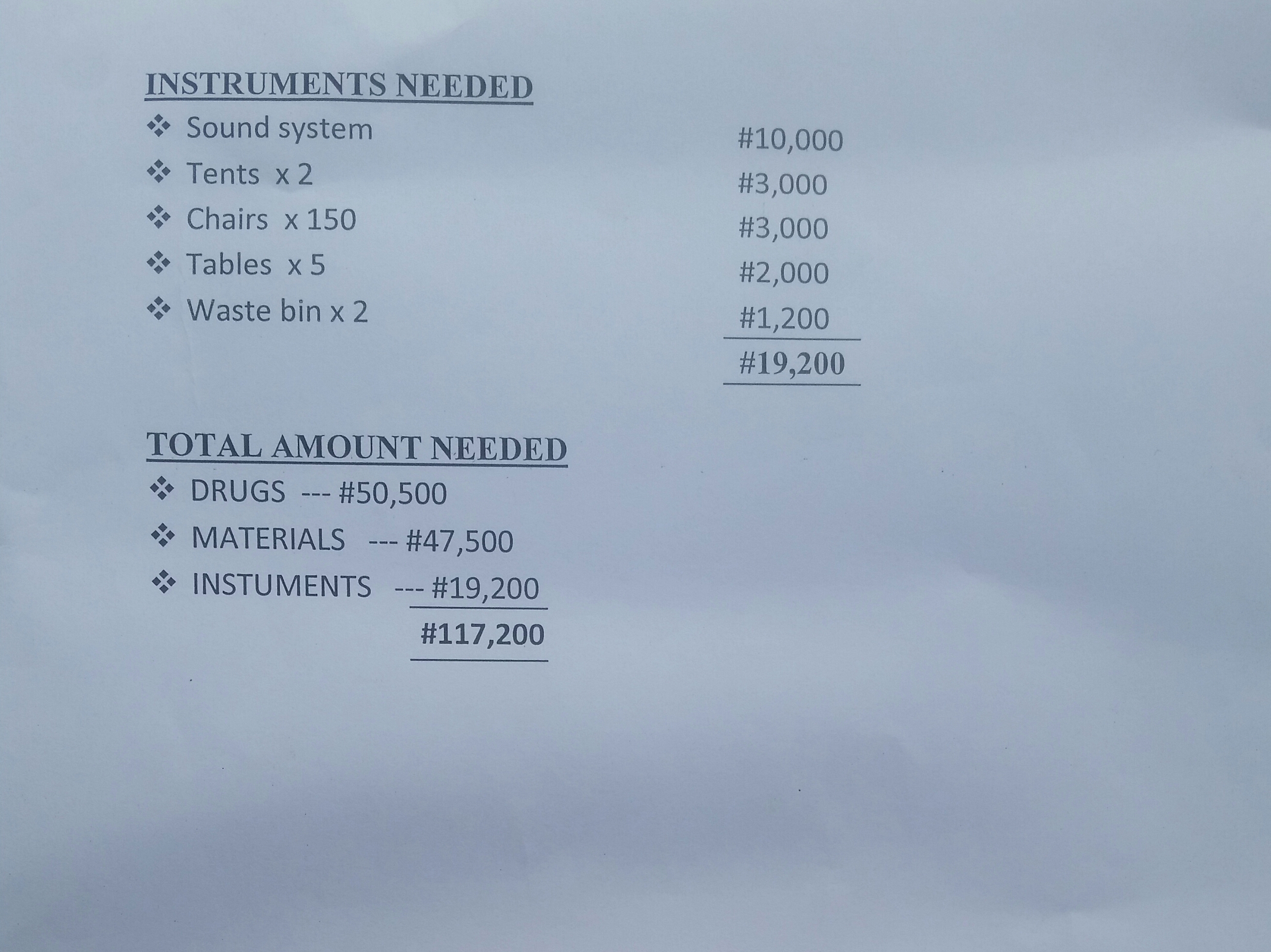 We greatly appreciate all the help received from the community and we urge us to continue with our good works because through it we are making the world a better place and raising great people for future generations.
No amount of help or contributions will be too big or too small to help the poor people of agboyi live a healthy life.
THE POOR STATE OF AGBOYI COMMUNITY
Agboyi-Ketu oriodo, a community in under Agboyi-Ketu Local Council Development Area of Lagos State, surrounded by blackish dirty water without a link bridge.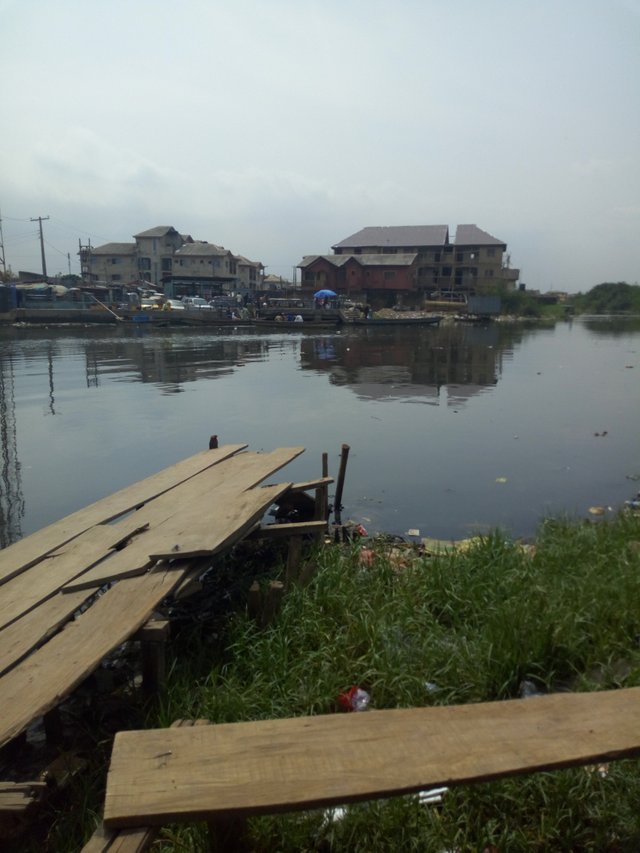 Sandwiched between Ogudu and Alapere, the community is quite close to the hustling and bursting of Lagos modernity, yet it is far from urbanisation. But, that makes it to be quite close to nature.
You can easily notice cluster villages on an Island – Agboyi 1, 2 and 3 and OkoAgbon, so named because of the abundance of coconut plantation in the enclave.
The community members prefer to use local herb sellers when feeling sick,majority of pregnant women in the community patronise the Traditional Birth Attendants (TBAs) more than the Primary Health Care (PHC) centre located abit far from the area because of the level of illiteracy, their is no pipe borne water, electricity and other social amenities,
This riverine area is with over the population of 50,000 people, poor access roads.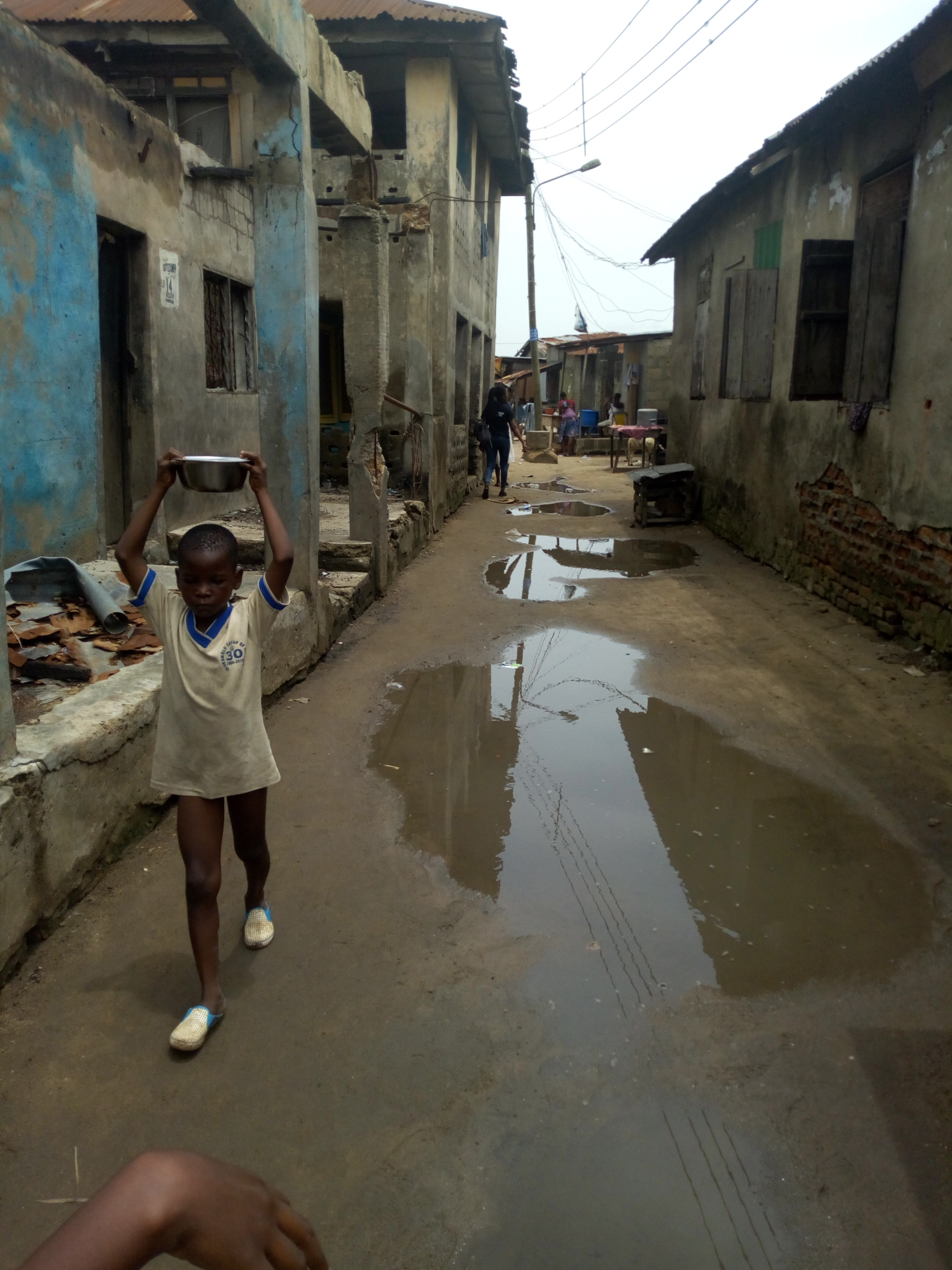 Their forefathers believed in rituals and sacrifices' and so they have upheld that till this day and they ensure that they do that at least once in two months.
While the others, the Christians living among them pray and fast for the community as well as the Muslim brethren.
Inaccessibility of road is one of the greatest challenges facing the community.
A village without a link bridge and good access road is automatically cut off from the rest of the world, such a place is bound to have challenges.
If the road is accessible, pregnant women will not have to face challenges when they want to give birth as they can easily go to any hospital to deliver.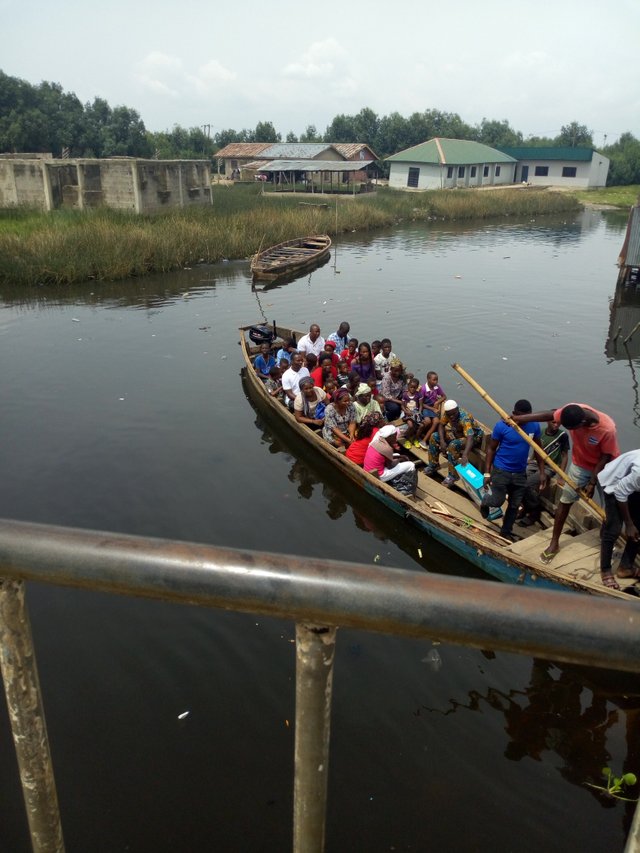 The three communities share just one school ranging from crèche to senior secondary school which is clearly the peak at which their children and youths could attain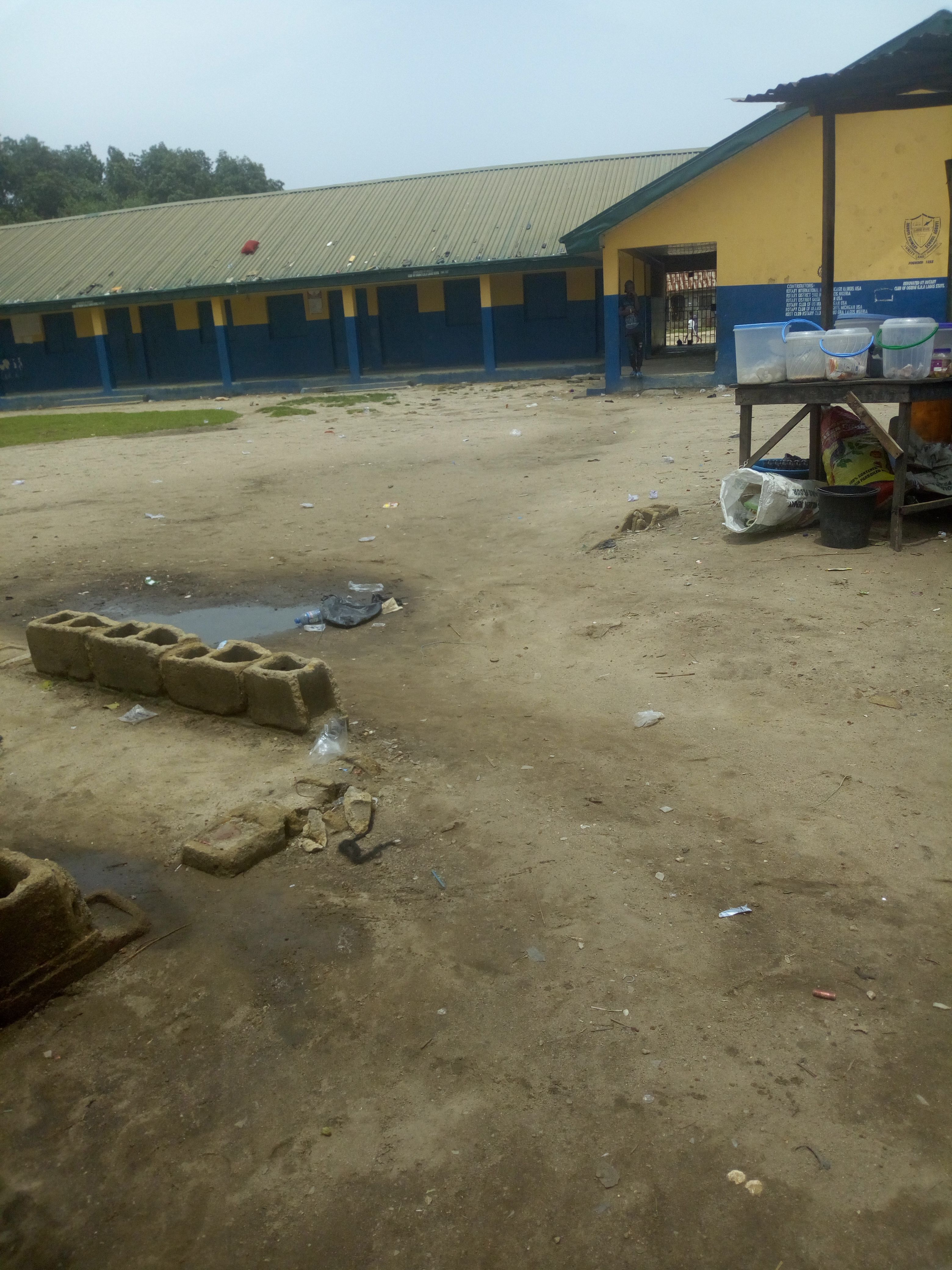 due to its poor occupants and surroundings their main occupation is fishing.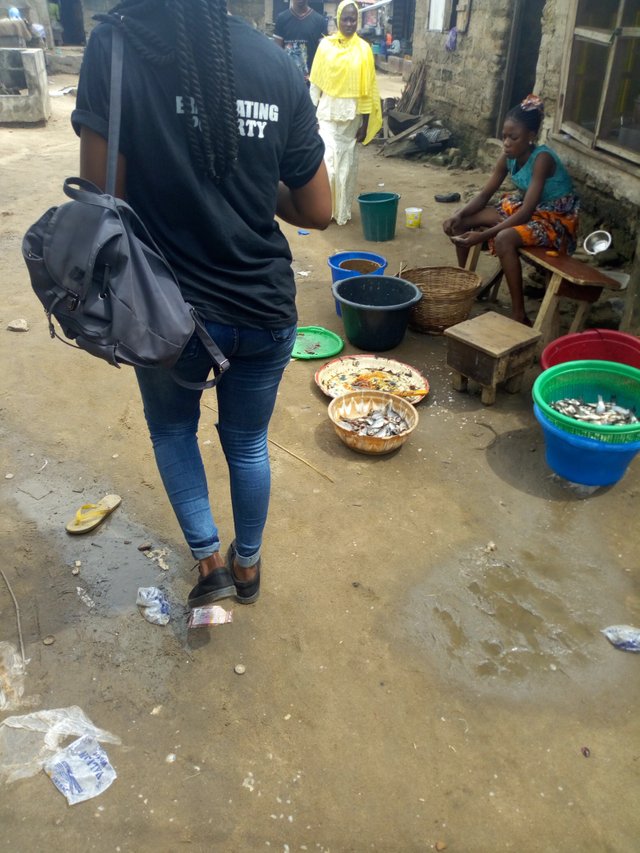 Almost all the youths are jobless with most of them becoming touts and aggressive looking.
Lack of clean water is another challenge the community faces, residents in the community spend much in buying drinking water as the available one is not good for drinking.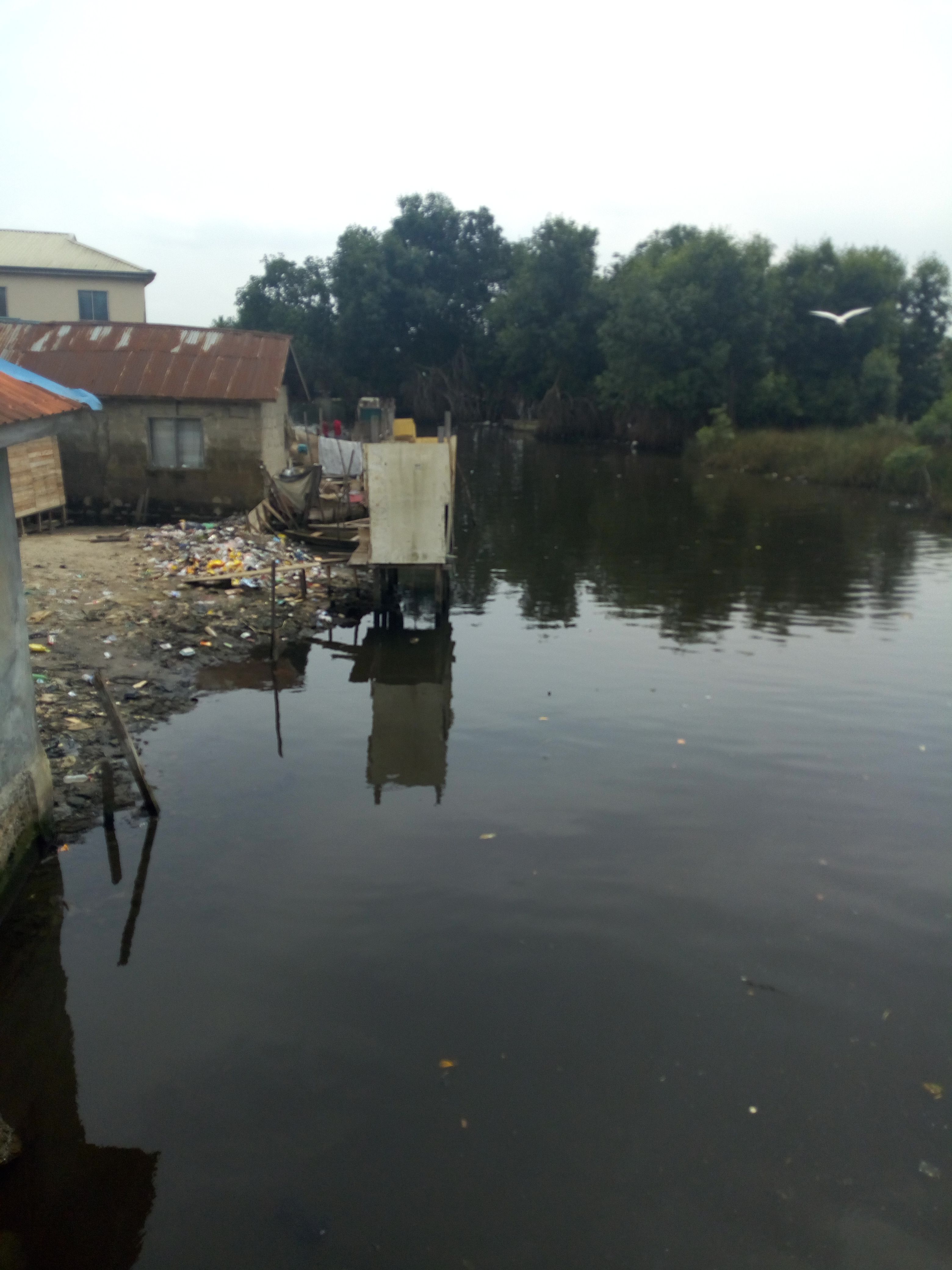 The water around is not good for drinking because it is polluted and could cause sickness, they bathe with the blackish river water and cook with it, but they buy the water they drink and buying water is very expensive.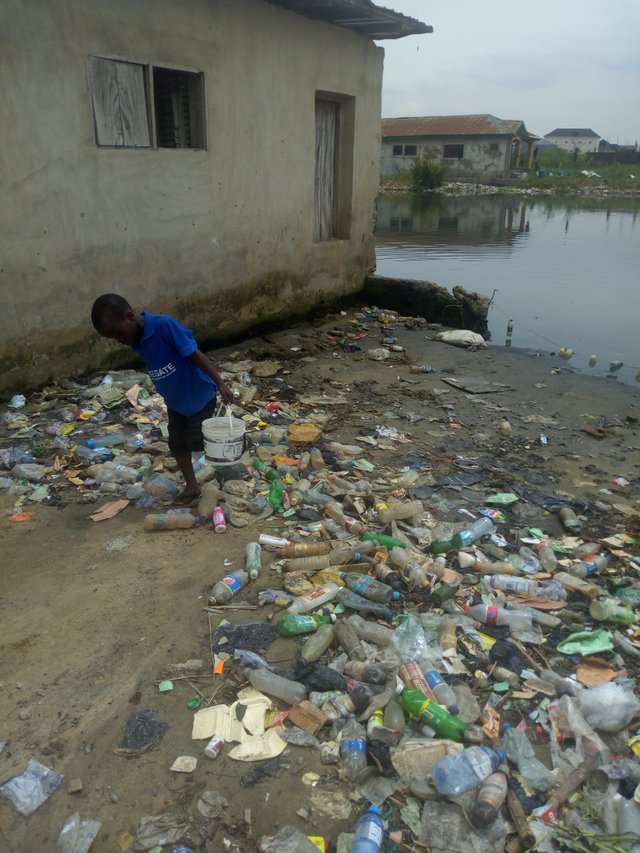 Buying of water is not applicable to some people that can't afford portable water.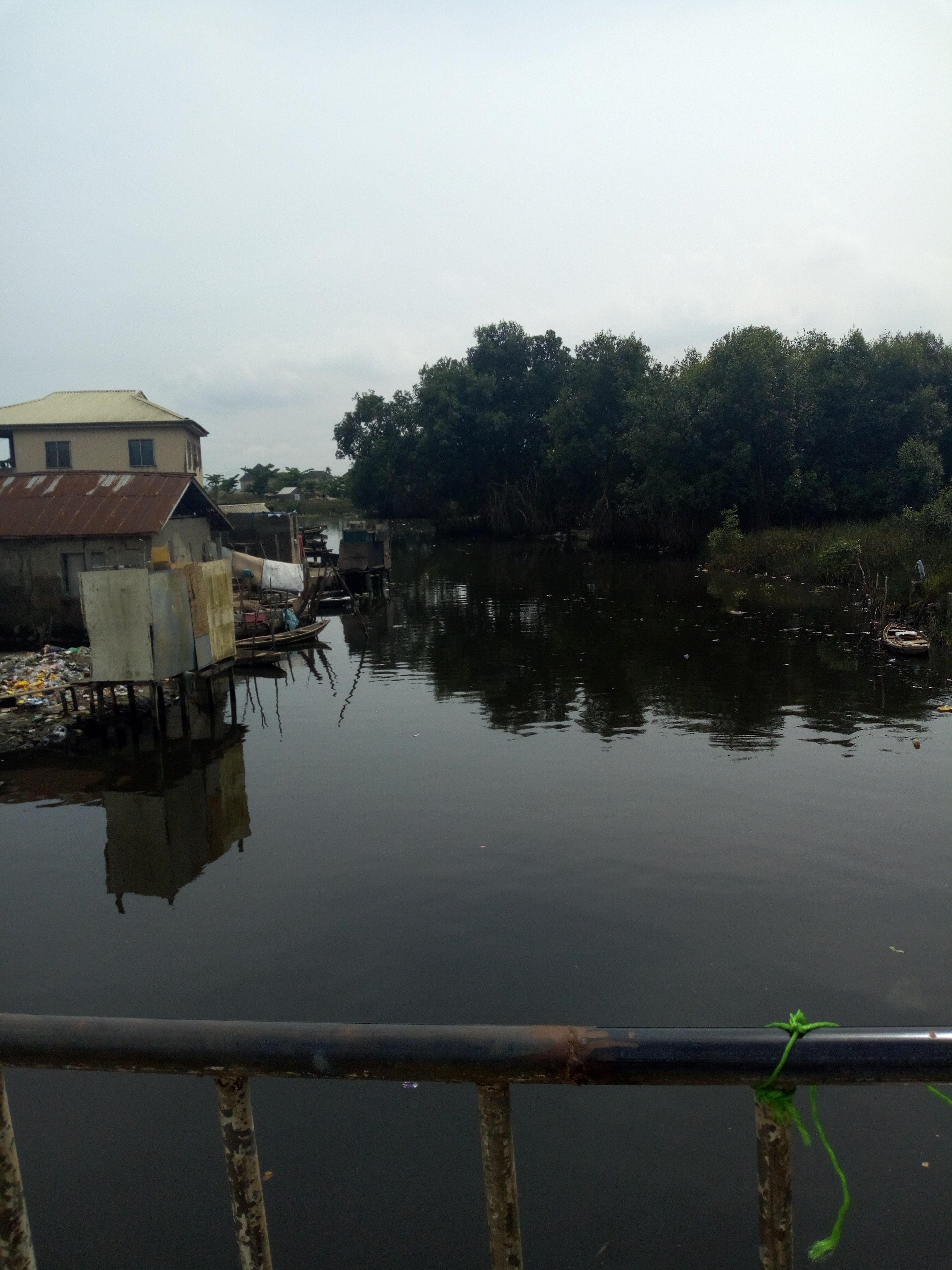 As black and dirty as the water is, some people drink, defecate, wash clothes, plates and bathe with it which increases their level of getting diseases and sickness.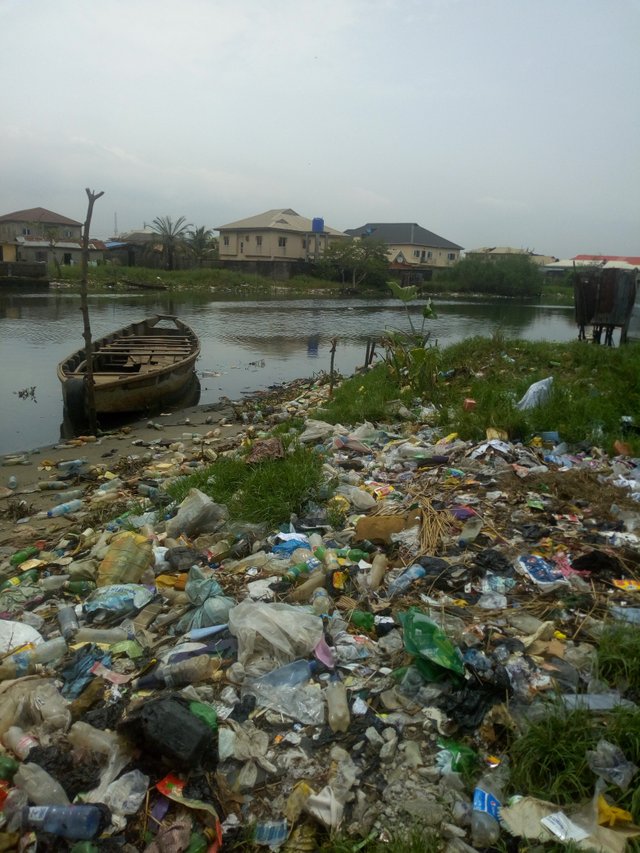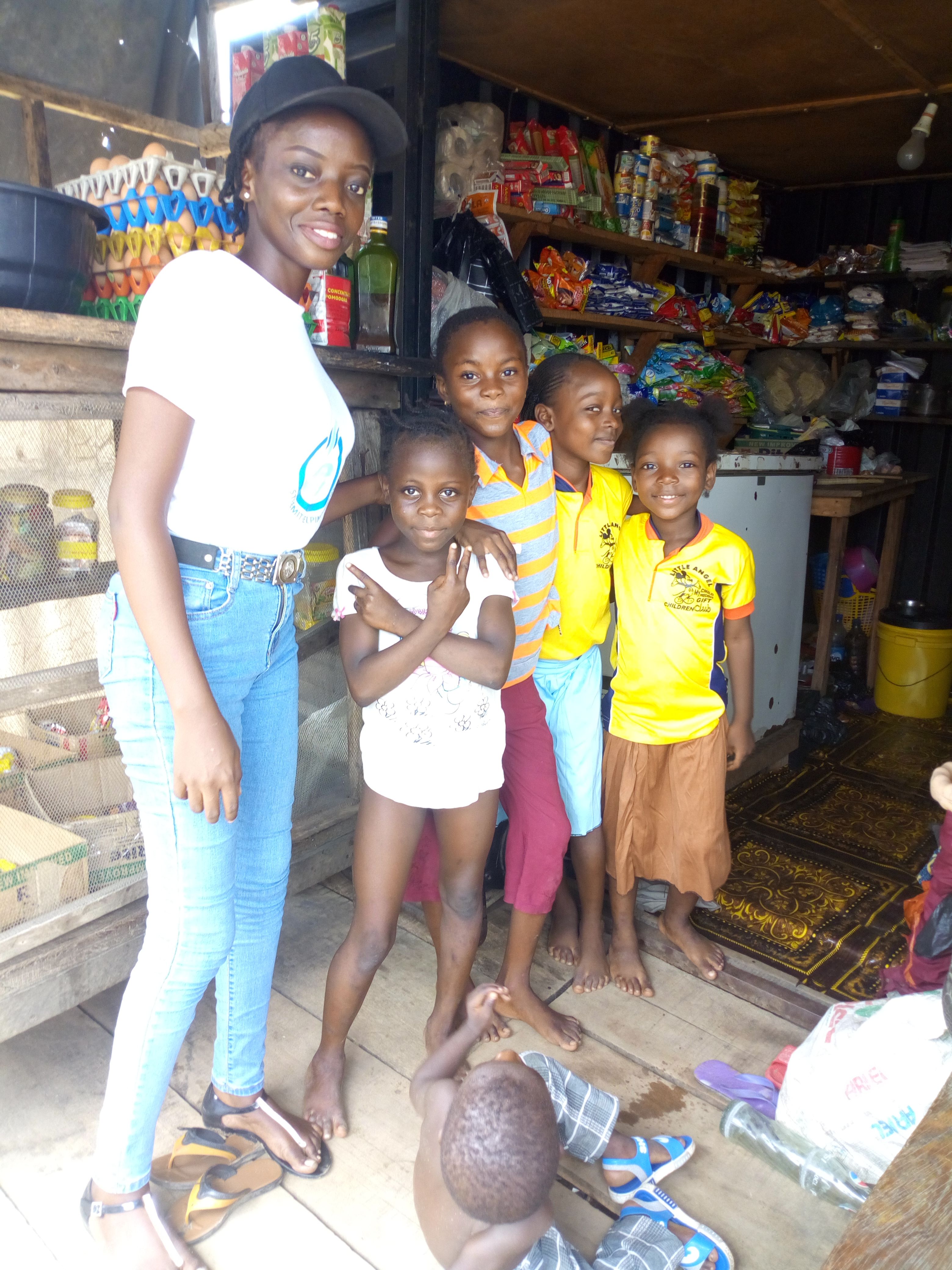 The major diseases in the community are malaria,typhoid, gastro-enteritis, enteric fever, injuries, diabetes, hypertension,obesity.
pictures were taken with an infinix mobile phone
---
▶️ DTube
▶️ IPFS