Hope Venezuela, Food Delivery Program "Day of Hope" (Update)
Hello dear readers, bearers of hope!
Today I share with you the customary update of the food delivery program in Venezuela. I want to start by thanking all those who have collaborated with this precious work, contributing some of their resources to buy food and in this way bring joy to a family... THANKS!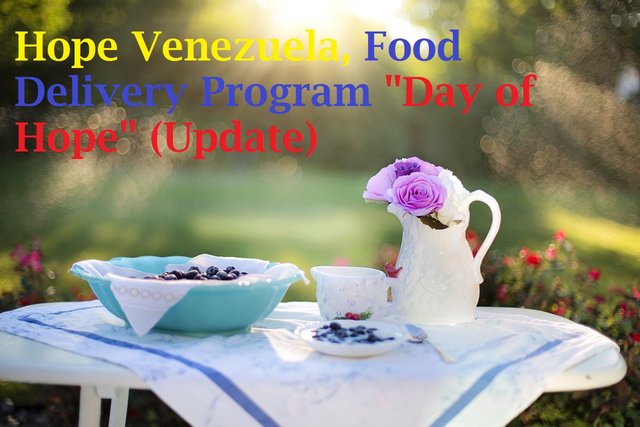 General information.
The delivery that was scheduled for December 27, for reasons beyond our control, we made last Friday, January 3, achieving the objective of benefiting two families.
Prices in Venezuela are a crazy thing, they rise drastically almost every week, without any regulation causing the population to suffer, we presume that this made some of the local collaborators unable to make their contribution.
This makes what we are doing in steem more meaningful, your contribution takes on more value, since we could make the delivery thanks to the contribution received on this platform, if not for the contribution of some of you, surely the delivery would have been postponed.
Thanks to the bearers of hope.
A bearer of hope is everyone who became sensitive to this cause, who not only felt the need to contribute, but also dared to send his contribution so that these families would receive this small food contribution, for them this tribute.
---
Bearers of hope
@edgarare1, @wakeupkitty, @deeanndmathews, @city-of-dresden, @olivia08, @suntree, @akdx, @jadams2k18, @otom, @fredkese, @josevas217, @pedrobrito2004.
Special mention for @achimmertens and his Nobel Token, for contributing his vote.
---
Delivery Testimonials
| Previous deliveries | Previous deliveries | Previous deliveries | Previous deliveries |
| --- | --- | --- | --- |
| | | | |
---
Recent deliveries January 3, 2020.
| Recent deliveries | Recent deliveries | Recent deliveries | Recent deliveries |
| --- | --- | --- | --- |
| | | | |
@hope.venezuela, promoting the day of hope!
---
News
Thanks to the contribution we receive from some of you, we try to prevent the difficult situation in Venezuela every beginning of the year, trying to guarantee the next delivery, of the funds received we managed to buy some essential items, which we have in our center of I collect waiting for the next delivery, which will take place on January 31.
What we have is not enough, however, it will add to the contribution we will receive during the month.
Projection, reflection and final call.
As for the projection and vision towards the future of the project, we have some new things that we are advancing and that we will announce in a few days.
I would like us to reflect a little about the importance of this project, I want you to pay attention to this anecdote: When we went to the home of one of the beneficiary families, we found that the parents of four children had gone out to see what they were getting to bring food to their Children, we found four children alone eating corn roasted corn with salt, that scene broke my heart and we decided to wait for them to return.
When they returned they were past 13 GMT, an hour after lunch, the children were there hungry.
It was very gratifying to see tears of joy running down a mother's cheeks, thanking God and those of us at the time making the delivery.
I can tell you that I have seen things in this work, that break the heart of the hardest and most difficult to impress, but at the same time I have felt a great satisfaction to see the faces of joy when these people receive some food.
Help us continue to bring hope, with your contribution you will draw smiles on troubled faces, every penny counts, a steem, BTC, Ether, transfer to a bank account in Venezuela, you can vote and reesteem this post or even delegate steem power to this account, Your action will help us to continue growing and reach more people.
---
BTC: 14VpubY4M3X3sJdMGv3ZkDVEoUGV1LH5Vf
ETH: 0xC5bC511d852Be63Bc7d46e3cD9AbE57f18F12Bc6
LTC: LbncEfubydyJvJZcfCP1k587PjZibxWyg6
DOGE: DChQwidZGK2pZFgUNpqwnqnNUoc235qFwp
---
Become a bearer of hope!
---