In this series we will get behind the scenes with the people running imaginative, innovative and inspiring challenges here on Steemit.


Today we meet @sweetpea from South Africa who runs the Steemit Hobby Hub Challenge another motivational challenge on Steemit. @sweetpea is certainly a positive force on Steemti and is involved in many challenges and this month is also the guest judge on the CultureVulture challenge.
---
The Hobby Hub Challenge - The Interview
| | |
| --- | --- |
| EROCHE | Hi @sweetpea, nice to meet you, lets start this interview with a bit of background about yourself |
| | How long have you been on Steemit and how did you hear about it? |
| SWEETPEA | I have been on Steemit for a year now (I actually celebrated my anniversary a couple of days ago). To be honest though, my account was left dormant for sometime and it's only in the last 6 months that I have made full use of the blockchain. I heard about Steemit through an acquaintance her Facebook post linking to Steemit caught my attention. Funnily enough, this user (@onetree) lives in the town where I grew up, a small industrial area where many are still wrapping their heads around "the internet", never mind blockchains and cryptocurrencies, so I do find my introduction to Steemit quite ironic. |
| EROCHE | I would like to talk next a little about steemit. Your profile describes yourself as "a mom, a wife and an opinionist", Steemit is a great place to give an opinion on something. |
| | Has the engagement you received here informed or changed some of your views? |
| SWEETPEA | Definitely! In fact, my opinion has been challenged and proven wrong quite a few times here on Steemit. While my ego has been bruised on the odd occasion, I still appreciate the learning curves that Steemit brings to my attention – I LOVE stumbling upon the viewpoints and opinions of those who have different lifestyles to my own – it's most enlightening, and more often, humbling! |
| EROCHE | What is the feature you would most like to see added to Steemit? |
| SWEETPEA | A built-in exchange rate calculator would be very handy! I would love to know what my Steem is worth in Rands (South African currency) without using another application. If I have missed the boat and there is such a gem, please let me know 😊 |
| EROCHE | Who is the most influential person on Steemit in your opinion? |
| SWEETPEA | I often see big and now familiar names mentioned, but @curie is brought to my attention daily, especially since he supports @steemiteducation – one of my favorite channels to write for. The @steemiteducation tag has since become very popular and the content that is submitted is informative and in most cases, original. Bringing it closer to home though (I'm from South Africa), @dragonslayer109 has had a big personal influence on my own Steemit adventure, he is the founder of the #africa channel and I have learnt a lot by simply following and observing what he does, and how he does it (lol, now he knows I have been silently stalking him)! |
| EROCHE | This interview is about a regular challenge your running so lets talk about that for a few moments. |
| | Why are challenges and contests important for Steemit? |
| SWEETPEA | Firstly, they help inspire ideas on what to write about, not every one has a bursting imagination, some need a little more direction. Secondly, they are an excellent way to get your posts seen and your name out there, since many challenges and contests are supported by the "bigger guys". Last but not least, it promotes the submission of original content that is written from scratch. Oh, did I mention that you can WIN MONEY?! |
| EROCHE | What motivated you to create the Hobbyhub Challenge? |
| SWEETPEA | My enjoyment in entering contests is what planted the seed – I really do love a challenge! I have to give credit to @eroche and the @culturevulture challenge here, as well as to @karenmckersie, founder of the #popcontest. The way they run their challenges/contests was a huge encouragement to set up my own (they are very dedicated to what they do). I chose Hobbies as my niche since I have plenty hobbies myself and I am truly interested in finding out what others get up to in their spare time. A hobby is something that is also uniquely your own, making the posts that are submitted more likely to be original and fresh content – which is what we need more of here on Steemit! |
| EROCHE | Many people starting out on steemit seek out challenges to help them get started. |
| | Do you have any advice for new steemians who just started on Steemit? |
| SWEETPEA | Yes! I think it is mentioned somewhere on the Steemit introductory page, but the best advice I can give you is to just write! Start writing your posts and learn a little as you go. Steemit requires a lot of dedication and patience too. Read and curate posts that are exclusively about Steemit and you will soon pick up on the tricks of the trade. Enter contests and challenges, your posts will get more exposure this way and they offer an opportunity to socialize with others who have the same interests as you, this way you can gain followers at the same time! |
| EROCHE | Who is your favorite Steemit author? |
| SWEETPEA | The very same person who introduced me to Steemit (she gave me good advice along the way too). @Onetree writes from the heart and she always posts about the most interesting things. She often attends auctions and writes about her amazing finds! She has an excellent way of writing, well I think so anyway! |
| EROCHE | What is your favourite Steemit App? |
| SWEETPEA | For some reason, I don't always receive my notifications when I have been mentioned. Recently I found this handy app that lists all the posts and comments where you are referred to http://api.comprendre-steem.fr/mentions/ I use this app daily now, since it directs me to posts where my username was used, and I can then go leave a comment – helps get my name out there and I can thank the writer for their support. |
| EROCHE | Many thanks for your time @sweetpea. |
No time like the present, why not enter a challenge on steemit today...
@sweetpea's contest will be featured on SteemChallenges for the next week but we will also be adding new challenges to the site daily. Looking for a place to get started on Steemit? Why not enter one of the inspiring challenges and meet some great people!
---
Previous Interviews
---
Thank you for reading this. I write on Steemit about Blockchain, Cryptocurrency, Travel and lots of random topics.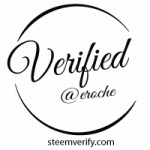 ---