Chain Clash is partnering up with pixEOS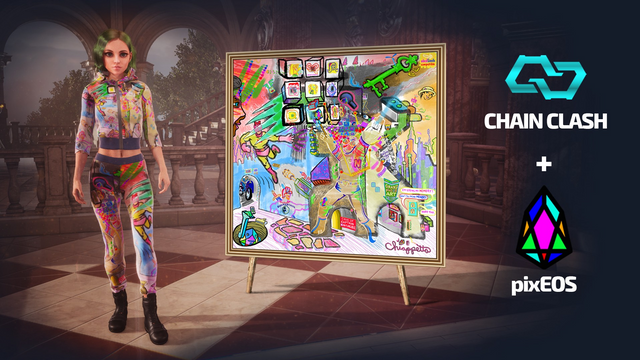 Clashanians,
The new year (the new decade!) starts off with a very special event for us at Chain Clash. Many of you had seen our social media announcements or the post by pixEOS right before Christmas and here we are to fill you in on the details of what we're planning with our friends from pixEOS.
What's pixEOS?
If you don't know pixEOS, it's definitely worth checking out their very cool website.
pixEOS fuses art and gaming into an innovative ecosystem for collectors, gamers, and artists. Several multiplayer online games are operated by pixEOS, as well as an avatar maker, and an online marketplace for rare digital art. The project makes art collecting fun, social, and lucrative through gamification.
This is why our partnership with pixEOS is a perfect fit!
What this partnership brings to you
We're starting off with the creation of an entirely new type of avatar. Thanks to the technology of our co-creators from DNABlock, we're able to make a human avatar which is not a replica of an actual human, but a blend of attributes which we're able to set ourselves! And thanks to that tech we're able to clothe our avatar in a suit that's made of a digital artwork by award-winning cartoonist, Joe Chiappetta. For the first time, you can see digital art transformed into digital goods that you can use elsewhere, play and animate them! We're unleashing the advantage digital art has over analogue by tying it together with our in-game characters.
The artwork we're using here is called "The Rare Digital Art Avengers" and is a celebration of heroes, comics, and cryptoart culture. New times call for new heroes, dressed in digital style!
Ten copies of this avatar will be auctioned off starting from next week Monday (January 13th, 2020), 2pm (UTC), until Monday, January 20th 2020, 4am UTC. Of course you'll be able to use this Epic avatar within Chain Clash, and these ten copies are the only ones made of "The Rare Digital Art Avengers" ever!
Check this awesome avatar out on our presale website!
What else we're planning
We see close to unlimited options for collaboration between pixEOS and Chain Clash. Both pixEOS and Chain Clash utilize the dGoods standard for NFTs, and both pixEOS artwork and Chain Clash avatars will be freely tradable, transferrable and interoperable. Here are some of the most exciting ideas we have in mind:
A pixEOS arena: An arena which would feature the pixEOS art gallery, or — if we're going more sophisticated — even the artwork that each avatars' players own from the pixEOS art gallery.
Part of this is a wallpaper or billboard displaying the current pixEOS paint / paint FE canvas.
pixEOS paint avatars: Much like we plan to include pixEOS paint into arenas, we can do the same with avatars. We can use snapshots of the canvas to create clothing for avatars, and maybe we'll even be able to feed the current canvas into Chain Clash dynamically. The pixels you drew will get a lot of additional exposure! In addition, some of the revenue from the avatars could be funneled back to the owners of the pixels!
Get pixEOS art, receive an avatar: pixEOS artists will be able to opt into issuing a Chain Clash avatar along with their art. Each buyer of such an artwork would then also receive a corresponding Chain Clash avatar!
We're more than happy to hear your ideas, as well. We bet pixEOS lovers will be particularly creative!
We wish all of you a great year of 2020 and hope you're as excited about this partnership as we are!