Hele čičí co to syčí...
Dnes malá detektivní příhoda na dvorku.Znáte to, vylezete před dveře , překontrolujete pozemek z leva do prava a STOP!
Něco není v normálu. Co to je?? kočka stojí na zadních a intenzivně buší pěstí do stromku. ??? Cože? Zbláznila se? To je třeba prozkoumat! Tak jsem šel blíž a ejhle! To nebylo šílenství z vedra ale lovecká horečka. V listech se ukrýval cca 30 cm dlouhý had! teď co? Sdělil jsem opatrně tuto maličkost @modrooocko čímž jsem docílil zrychleného přesunu do obydlí. Chyt to a odnes to! To jste uhodli! jen tak bez přípravy budu sundavat neznámého plaza z větví stromu. Takže nejprve proběhlo focení,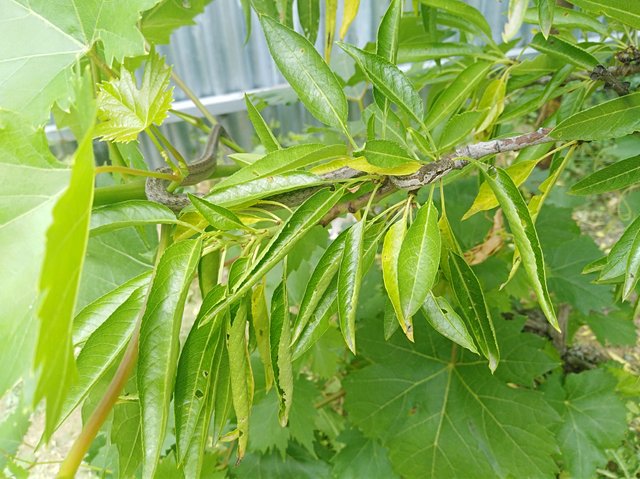 posléze porada se strýčkem google a následné vyklizení prostoru
jednalo se totiž o užovku hladkou.
vyhodnocení:
Vzácná,
chráněná ve všech vývojových stádiích
brání se agresivně kousáním!
Usoudili jsme že když znalec a chovatel plazů @carnad má telefon na ozdobu necháme vše na přírodě a jejímu rytmu.
Stejně se v Omicích něco děje i s přírodou. Ptáci, motýli , housenky, teď i hadi... asi to nebude jen tak! navštěvují nás tu zajímavá zvířátka... ale o tom až příště!