Děkuji všem, kteří se zúčastnili naší interní ankety inspirované projektem Rozděleni svobodou. Celkem nás bylo deset a asi nepřekvapí, že ve srovnání se vzorkem celé populace jsme poměrně tolerantnější. S celou řadou sociálních skupin uvedených v dotazníku se totiž mimo jiné můžeme virtuálně potkávat i tady. A krom toho skutečnost, že se pohybujeme na víceméně experimentální blockchainové sociální platformě, také o něčem vypovídá. Ale nejprve tvrdá data:
Excelovská heat mapa:

A jednoduchý graf:

Je to minutka práce v excelu, byl jsem líný si s daty hrát víc. Pokud máte zájem o původní nezpracovaná data, najdete je tady.
Stejně jako v původním výzkumu jsou i tady jednotlivé kategorie očíslovány od jedné do sedmi (životní partner - 1; ani návštěvník - 7). Výsledek lze proto snadno kvantifikovat. Více informací o použité metodě naleznete například na české Wiki.
Pro porovnání ještě původní graf z Rozděleni svobodou (pokud vás opravdu zajímá, mrkněte přímo na stránky Českého rozhlasu, je interaktivní a hodnoty se zobrazují až po najetí myší):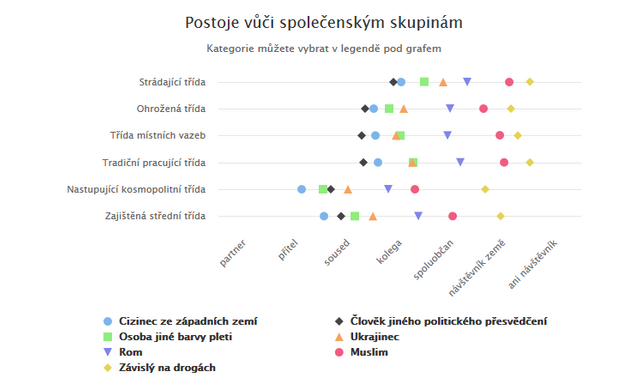 Kdo tedy českým Steemiťanům (ne)vadí
U všech skupin jsme se projevili tolerantněji než zkoumaný vzorek populace. Často je dokonce nejméně přátelská odpověď u nás příznivější než průměrná odpověď celé řady skupin respondentů. Cizinec ze západu má u nás nejhorší hodnotu 2 (u dvou odpovědí), zatímco i u nejtolerantnější "nastupující kosmopolitní třídy" má průměr 2,12. Podobně je tomu i u dalších hodnocených skupin.
Alespoň polovina z nás si dovede představit společné soužití z cizincem či cizinkou ze západu, člověkem s jinými politickými názory, člověkem jiné barvy pleti nebo Ukrajincem, případně Ukrajinkou. Tři z nás by mohli mít za životního partnera Roma nebo Romku a dva muslima/muslimku. Všechny hodnoty z tohoto odstavce jsou v kontextu celé společnosti extrémně tolerantní.
Trochu paradoxně u nás osoba jiného politického přesvědčení dopadla relativně hůře než u celé společnosti, kde byla pro čtyři ze šesti společenských tříd vůbec nejpřijatelnější volbou. U nás je až čtvrtá. Myslím, že je to způsobené poměrně vágní definicí. Někdo si takového člověka představí jako někoho, kdo volí jinou stranu než on sám, jiný jako příznivce některé z radikálních nebo totalitních ideologií. Myslím, že pokud by v zadání bylo "Člověk, který volí jinou politickou stranu než já", dostali bychom se tady na Steemu někam na úroveň cizince ze západu.
Podobně jako u celé populace jsou i u nás na chvostu Romové, muslimové a lidé závislí na drogách. U těch posledních jde znovu o definici. Pokud bychom si závislého na drogách představili jako zanedbaného bezdomovce s atakou toxické psychózy, těžko by se přehoupl přes průměr 5 (spoluobčan). Epizodami silné drogové závislosti si však prošla celá řada celebrit, zejména hudebníci, herci a další osobnosti, kteří by se zřejmě umístili nejhůře na průměru 2, a to i v celospolečenském měřítku.
Celkem 3 hlasy by někoho vyloučily z české společnosti. Muslimové by podle jednoho z nás měli být nanejvýš turisté a osoby závislé na drogách by podle dvou z nás neměli být v ČR vůbec.