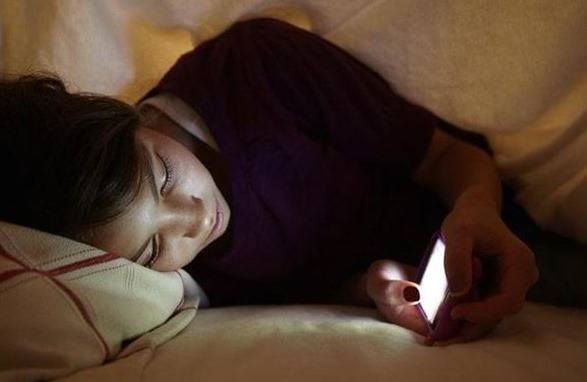 A study conducted by researchers at the University of Glasgow at 91,000 people in the United Kingdom, found that people who do not follow the rhythm of their body clock tend to have mental health problems, depression, and bipolar disorder including moodiness.
The same researchers are those who say that the alteration of normal circadian rhythms, which work in a sleep cycle; that is, 24-hour wakefulness, is associated with an increased susceptibility to mood disorders.
People who are inactive during the day, and are active at night are more likely to suffer such emotional imbalances. That is why it is recommended to turn off the phone after 10:00 pm
Professor Daniel Smith, professor of psychiatry at the university, explained: "A healthy rhythm is being very active during the day and very inactive at night.
"This is an important study that demonstrates a robust association between altered circadian rhythm and mood disorders."
The professor also added that it is important to carry out activities during the day, such as exercises so that at night you can have a pleasant sleep: "There are many things that people can do, especially during the winter, like leaving the house in the morning. to expose themselves to light and exercise, so that at night they are tired.
And one of the most important tips is to turn off the phone because the light of this tells our brain that it is still daylight. "You can also turn off your mobile phone around 10 p.m. because the light in it tells your brain that it is daytime. But it is difficult for some people, such as shift workers, because of their work or because of their family circumstances "
As we already know, the body clock regulates certain functions such as body temperature and eating habits. Long-term night work has harmful consequences for health, one of them is cancer, obesity and heart disease.
At the moment the researchers say that it is not safe if the body clock is out of series causes mental health problems and that is why the investigations continue.
However, as he wrote in the journal The Lancet Psychiatry, Dr. Aiden Doherty, principal investigator of the Nuffield Department of Population Health at the University of Oxford, said that a next step could be to conduct more research on younger people.
He also added: "The circadian system in the process of adolescence undergoes changes which is also a common moment for the onset of mood disorders."
For these same conditions it is advised to turn off your phone after 10 pm to stay happy!