(Competition 59). The birthday spaceship/La nave espacial de cumpleaños. (eng-spa)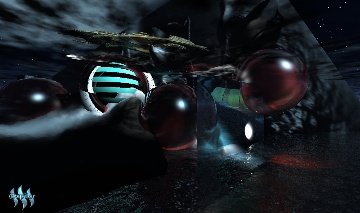 Imagen courtesy of @xpilar.

The birthday spaceship.
-It's wonderful this mommy spacecraft-, said the little boy when he opened his birthday gift, excitedly took it and ran to his room to investigate every part of his fabulous gift; I had seen her on television a long time ago, an advertising spot that left the child ecstatic and dreaming of the adventures she could live.
Surprised with that ship in his hands, he thanked the efforts his parents had made to buy it, the boy knew it was expensive so he thought it would be his greatest treasure, something invaluable since it came full of love.
He looked carefully and carefully at each part, the colored spheres seemed striking and the windows seemed so real, he imagined that the crew of his mega spacecraft was ready and attentive to carry out the mission.
-Attentive crew, we will take off in 3 … 2 … 1 … 0-, the little one flew his ship throughout the room, the walls and sky painted blue with yellow stars resembled the same sky, everything was perfect, without a doubt the best possible birthday.
He played for long hours, until the night came and he had to sleep, -attentive crew, we have landed safely, we will rest for tomorrow investigate the garden, I have learned that there is a plague of giant snails that threaten the garden of the queen and we must protect him and move the snail race - those were the last words of the small captain of the ship before falling asleep, hugged his treasure while his lips held that happy and calm smile.
La nave espacial de cumpleaños.
-Es maravillosa esta nave espacial mami-, decía el pequeño niño al abrir su regalo de cumpleaños, emocionado lo tomó y corrió a su habitación para investigar cada parte de su fabuloso regalo; hacía mucho la había visto por la televisión, un spot publicitarios que dejaba al niño extasiado y soñando con las aventuras que podría vivir.
Sorprendido con esa nave en sus manos agradeció el esfuerzo que sus padres habían realizado para comprarla, él niño sabía que era costosa así que pensaba que sería su más grande tesoro, algo invaluable ya que venía lleno de amor.
Miraba con atención y cuidado cada parte, las esferas de colores le parecían llamativas y las ventanas parecían tan reales, imaginaba que la tripulación de su mega nave espacial estaba lista y atenta para realizar la misión.
-Atenta tripulación, vamos a despegar en 3…2…1…0-, el pequeño volaba su nave por toda la habitación, las paredes y cielo pintados de azul con estrellas amarillas asemejaba el mismo cielo, todo era perfecto, sin duda el mejor de los cumpleaños posibles.
Jugó por largas horas, hasta que llegó la noche y debía dormir, - atentos tripulación, hemos aterrizado seguros, vamos a descansar para mañana investigar el jardín, me he enterado que hay una plaga de caracoles gigantes que amenazan el jardín de la reina y debemos protegerlo y trasladar a la raza caracol-, esas fueron las últimas palabras del pequeño capitán de la nave antes de quedarse dormido, abrazaba su tesoro mientras sus labios sostenían esa feliz y tranquila sonrisa.

---
Posted from my blog with SteemPress : http://issymarie.repollo.org/2020/02/10/competition-59-the-birthday-spaceship-la-nave-espacial-de-cumpleanos-eng-spa/
---