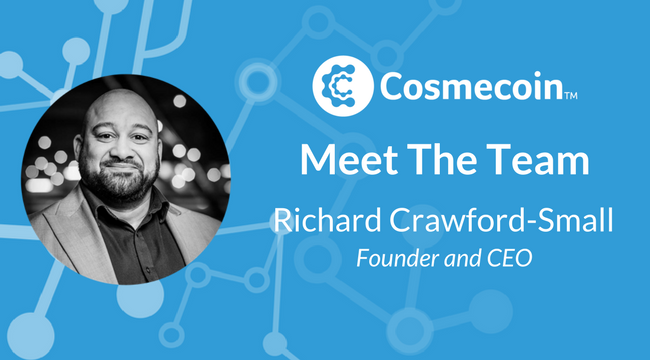 During his 15 years in the global Medical Aesthetic industry, Richard Crawford-Small generated a unique insight into the client experience that has led to the creation of iConsult and its award-winning Client Management System. Now he is on a mission to launch Cosmecoin to incorporate blockchain technology into the iConsult software.
Here's what Richard had to say about being the CEO of iConsult Global and Cosmecoin:
"I'm the founder of iConsult Global and a specialist in focusing Cosmetic Surgery clinics on improving revenue by creating Ethical Businesses in Medical Aesthetics.
Over 4.4Million consumers consider having a medical aesthetic treatment — and 3.9 Million of them don't bother. Every year this costs the Aesthetic Industry in the UK over 1.3BN in lost revenue.
Why?
Because the consumer does not trust the industry, too many negative news stories give the impression that Medical Aesthetics is full of "Cowboys" and they step back into the comfort zone of ineffective treatments and high-street skincare.
I've been personally involved in the Cosmetic Surgery sector for about 15 years, working with from the small single practitioner business, through to the largest multisite chains. I have written a book about the consultation process called Changing Faces, and have dedicated my work to helping create an engaging aesthetic business that connects with the consumer, creating a consistent and effective client journey.
My mission is to use technology to improve standards and disrupt the global Cosmetic Surgery industry with Cosmecoin.
This is why we are moving iConsult to a blockchain solution where a willing consumer is connected with a trusted provider, that containing a token mechanism to reward safe practices, compliance and reviews. Smart Contracts and Blockchain are a natural fit to augment this solution, with the added benefits provided by a token currency.
Our new system will revolutionise on the quality of the cosmetic procedures and create a sense of mutual responsibility between practitioners and patients, improving outcomes."
Richard Crawford-Small, LinkedIn: https://www.linkedin.com/in/richardcrawfordsmall/
Richard Crawford-Small, Twitter: https://twitter.com/RCrawfordSmall
Richard Crawford-Small, Instagram: https://www.instagram.com/r_crawfordsmall/
DISCLAIMER:
Neither this document nor anything contained herein shall form the basis of, or be relied upon in connection with, any offer or commitment whatsoever in any jurisdiction. Any offer to acquire tokens will be made, and any investor should make its investment decision solely on the basis of the information that is contained in the information memorandum to be published by iConsult Software Ltd in due course in connection. Copies of the information memorandum will, following publication, be available at www.cosmecoin.io.
These materials are not an offer of securities for sale in the United States. The securities to which these materials relate have not been registered under the US Securities Act of 1933, as amended (the "Securities Act") or the securities laws of any state or jurisdiction of the United States. Accordingly, these securities may not be, sold, pledged, assigned, delivered or otherwise transferred, exercised or redeemed, at any time, within the United States or to, or for the account or benefit of, U.S. Persons. There will be no public offering of the securities in the United States.