A bit of perspective on our NSFW controversy (SFW post)
I've taken a closer look at our divisive new member, and I think we got really lucky.
Quick catchup for those not aware: pornstar @alexanova joined steemit about a week ago, igniting a debate around handling NSFW content on the platform.
I'm not going to take a position here; others have offered plenty of excellent suggestions, and I'm confident we'll end up in a happy place. My observation is more pragmatic.
Steemit is a tiny community, and the porn industry is a massive community.
One of their members approached our community, and did everything we asked. She verified herself, then re-verified upon request via video.
She tagged her posts "NSFW" and quickly followed suggestions to make the first photo of each post SFW.
Considering that this issue was inevitable, and considering that Ned and Dan have offered no guidance on the topic (of which I'm aware), this is an excellent opportunity to brainstorm, negotiate, compromise and set a precedent to guide the relationship between the two communities into the future.
Some see her as a cancer, which will spread and destroy steemit, others see her as an exciting, dangerous new player, who will bolster steem's price and adoption.

I see her as an emissary
She's a fantastic candidate to help manage the relationship between our two communities.
You might hate what she does, but you have to agree that she's been approachable and polite. She's jumped through all of our hoops (in the absence of any set guidelines) and is clearly somebody we can have a sensible discussion with.
While she might be struggling for credibility in our community, she has plenty of credibility in the porn world.
If we can happily and clearly negotiate precedents, while dealing with just one, very pleasant, very qualified representative, here and now, we can avoid a whole world of trouble down the track.
When others arrive, we'll be able to point to somebody from their own community, and say,
'Do what Alexa does'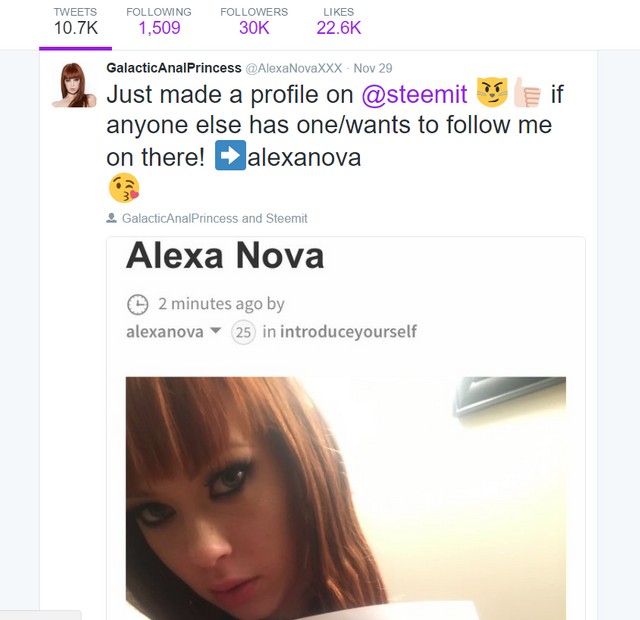 Alexa has
30,000 followers on Twitter.
29,000 followers on Instagram.
I'm also sure she has friends with similar numbers.
What do you think would happen to steemit if she and 10 friends asked their followers to sign up here and flood the place with porn, in the middle of a hard fork?
How do you think the next Rolling Stone article would look?
Sure, we could all band together and spend several weeks trying to downvote it all, but wouldn't it be easier and nicer to just make her a cup of tea and talk it out?
The worst thing Alexa's threatened to do is leave, disappointed.
She hasn't even threatened to badmouth the platform elsewhere.
If you'd asked me a month ago how best to handle any potential adult content on steemit.com, I would have said the ideal scenario would be for one, pleasant, co-operative, self-representing porn star to arrive on the platform; force a discussion, reach an outcome, and set clear guidelines for others to follow; saving us from having to constantly renegotiate with each new, sleazy small-time producer who comes sniffing around looking for a quick buck.
This is exactly what we got, so let's pause to recognise how lucky we are.