---
We have investigated the origins of the bull period in the last part, its time has to pass on, so he now once again appear in his glory. Bull and ram figures from Tuva, carved from soapstone and with many details.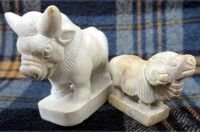 Wir sind im letzten Teil den Ursprüngen aus der Stierzeit nachgegangen, seine Zeit ist am vergehen und deshalb darf er nun noch einmal in seiner Pracht erscheinen. Stier- und Widderfiguren aus Tuva, geschnitzt aus Speckstein und mit vielen Details.
---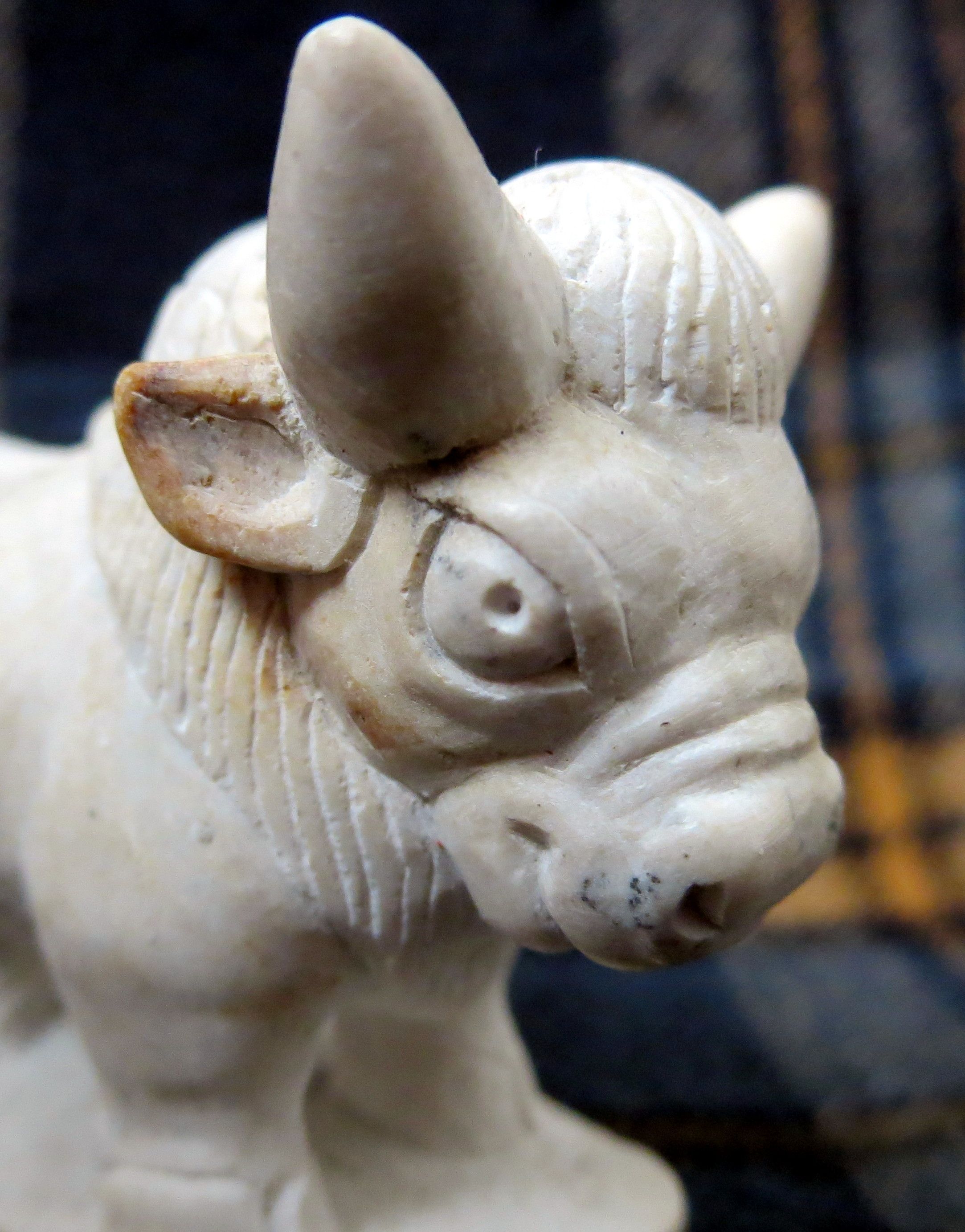 ---
Lets appear a druid and he will tell us that for two thousand years our sign will ascend and then disappear again, we should commit ourselves to him and put Aries' horns as a sign. Even today we find these signs on their helmets and at their homes, for example in the Virgen Valley in East Tyrol. A variety of customs from the Aries period have survived all persecutions up to our time and I will now describe some of them.
---
Lassen wir einen Druiden auftauchen und er wird uns erklären, daß zweitausend Jahre lang unser Zeichen aufsteigen wird um dann wieder zu vergehen, wir sollten uns zu ihm bekennen und Widderhörner als Zeichen setzen. Noch heute finden wir diese Zeichen auf ihren Helmen und an ihren Häusern, zum Beispiel im Virgental in Osttirol. Eine Vielzahl von Bräuchen aus der Widderzeit haben alle Verfolgungen bis in unsere Zeit überstanden und ich will einige davon nun beschreiben.
---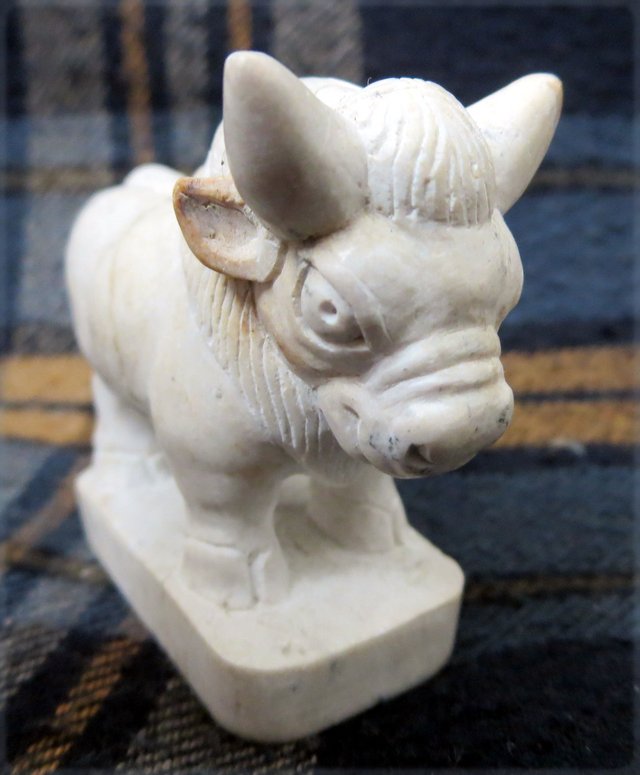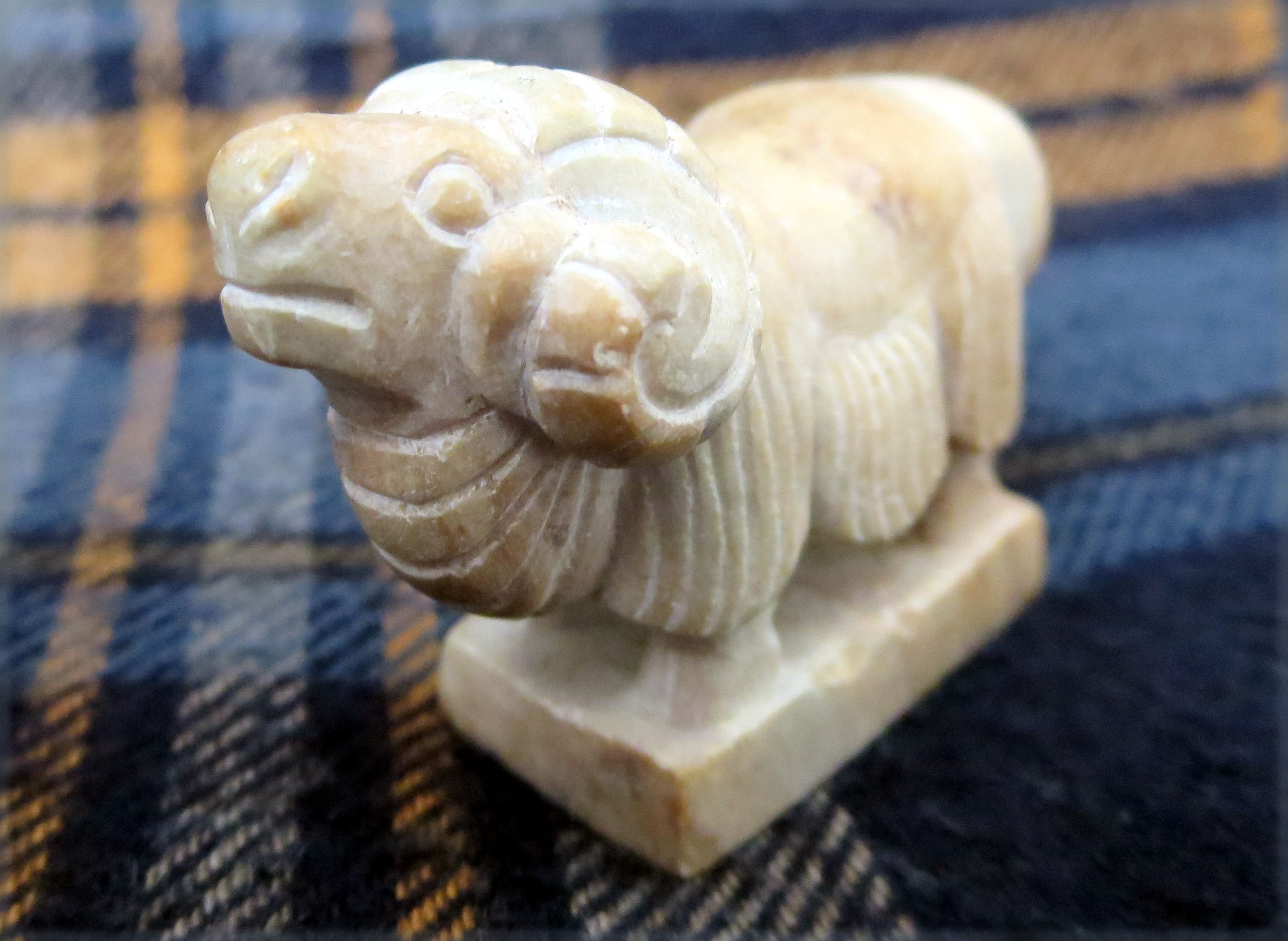 ---
The Virgen Aries hike and other customs
Until 1930 the annual Aries festival took place in the Tauern valley. From Virgen to Lavant a decorated Aries was forced 40 km and slaughtered in front of the Catholic Church. This purely pagan ceremony is surpassed as sure and shows us the victory of Christianity in the sign of the fish over the ram. Just as the bullfighting of Crete's two thousand years before had been able to testify to the ram's victory over the bull. The lamb and its slaughter, Christ as a sacrificial lamb, chosen symbolism which seems to us slowly understandable. The present form with the auction of the ram before the church is still a kind of folk festival, however, robbed off from many original features.
In the Zillervalley there is the annual Aries fight. In the Carnic Alps and in the Ortler area the four legs of the ram were tied, and the young men swung him round the head. Site names bear witness to this custom, which should serve as a deterrent to the local Tauriskian.
The bulls in Spain are still killed by the descendants of the Aries men, the Ibero Celts, without knowing the cause of the custom.
---
Der Virger Widderzug und andere Bräuche
Bis 1930 fand das alljährliche Widderfest im Tauerntal statt. Von Virgen bis Lavant wurde ein geschmückter Widder die 40 Kilometer getrieben und dort vor der katholischen Kirche geschlachtet. Diese rein heidnische Zeremonie ist als sicher überliefert und zeigt uns den Sieg des Christentums im Zeichen des Fisches über den Widder. Genauso wie die Stierbekämpfungsfeste Kretas zweitausend Jahre vorher den Sieg des Widders über den Stier bezeugen konnten. Das Lamm und dessen Schlachtung, Christus als Opferlamm, gewählte Symbolik die uns langsam verständlich erscheint. Die heutige Form mit der Versteigerung des Widders vor der Kirche ist immer noch eine Art Volksfest, allerdings vieler ursprünglicher Merkmale beraubt.
Im Zillertal gibt es den jährlichen Widderkampf. In den karnischen Alpen und im Ortlergebiet wurden dem Widder die vier Beine gebunden und die Jungen Männer schwangen ihn im Kreis über dem Kopf. Ortsbezeichnungen zeugen von diesem Brauch, der den ansässigen Tauriskern als Abschreckung dienen sollte.
Noch immer werden die Stiere in Spanien von den Nachkommen der Widdermänner, den Iberokelten, getötet ohne jedoch von der Ursache des Brauches zu wissen.
---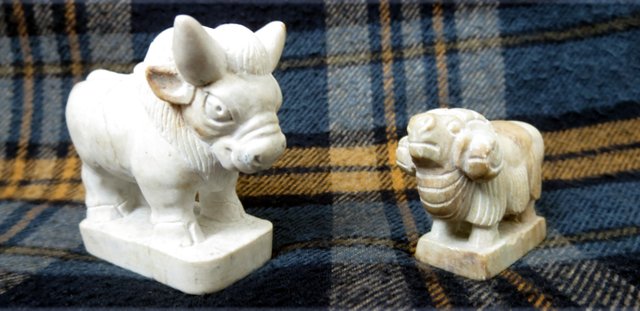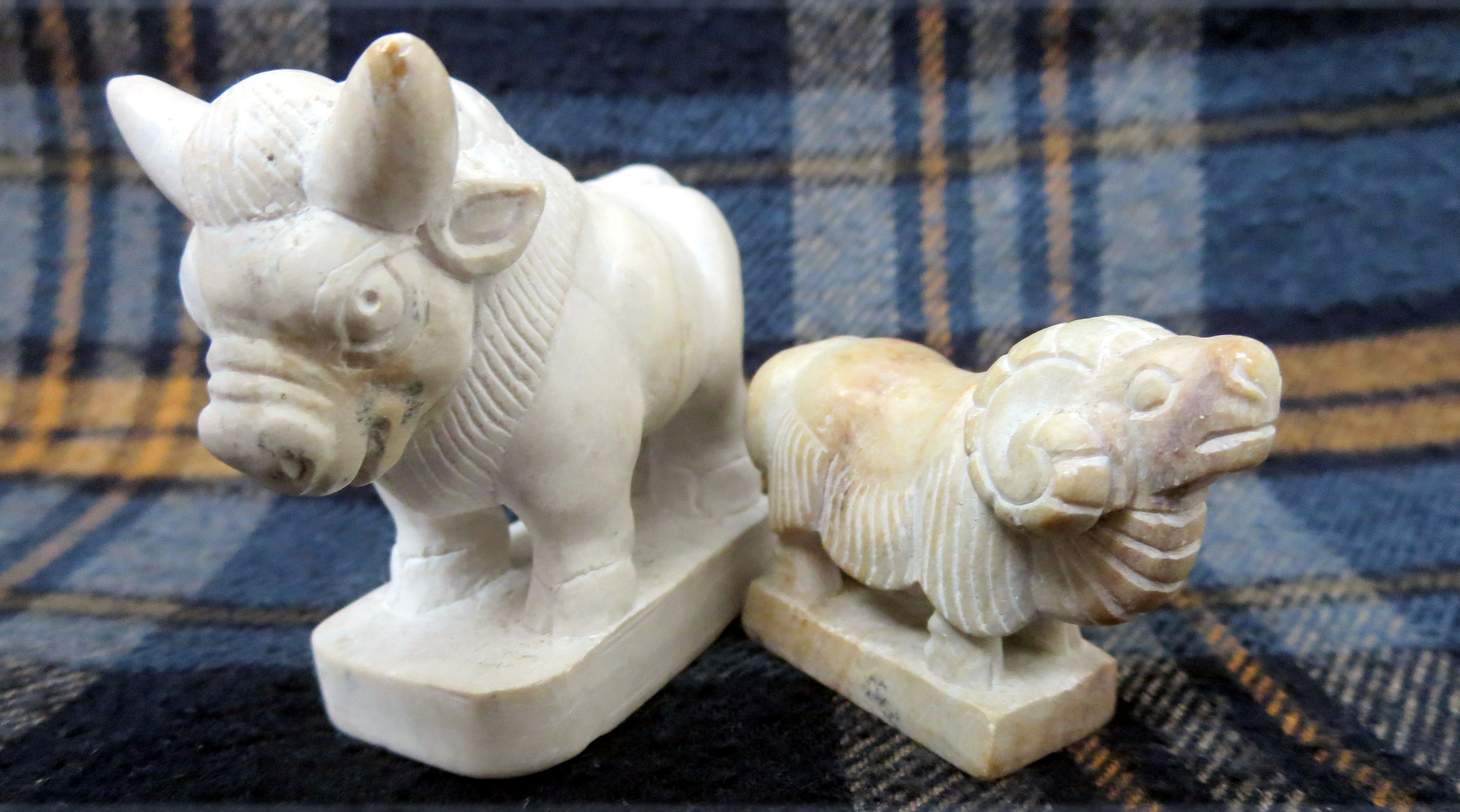 ---
Two thousand years ago, at the beginning of the fish age, the fish quickly became the symbol of the new culture and its identification mark. The lamb slaughterings and the fight against rams in many church songs and phrases led so far as to explain the Aries the hell beast.
---
Vor zweitausend Jahren, am Beginn des Fischezeitalters wurde der Fisch schnell zum Symbol der neuen Kultur und zu ihrem Erkennungszeichen. Die Lammschlachtungen und Widderbekämpfungen in vielen Kirchenliedern und Redewendungen führten schließlich sogar soweit, den Widder zum Teufelstier zu erklären.
---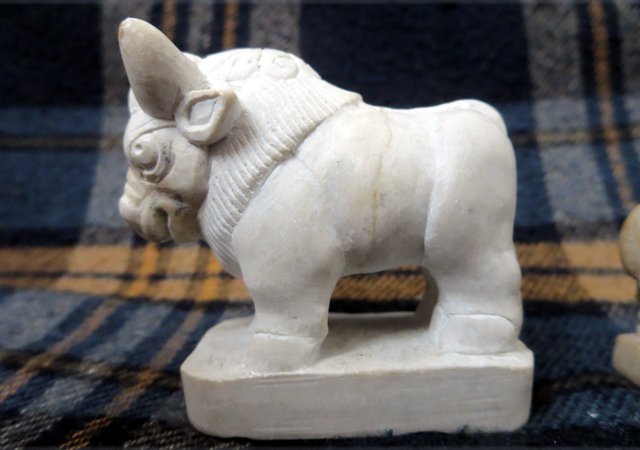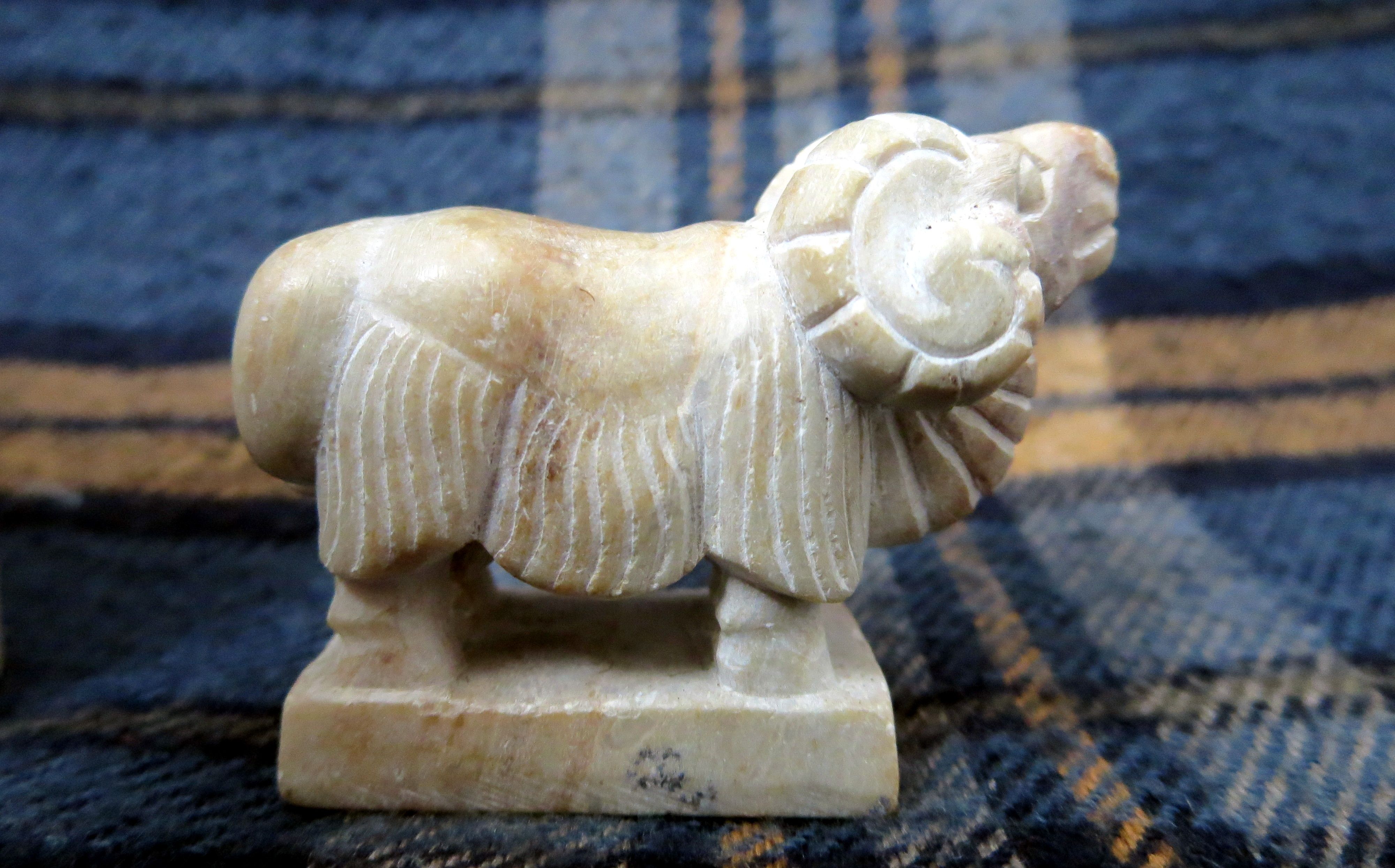 ---
Today we are in the midst of the change from fish (♓) to Aquarius (♒). Will we recognize the water-like sign of Steemit as the new sign? Are the whales the new rulers of culture, questions of questions that you, my dear reader, should answer and interpret!
---
Heute sind wir mitten drin im Wechsel von den Fischen (♓) hin zum Wassermann (♒). Werden wir das wasserähnliche Zeichen von Steemit als das neue Zeichen erkennen? Sind die Wale die neuen Beherrscher der Kultur, Fragen über Fragen, die du, mein lieber Leser, beantworten und deuten sollst!
---
English is not my mother tongue, for improvements I am grateful, thank you.
I hope you enjoyed my post. / Ich hoffe Dir hat mein Artikel gefallen.
Until next time! / Bis zum nächstes Mal!
Thank you for your attention! / Danke für Deine Aufmerksamkeit!

Images by @schamangerbert 07/2017

Schaman Gerbert

---