Recorrido - Henry Michaux under the abstract expressionism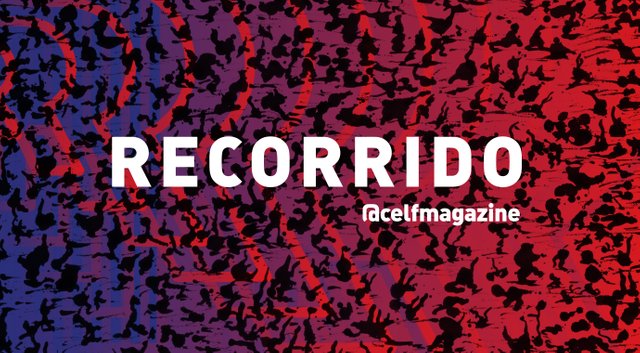 Henry Michaux under the abstract expressionism
Literature and art are manifested under a phenomenal spectacle of surrealism. With all the nuances elaborated to astonish, to disturb and to leave with mysteries all those minds that look for a meaning in the creation. Henri Michaux was one of those artist poets who ventured into the depths of being, and brought to the surface the secrets and wonders that these lie isolated from our imaginary. To continue with such qualities today seems to be something quite difficult, but even so, it does not go unnoticed. The masters of old still leave their mark on present generations.
Henri Michaux, poet and artist, Belgian by birth but French by heart. Born in Namur in 1899, but raised in Brussels. Fugitive medical student, since that was not his wish. In 1919 he fled in a French navy ship where he travelled to Rio de Janeiro and Buenos Aires.
His first literary impressions began after his return to Brussels and his final stay in Paris, where he discovered surrealism inspired by the artists Paul Klee, Max Ernst, Giorgio de Chirico and Salvador Dalí. His first books published under this category were Les rêves et la jambe (1923) and Qui je fus (1927).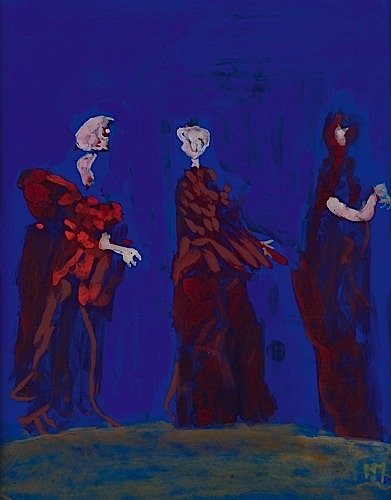 Les Trois Graces, 1930. Style: expressionism. Genre: Mythological painting. By Henri Michaux
In 1927 his love of travelling continued, and during this year he visited Ecuador, along the way create his fantastic works in a compilation that he called Ecuador (1927). Later he traveled to the East, specifically to India and China, during the period 1931 and 1932, creating the compilation A barbarian in Asia (1933).
Michaux simply never stopped traveling, especially through Latin America. In Uruguay he met the poet Susana Soca, a woman with whom he was very close. He also met Victoria Ocampo, director of SUR.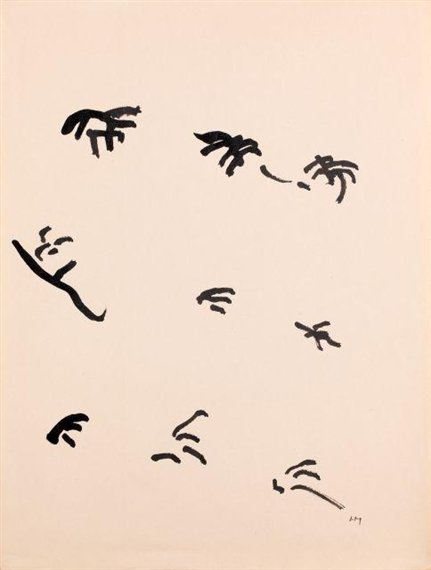 Mouvement

. 1950. Style: tachisme. Gender: abstract. By: Henri Michaux
In France he meets many personalities in the art world with whom he had an excellent relationship. In 1937 he became editor-in-chief of his own magazine called Hermés, founded in Brussels to turn it into a debate magazine on philosophy, mysticism and poetry.
Michaux gradually detached himself from literature in order to leave his deepest traces in the plastic arts. Thanks to his artistic influences, he created several works in search of his own direction. The tools he used were oil, watercolours and ink, in order to capture those ethereal ideas that he sought so much until his work was completed. Analyzing it in depth, we know that Henri Michaux's interest in surrealism was due to his incessant search to glimpse a fantastic nature of alternative dimensions that go beyond man's imagination. This was also attempted in his literature, where he speaks of disturbed realities that converge under an uncoordinated imagination.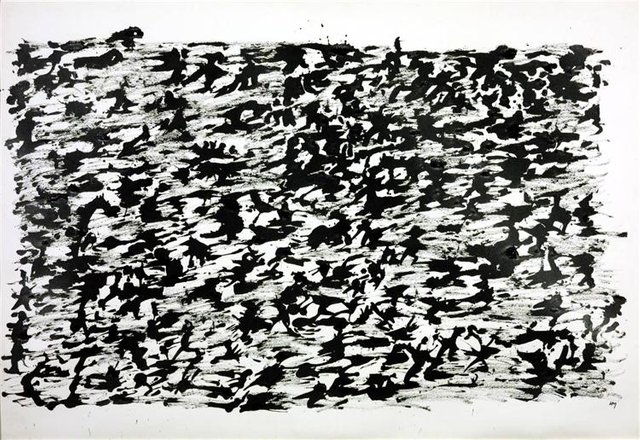 No title. 1961. Style: tachisme. Gender: abstract. Materials: Ink and paper. By Henri Michaux
To achieve these objectives, Michaux goes to LSD, mezcalina and cannabis, drugs and hallucinogens widely consumed by the hippies. According to some authors almost succumbed to madness by exceeding a dose of mezcalina. In spite of his excesses, Michaux takes us to his world using calligraphic details that remind us of the pictograms of ancient civilizations, trying to "explain the inexplicable" through his letters and visual works.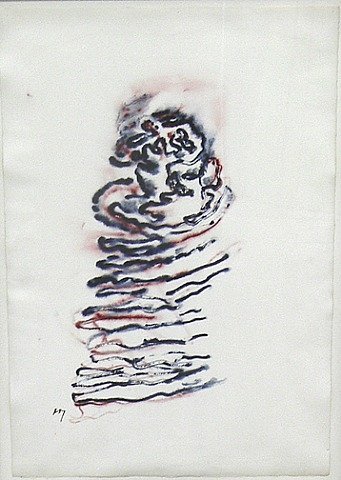 No title. 1970. Style: tachisme. Genre: abstract. By: Henri Michaux
Its originality lay in a style that tried with peculiarity to show us figures descended from the unknown. It was not an art that looked for habituality, but rather, it was an art with an abstract expressionism that, as we can see, has had a great influence on contemporary art in this area. In conclusion we can synthesize that Michaux has been one of the forerunners who proceeded with his own watermark modern surrealism.

This post is a translation of its original Spanish version, and represents an UPDATE for our Crowdfounding Fundition Campaign.
Building trust in a multi-language community
In order to receive upvotes funding from @fundition, and sponsors who wish to join our project, we will translate the editorial content as updates for our crowdfunding fundition campaign.
As the project gets underway and develops, we will seek, as far as possible, to work hand in hand with the English-speaking community, as we understand that our value proposition crosses the language barrier and should not be limited by it.
Learn more about @celfmagazine and @celfditorial:
Join our community