Hello my dear brothers, today is the day of the structures #celestialchallenge initiated by @sirknight: The Flower of Venezuela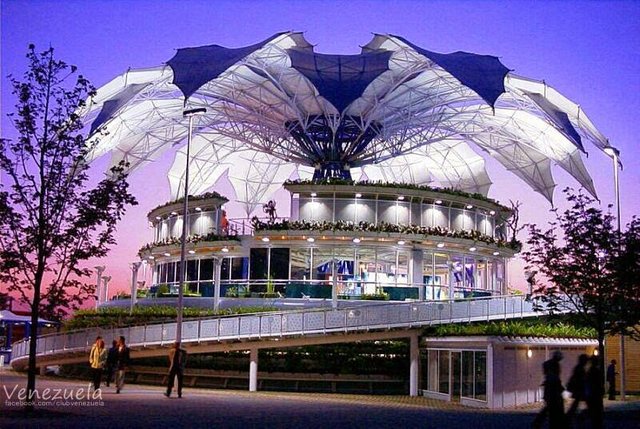 Source
The Flower of Venezuela, also called Flor de Hannover is a structure that is located in the area known as the Eastern Triangle in the city of Barquisimeto, the capital of the Lara State in the central west of the South American country of Venezuela. It is a structure that served as the pavilion of Venezuela at the World Expo in Hanover in 2000. It was designed by the Venezuelan architect Fruto Vivas with a system of 16 petals that can be opened and closed. Inspired by the Tepuyes of the Gran Sabana de Venezuela and the National Flower of Venezuela, the Orchid.
---
It is made up of numerous gardens and forests representative of Venezuela, fish tanks, a library and an amphitheater. It should be noted that it was moved to Venezuela beginning in 2006 and inaugurated in its current position in 2008 as property of the Venezuelan State, who granted it in loan to the governorship of Lara state.
It is one of the places where you can see the splendid nightlife of Barquisimeto, known as the city of the Twilight, has different levels which are:
Level Country: In this first stage, you can see a map of Venezuela at the feet of the visitor, which is illuminated by different regions in order to illustrate the geographical wealth of our country. In addition to this two exhibitions of emblematic characters such as Simón Bolívar and Alejandro Humboldt are shown, the latter remembered by the shakers (aquatic species present in a large fish tank). Piranhas caribe will be in the second aquarium of this level. The Archaeological Museum of Quíbor (Municipality Jiménez) also made its contribution in pieces and samples of excavations.
Culture level: Here you can see the richness and diversity of fish of the Orinoco River and regions of the Bolivar and Amazon states, it is possible to appreciate them at this level. There are 16 aquariums with species such as catfish, paddlefish, toad catfish, striped catfish, black catfish, black and white cachama, palometas, rays, corroncho, pencil, birds (exotic), oscar albino and tiger, catfish, sierra, cichlids, striped tigrito and climb (ornamental). Aquariums are individual systems with conditions of controlled water cycles. It has more than 300 Orchids owned by the Larense Orchid Society. At this level there is also an exhibition called "Del Barro al Metal".
Plant level: And finally, the plant level has about 13 thousand plants that have been arranged between the external areas and the third level of the flower, which are native to Venezuela. There are bambucillos and some species species of shade and sun. It should be noted that the concept of the structure is of a flower on a Tepuy, so perhaps not so much color is observed in plant species.
![3339421053_8782b53018.jpg]
(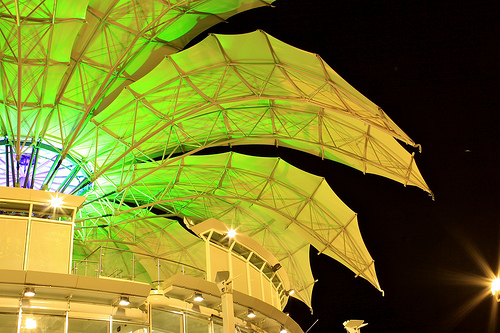 )
Source
Note: @sirknight started a contest and its daily topics are:
Sunday-light
Monday - Darkness
Tuesday-AnimalDeer
Wednesday-Structures
Thursday-ForcesNature
Friday-AmorBellezaFreedom
Saturday-Agriculture