Friday Emoji Contest #❷❾ - Oh happy day? 😕
It is one of these days I guess.🤔
Although days... It started with 🌞 no rain 🌂 but the rest what came out of it was a mess 📉.
A bad night and I felt concerned and 🤢 about Little 🐶 now its brother left us. First, she 😭 and felt so ☹ and so did her mom. Who says animals have no ❤? If I look in her 👀 it is all 😢 and it makes me 😭 as well.
Man's best friend has a hard time and so have I.
Night number 3 there is ✌🏻 and it stays quiet. Too quiet if you ask me. Did some one took her or did she ⚰⁉
It is 🕔 am if I check it out, 😃 she is still there although she looks like 💩.
One day passes by without 🍽, 🥛☕, using me for a 🛏 (so the only thing I ate is a piece of 🍞).
She 😤😡 because I give her 🚰 via a 💉. Water is more important as🍖 now but where is the pee 🚽❓
At 11 pm I am tired 😴and go to 🛌🏻 💤💤, 🕒 am I will check her out again.
There is the pee it looks 👌🏻 and yellow is she 🤒❓
She spends 🕓🕔🕕🕖🕗🕘🕙🕚 on my lap just her 👂🏻👂🏻 are awake.
More 🚰and love 💕💖 and cuddles and... more pee on her 🛌🏻(it is 🌚 and 🌪 ☂outside) and while I am cleaning up 🐶 poops on the floor it looks 👌🏻too.
Note: her last meal was probably 24 hours ago. Little 🐶 tries to climb on my seat 🛋.
Okay🙉🙈🙊 only for this⏳. Her stuffed animal Skunky makes a great pillow. It is her new mate since she is the only👶🏻around. With some luck ☘ she will be👍🏻soon and grow into a fine and 💪🏻🐶. 🤞🏻
If you like to give it a try visit @oliviack or see HERE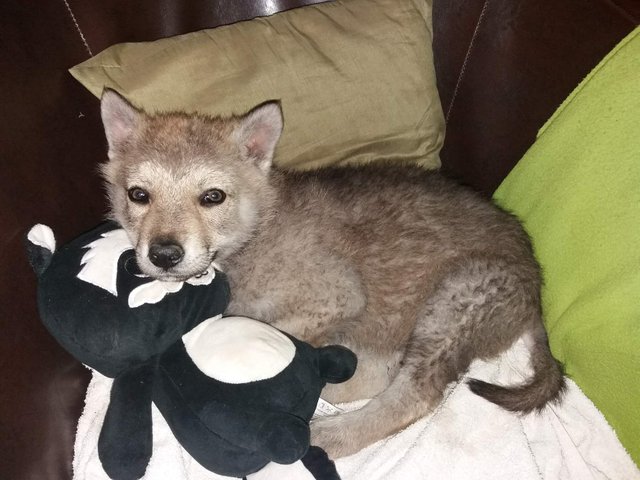 The picture is made by me with my smartphone.
Less as 500 sp?
Join the Redfish Power UP League!
You can if you leave a comment at @paulag her post and let her know you want in.
See here
I use partiko
How about giving it a try yourself?
With my lousy, unstable connection it is the only app that still works most of the times.
Simply give it a try. There is nothing to lose
ccc
This is an Invitation to join #ccc for Guaranteed 👍Daily Income 💵 and Payout 💸 for Newbies (2.0) 🐟 🐜 🐛 in #ccc 👣 and Follow 👣 the Honor Code 🏅 the Creed (Conditions and Limits Inside)
AND
the latest update <<< please click to read.

• If you have difficulties in copy the code, please copy it from here: [https://steemit.com/ccc/@team-ccc/the-ccc-code](https://steemit.com/ccc/@team-ccc/the-ccc-code)

• You may also read more about #ccc here: [https://steemit.com/ccc/@freedomshift/a-simplified-guide-and-update-to-ccc](https://steemit.com/ccc/@freedomshift/a-simplified-guide-and-update-to-ccc)

Posted using [Partiko Android](https://partiko.app/referral/wakeupkitty)