Last Week Tonight: Modi
Ah it's good to have John Oliver back. Never heard of Modi before, why should I? But this is terrifying, how Modi is handling things. I really hope that those protests against Modi will be efficient enough to end those cruel incidents.
Pretty sure, that Ghandi wouldn't be proud about that.
---
Read more: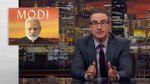 Modi: Last Week Tonight with John Oliver (HBO)
John Oliver talks about India's Prime Minister, Narendra Modi, why he's popular, why he's controversial, and where things are headed for the largest democrac...
Source:
https://www.youtube.com
---
Share this post:







---
Posted using AltYes browser extension.